Dear Community,
As our NEW character concepts are all complete, we would like to take this opportunity to showcase them. This is just a rare treat seeing as they are very interesting and give you an idea of what is going on behind the scenes, once again!
Take all the latest media screenshots and slowly start to piece it together, then hopefully... you should have a good idea of how the game will look and the high level of detail we are trying to achieve.
If not, the below should help you visualise...
Character Concepts
Concept Design by Maddy
Swat Female Concept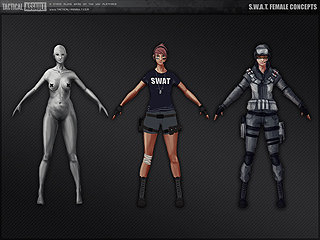 Concept Design by Striker
Swat Male Concept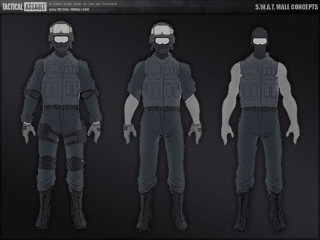 Concept Design by Daphzart
Merc Female Concept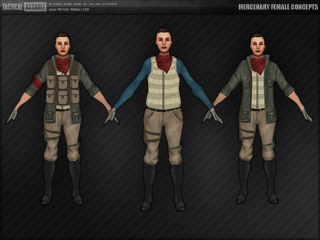 Concept Design by DreamNT
Merc Male Concept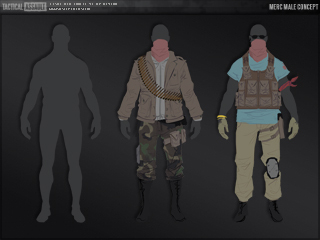 Concept Design by Jeff
VIP Hostage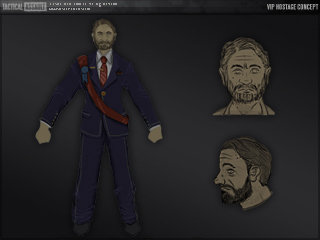 While our level, modelling and sound teams working flat out, the rest of us have been busy... yes, really!
In the last week alone, we can confirm all 1st person weapon models are done!! Only some need a few tweaks here and there, but in all - the majority are good to go.
Dandy has started to skin and rig the 1st person player arms for animating, which will then lead us on to animating all the weapons... a slow and tedious task, but one that is critical!
This is a long drawn out task, one which shall certainly put Dandy's skills to the test. Having someone on board with his ability is certainly priceless in pushing production and keeping up motivation within the team. Tarrick together with Autopsy and GuyB are working towards stripping our weapons to provide additional 3rd person and pickup model versions.
Since our modelers and artists have been racking up libraries worth of assets in recent months, we have an overflow of beauty just itching to be shown to the community, so here are more images for your big-bold eyes to take pleasure upon.
Before we continue, may we just say a big thanks to the community for being understanding and supportive, your comments, feedback and constructive criticism helps us to continue doing what we do for the love of it and ensures that we do our utmost to tailor our game around your wishes!! Yes yours!
We cannot implement and action every idea suggested, but rest assured all comments are read and discussed since our PR team are here to bridge the gap between you and the TA staff ensuring all ideas are passed on and you have a transparent view of what we are doing and what stage we are up to.
For your info, we reached #2 on moddb last week from 1,649 mods/games which we feel is a testament to you, our fans!
If you haven't already, please drop by and get "following" and rack up the support even more so

Alongside this, Spin has been working flat out, nearly full time tweaking code, fixing some bugs, getting some assets in-game and giving direction to our weapons team combined with creating some great internal video tutorials to help in all departments. Top stuff.
Anyhow... back on track, here's some more media material for you to feast over.
That's it for now, on our next update we hope to show you more media, some in-game map screenshots and further news on our animations, character models.. and oh yea.. our teaser trailer as well which is still being developed!!
We hope you enjoyed the read and welcome you all to our forums to provide us with your feedback.
TA Team
www.tactical-assault.com