March Update:
First of I apologize for the silence from the project in the past 2 months, the team including my self has had some major life issues, as well as the huge changes to the project required some time to think and plan.

UDK:
Why the UDK? Well that is easy to answer, due to the limitations of working with the Cryengine 2 and the kind of game we wanted to make, we needed a new engine that would suit our needs.
The UDK is a flexible engine that's constantly updated with new features, and is a robust engine that has been used in many many retail games.
Here are some of the reasons we have switched to the UDK:
Standalone - This allows us to release content without a prior requirement I.E. it requires another game to run
Toolset - The unreal toolset and how polished it is, is something to admire, not even the Cryengine 2 toolset is as polished as this
Performance + Reliability - The Unreal engine 3 not only performs great, but it's also proven it can do any type of game you can think of
So as you can see the UDK was the obvious choice. The cryengine 2 served as well, but ignoring the UDK would be insane considering what it offers.
In-Engine Assets:
These are taken from within the Unreal Engine 3 it self, these are not renders, these are in-game models.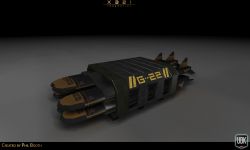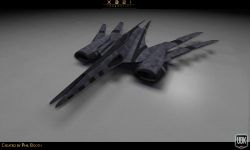 If you see any videos of X32I currently online they are from the Cryengine 2 version of the project, it is now a standalone indie title on the UDK, and while there will be videos in the future, it may be a little while before any surface.
I hope you like what you see, and we hope that you continue following us as we aim to create the best space-sim in recent years, because this is one genre that's been seriously neglected for far too long.
David Baron
Project Leader