Hey all!
Let's catch up shall we? I (Alex) have recently been hired as a software engineer by a local company and unfortunately I've lost quite a bit of free time to devote to this project. But let me please make this clear to all of you.
WE ARE NOT DEAD!!!
Hahaha, just trying to restructure life and giving this project the A-Tension it deserves even if it is on evenings and weekends. And yes that pun was intended, horribly, horribly intended.
We also have been looking more and more into the UDK, it definitely gives us larger maps to work with as well as a gorgeous set of tools and our models will look infinitely better. I am willing to take on the port to the Unreal engine as long as our community is behind me!
So please comment and respond about what you think about switching engines, bearing in mind that this would increase options for both map detail/size, overall graphics and distribution down the road.Now lets get to the current progress on source, Zach has been working on detailing out cities more as well as implementing our goal system into a new work in progress city map.
Trying to nail down the art style has been weighing us down hard so any suggestions are always good!
And as a closer, check out a little Minecraft skin of the old suit.. Oh did i say old suit? =]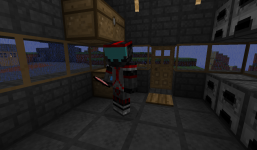 Please let us know what you think about the engine switch guys, as well as the art style it really helps us out!
Comment/Email/PM's are always appreciated.
- Alex Soustek (Tension Team)