Introduction
Do you know why I love this time of year? No it isn't the yuletide in the air, it is the sweet scent of good news from games and mods! This post marks the beginning of a new segment called Map Spotlights. It details each map in NMRiH for you, the fans, that gives special insight into the environments you'll be fighting for your life in.
Be sure to stay tuned for upcoming spotlights!
---
Map Spotlight #1 - Broadway by nay0r
This small strip of metropolis looms in the shadow of a central New York railway. And in those shadows are countless numbers of the infected. A light sheet of rain blankets the streets as helicopters roar in the heights. Sirens from multiple sources are wailing in the distance as if the world hasn't yet ended. The military has come and gone leaving survivors trapped in the Broadway. Held up in an abandoned building across from an aged and fabled theater, the survivors wait in bleak anticipation while dead hands claw at the doors of their safe house. When it becomes clear that help is not coming, the group is faced with the terrible notion that rescue is solely up to them.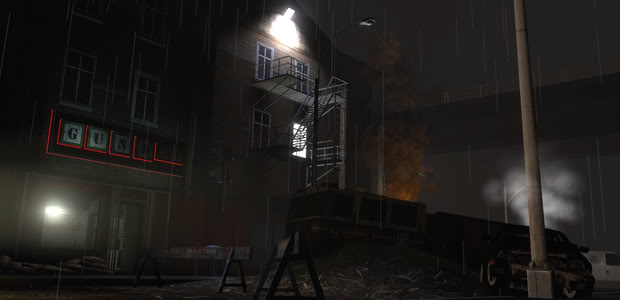 Created by nay0r, Broadway is the first map to be fitted with complete game play from start to finish. The map was conceived well before an underlying foundation was set for the mod and has since been delicately crafted into a horrific masterpiece. Because of its age, the map is currently the most linear in NMRiH's environments. However, it is also the most polished and detailed.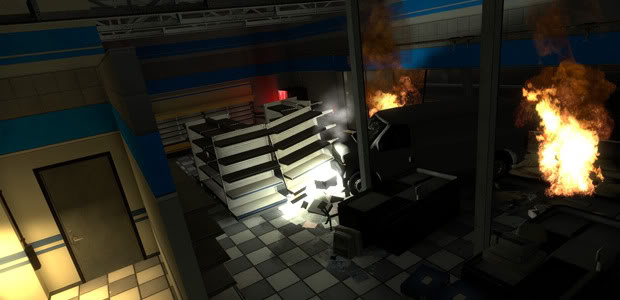 Q & A With the Designer
Q: What are your general thoughts on the map?
A: It's come along way and it was initially planned to be a bit bigger than it is now but the best thing was the whole overhead train line area.
Q: What were some of the obstacles that you encountered during development?
A: Probably the angled street. I wanted it to be pretty epic area but it did cause some problems and a few rooms in that area were eventually
deleted out from the map.
Q: What was the most "fun" part of the map to work on? The least fun?
A: The fun part was getting it to look the way I wanted it. The least fun was getting the sky how I wanted it. I did quite a few tests on either to stick with a foggy setup or a proper sky.
Q: Any future plans for Broadway?
A: Hard to say really as I feel like I am improving as a mapper all of the time so a future plan would be a complete remake maybe in a years time.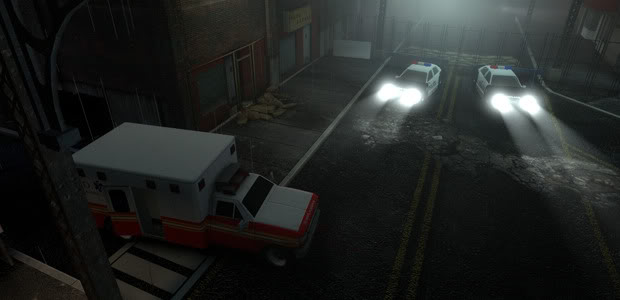 ---
Links:
Let us hear your thoughts on Broadway and be sure to stay tuned for more upcoming spotlights! And as always here are some links to other stuff: