New Trailer
There's a new trailer ;) Check it out below!
For people looking at this game for the first time, here are the key features:
Build cities, either using the 50+ prebuilt buildings or build your own custom buildings.
Live in your city. Drive around, do missions and blow stuff up! Build wealth and reputation through crime or development.
Fight for territory, against other players or AI factions. Engage in strategy, diplomacy and urban warfare to conquer the map.
And Now the News
Good news everyone! The game is finished and coming out very soon! I've been working underground as I wanted to be 100% sure the game is ready for release. The truth is that I bit off more than I can chew for this project and it just took time to digest properly, but fortunately its ready now.

I will announce a precise release date next week but I will say now that it will be out in about a month.

Here is a quick overview of the features added since the last update:
Remodelled all weapons and character skins.
Added all the missions. These range from action missions, to economic missions to driving/racing missions
Added "Protection Racketeering" as a source of income
Added AI Factions that expand throughout the city. You can engage in diplomacy and warfare to conquer them, like in a Grand Strategy game. If you are playing in the "Strategy Game Mode" then the AI's will go to war with one another and invade their bases.
AI factions will invade your bases if you start a turf war with them
Added a Stats and Perks system (was requested a fair bit and I wanted it)
Some missions made replayable
Added wearable Hats and Armour (really fun in multiplayer!)
Added custom skin support
Redid some of the sfx, guns sound meatier now, added more music, mobs make noises now.
Most missions are Co-Op if you have an allied player
Added reward buildings for reaching milestones in your city's development
Added Steam Workshop support
A crapton of performance boosts, network improvements, rebalancing, etc.
These will all be covered in Dev Diaries heading up to release. For a full feature list, check out the main page.
Changes To Previous Dev Diaries
Changes To Weapons
I've put in a lot of changes and polish since the last Dev Diary went out. The most noticeable change is that weapons are now 3D. Weapon mods also change the appearance of the weapons.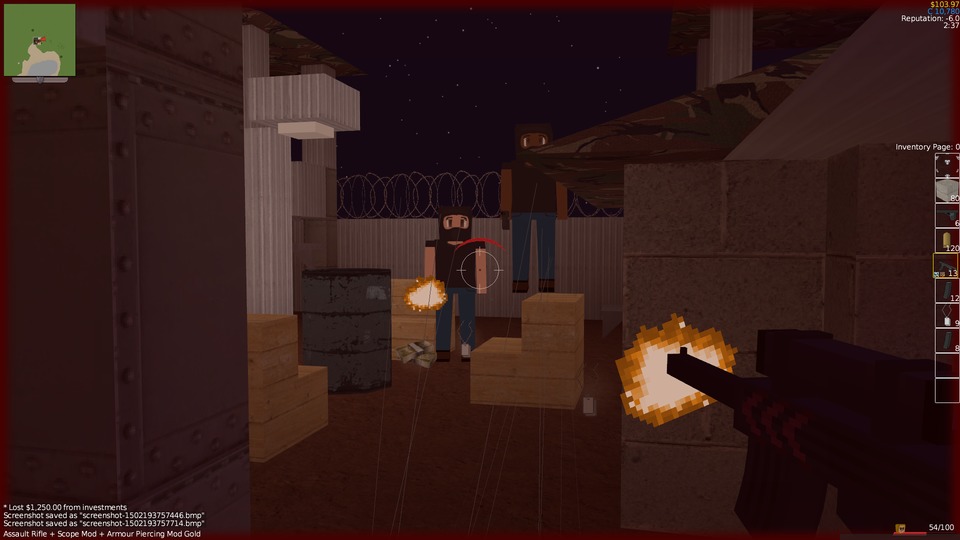 Weapon sound effects have also been remastered so that weapons sound meatier.

I wasn't happy with the way that armour piercing was working, so wepaons now have a "damage vs vehicles" modifier in addition to an armour piercing modifier. This way weapons can be more dedicated to killing vehicles without making player armour useless. Armour Piercing weapon mods also increase damage vs vehicles.
Custom Buildings
You can now convert custom buildings into templates - these can then be placed like normal buildings. Check out the gif below:
Graphics Engine
I've also added ambient occlusion. This isn't done in shaders so it doesn't hurt performance.

In shader news, the fragment shader now has a pixelising effect when up close to a texture, this is to make everything look consistent without the world descending to a pixelated mess. If you aren't a fan of pixels, not to worry! There is a setting to turn it off.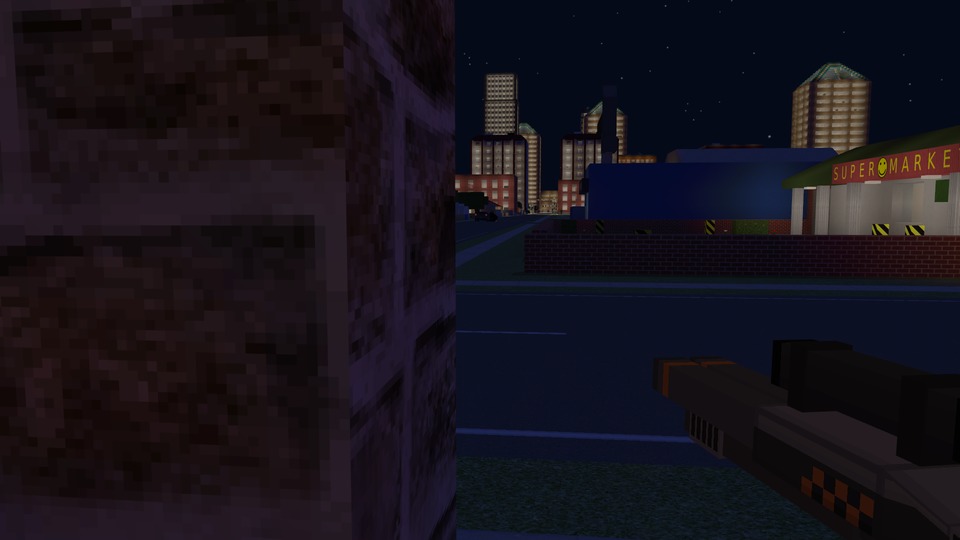 Example of the pixelising filter. This can be disabled in the settings menu

Finally I've added UI Scaling, so if you're playing on a large resolution monitor. Default options are 1x, 1.25x, 1.5x, 2x, 2.5x, 3x, 4x, but you can specify your own in settings/graphics_settings.txt.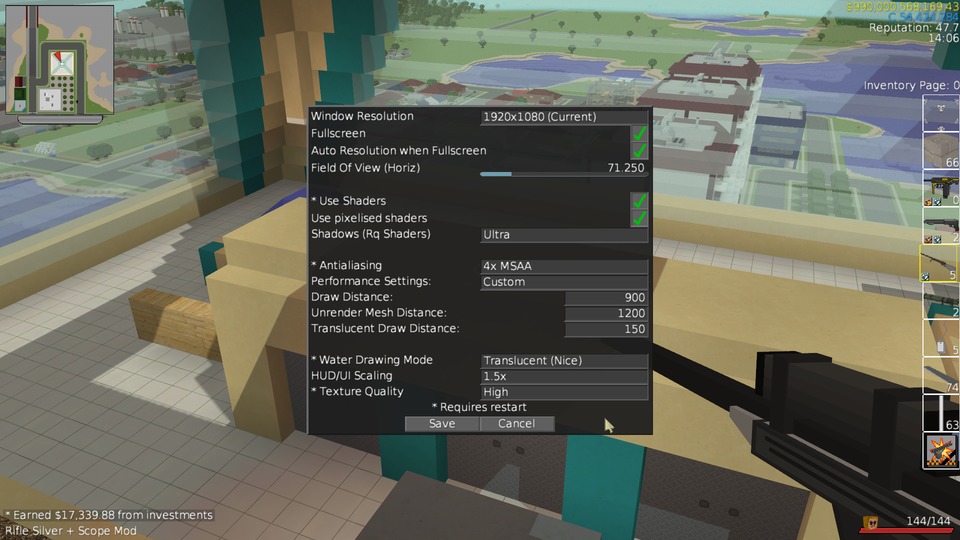 The Graphics Settings Menu
Networking Engine
Lots of improvements, optimisations and bugfixes have gone into the networking engine. Players, vehicles and weapons are lag compensated so even on very high ping servers things feel smooth. The server retains authority over weapon usage and can be set to be authoritive over player and entity movement.

I've also written some server management stuff, such as savegame specific lua scripts, the ability to send players from server to server whilst in game (think of an in-game stargate network). I'll go into depth about this in a dev diary later

This has allowed me to set up a dedicated server for fighting. You spawn in a tiny seaside town, surrounded by city walls, with a full cache of each weapon in the game, unlimited ammo and rockets and 1 of each weapon mod. The map is reset every hour, so you can safely destroy everything without feeling guilty.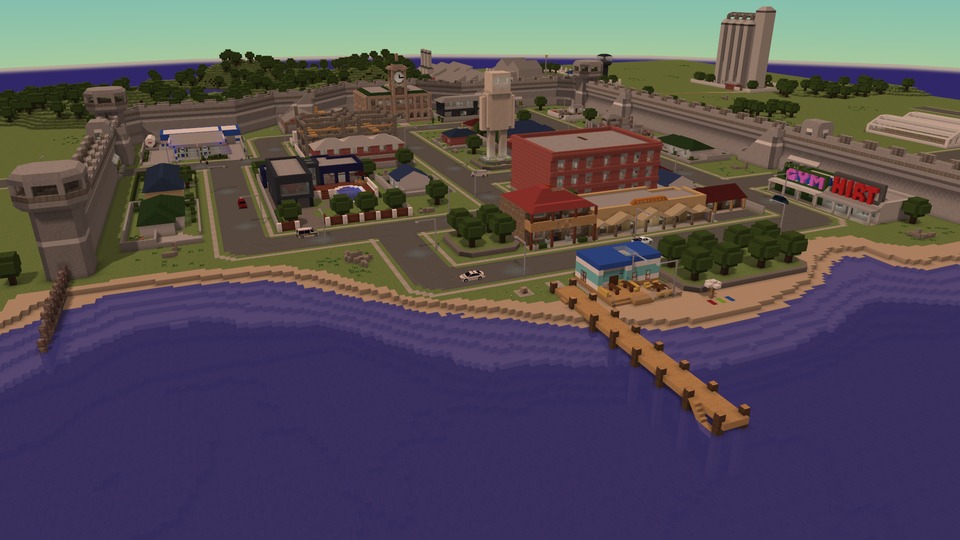 The BlastZone multiplayer map

I've also made most missions Co-Op, but thats a Dev Diary for later.

Thanks for reading! If you're interested in this, give this a Watch or consider adding Voxel Turf to your Steam wishlist in the link below:


Cheers, Twigz