Just another Magnet Monday!
Things are getting more exciting and thus also more boring. Why yes, I can elaborate. Things are getting exciting because the game is now really close to being finished, but they're also getting boring because now is the time to focus on making the game run stable, look good and just overall be ready for release. So instead of implementing exciting new features, I'm tightening screws, squashing bugs and adding little touches here and there. One of the bigger things I added this week for example was a level select screen:
Right now it still crashes when you try to select levels that don't exist, but hey, it does let you select the ones that *do* exist, so that's kinda good enough for now. The main menu also got few tweaks, including a cursor and keyboard/controller controls:
But I've not just worked on menu stuff. The game itself now contains a few tutorial signs that give you hints regarding the game's controls. The signs change depending on whether you're using a controller or not:
As you can see they only tell you what button to push in a certain situation, you'll have to figure out the rest for yourself. I've of course tried to design the levels in such a way that you can learn the game's mechanics and controls in a natural way.
The rest of the week was mostly spent creating levels. Both the air world and ice world are basically complete, with 10 stages each. Each world introduces new gimmicks and challenges and the last stage in a world will test everything you've learned up to that point.
And speaking of new gimmicks, here is a quick peek at one of the obstacles you'll have to overcome in the final world of the game, the Factory: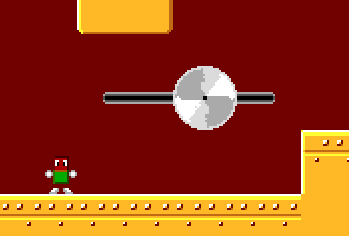 It was originally meant to be a buzz saw but someone pointed out that it kinda looked like a head mirror, so now I'm tempted to make it canon that there's just a doctor trapped behind the background furiously spinning around...
Well, that's it for this week. The game is really close to being done, I might actually be able to release it in about 2 weeks or so! Follow me on Twitter for updates in real time and if you're curious to see how the game actually plays, make sure to download the alpha build by clicking the button below!