Madrasola
---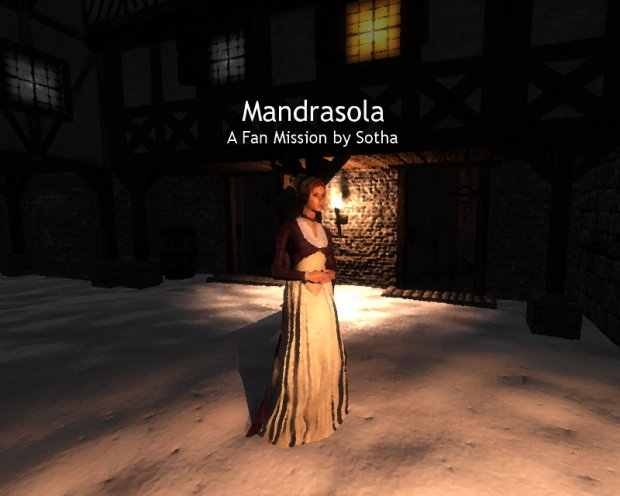 ---
Mandrasola is a small sized map in which
aspiring thief Thomas Porter steals some herbal products from a
smuggler.

Author statement:
The mission was created by me, Sotha and I wish to thank
Bikerdude, BrokenArts and Ocn for playtesting and voice acting. Thanks
goes naturally to everyone contributing and making TDM possible.
---
This mission occurs chronologically before the Knighton's Manor, making
it the first mission in the Thomas Porter series. Events in
chronological order are: Mandrasola, The Knighton's Manor, The
Beleaguered Fence, The Glenham Tower and The Transaction.
---
Briefing:
The winter came early and suddenly this year. Weeks of strong blizzards and extremely harsh cold weather hit Bridgeport hard. With the seas completely frozen, a rare occurrence indeed, most of the City harbor commerce has stopped completely. Vessels are stuck in the ice and no ship can leave or enter the City, resulting in the availability imported goods declining and their prices skyrocketing.
One of these imported items is Mandrasola, a rare herbal product, which is imported overseas from the far southern continents. Mandrasola has its uses in alchemical cures and poisons, but mostly this substance is used for its narcotic qualities by commoners and even the nobility. The problem with Mandrasola is that excessive use is extremely addicting and the withdrawal effects are most grievous. Many are utterly incapable of stopping using Mandrasola and are transformed into quivering human ruins if they do no get their daily dose.
And now this expensive and rare substance is running out from the whole City. Me and my fence, Lark Butternose, would love to grab this monopoly to ourselves: selling the last few doses in the City would probably be worth a fortune. According to Lark's sources, there remains only one smuggling lord who still has Mandrasola in stock. The problem is that this individual maintains an exclusive clandestine operation and only supplies a few nobles. Despite our best information gathering efforts we couldn't learn who the smuggler is and where he or she operates.
Luckily we have an alternate plan. While searching for Mandrasola related information, we learned that a noblewoman called Lady Ludmilla is addicted to the substance and has paid high prices for small amounts of it. We also know that she has visited frequently someone in the Tanner's Ward waterfront, and since she goes to the area personally we believe she is visiting the smuggler.
The plan is simple: I must monitor Ludmilla's most likely entryway to the Waterfront and then follow her to the smugglers hideout. I'd better be very careful around Ludmilla. She must not realise I'm following her or she probably won't lead me to her dealer. Hurting her is also out of the question. After she leads me to the smuggler's hideout, I can take my time to break in carefully and steal all the Mandrasola I can find. While I'm there it wouldn't be a bad idea to grab some loose valuables as well.
I've now waited in the blistering cold for a few hours already. Looks like there are a few city watch patrols in the area to complicate matters... I think I heard a woman's voice beyond the north gate. That must be lady Ludmilla, I haven't seen many ladies in these parts. I'd better get ready..
---
This is the first released mission entry in The Dark Mod community's "Seasons Contest". Please stop by the forums and cast you vote in the mission thread:
---