Shifting Strategies
---
L.U.R.K. team has heard your woes, bugs of various degrees are being reported as of the latest patch, and time has passed since the last 1.0552 patch. However, at this point, L.U.R.K. is stable, and therefore we've dedicated our efforts into larger, more meaningful updates, instead of frequent patches.
This allows us to allot more attention to detail regarding balance and quality issues, add more features, and fix bugs at a faster rate, rather then concern ourselves with distribution, and further confuse the end user with more installation instructions.
Feature Updates
---
Bug fixes are always welcome, but it's obvious that in order to keep the attention of the end user from stagnating, it's important to keep our title fresh and up to date. However, that doesn't always mean objective improvement. There's always been a subject keen to debate, you're probably aware of them as Blowouts. Frequent Emissions from the zone that occur on an unscripted basis.
While it's debatable whether or not Blowouts should or shouldn't be used, we felt the demand was high enough from the community to accommodate such desires. However, due to an autistic level of perfectionism, we couldn't help but give blowouts our own distinctive flavor. In an iteration that we feel is representative of our project's attention to detail. A philosophy that hampers itself upon it's weakest aspects. Here's a demonstration of one of the cycling blowouts you can expect to see in L.U.R.K. 1.1:
Although that isn't the only large update you can expect from 1.1. We'll report more on it later, however you can expect to see a very large overhaul regarding The Bar's Arena Mode.
Other Features

---
New Main Menu:
Added P90: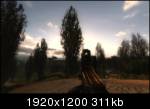 Added G3A3: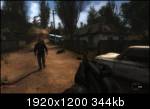 Added Scoped Mosin Nagant:
Bug Fixes

---
Rest assured, that your problems and requests have been heard, and we're working as hard as we can to make L.U.R.K. as crisp and clean as possible. We'll spare you the list for the time being, however we've attended to most everything, whether it be outright bugs, or simple quality concerns. When it comes to polish, we've gone the extra mile, and actually restructured the configurations for accessibility and organization.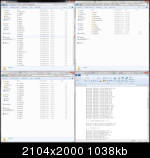 How Long?
---
Closer then you may think. Expect to see it before this month's end, possibly sooner. Until then, we'll keep you posted.