Hello everyone! Today I have an update for you from DoubleFelix, our primary architecture modeler. He would like to talk to you about his experiences modelling for Luftahraan and, in particular, the processes behind his model of Sovereign Hall.
Hello, I'm Doublefelix, Archon Entertainment's newest modeler, and I would like to welcome you to the first episode of my Modelling Corner series where I say a few words about and post images of my creations for Luftahraan.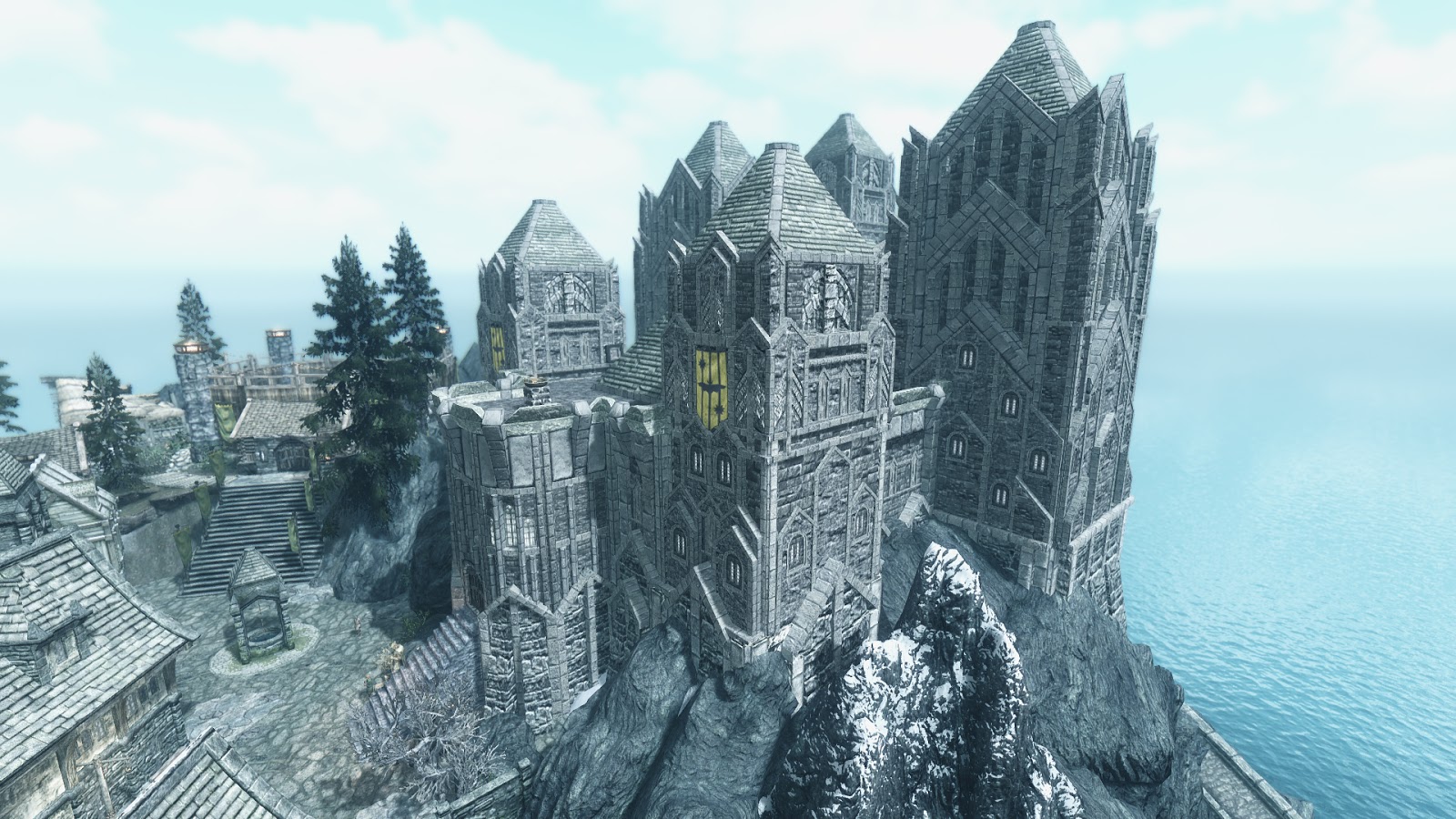 This is the new version of Sovereign Hall, Luftahraan's keep, which is my biggest contribution to the mod so far. The creation process took one and a half months from start to finish, yet that time was but a breeze since I was following my passion for modelling in video games. The keep is easily twice as big as it was before, something that began to raise concerns when it comes to optimisation. The triangle count is about 40K which is comparable to the entirety of Windhelm Palace's exterior. In order to raise the polygon budget of the castle, special care has been taken to ensure that the neighbouring buildings are less graphically demanding. Similarly, the detail of the keep itself is concentrated only in places normally visible to players, with only basic geometry used for areas that they are unlikely to reach during normal gameplay. Als,o to ease the size of the mod and gain performace, there are no custom textures employed in the keep (save for the custom banners).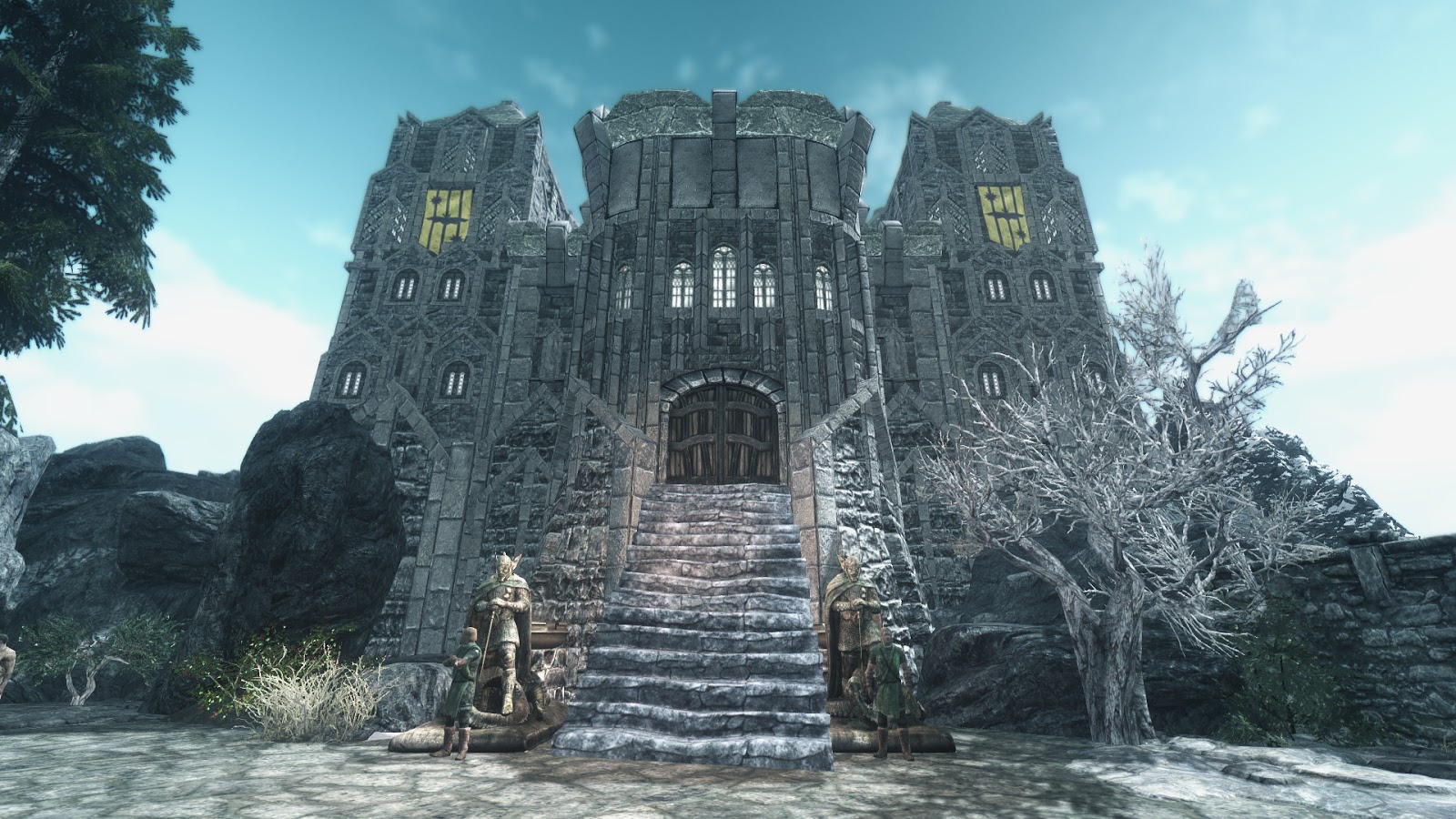 Now, enough on the technicalities - let's dive into the design. The city of Luftahraan is an independent Kingdom set between two major powers, Skyrim and High Rock. In order for it to have remained independent all these years, the city's major structures and fortifications have needed to be impressive enough to humble any potential besieger.
The castle is very old, dating back to the 1st Era of Tamriel, when it was established as a base of operations for Luharaan and his expedition as they sought to settle around the tower. No more than a fort then, the building was expanded and rebuilt multiple times during its extensive history. This justifies the use of various textures and designs since available materials and craftsmen changed as the years went by. As Luharaan was of Nordic descent, I went for a style closely resembling that of Windhelm Palace. Since Windhelm is one of the oldest human settlements in Skyrim it was a perfect reference to how something from the 1st Era would look.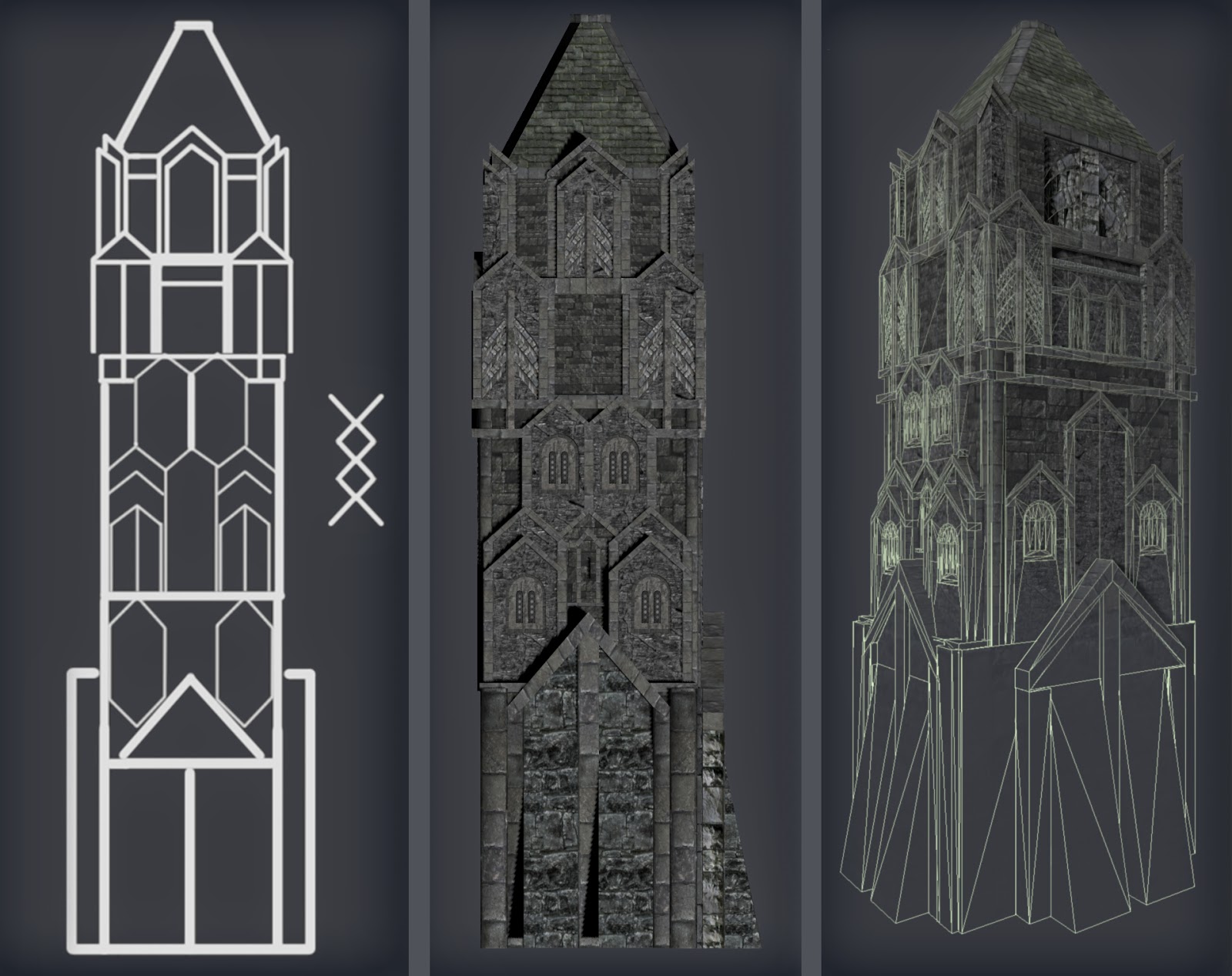 Everything began from the simple concept sketch on the left. Sharp arches stack on top of each other, and form arrows pointing up, emphasizing the verticality of the structure. The soft and round ornaments are left as a minority to the hard edged elements to give the impression that relatively crude methods of construction were used. Finally, the whole structure is elevated on high foundations to emphasise the Sovereign's superiorty over all of the denizens of Luftahraan.
In terms of formal architectural style, I have been inspired by the German Gothic period of architecture. Most of the upper sections are taken directly from the top of Windhelm Palace. I think that that element is very nicely designed but because of its unfortunate placement, it goes unnoticed by the majority of the players - I for one only noticed it when browsing Creation Kit's assets library. It went through only minor changes, mostly for optimisation's sake (deleting unnecessary detail). This borrowing of elements from existing structures serves two purposes. First it saves a lot of time on development, and second it ensures that the new model matches Skyrim's existing art style.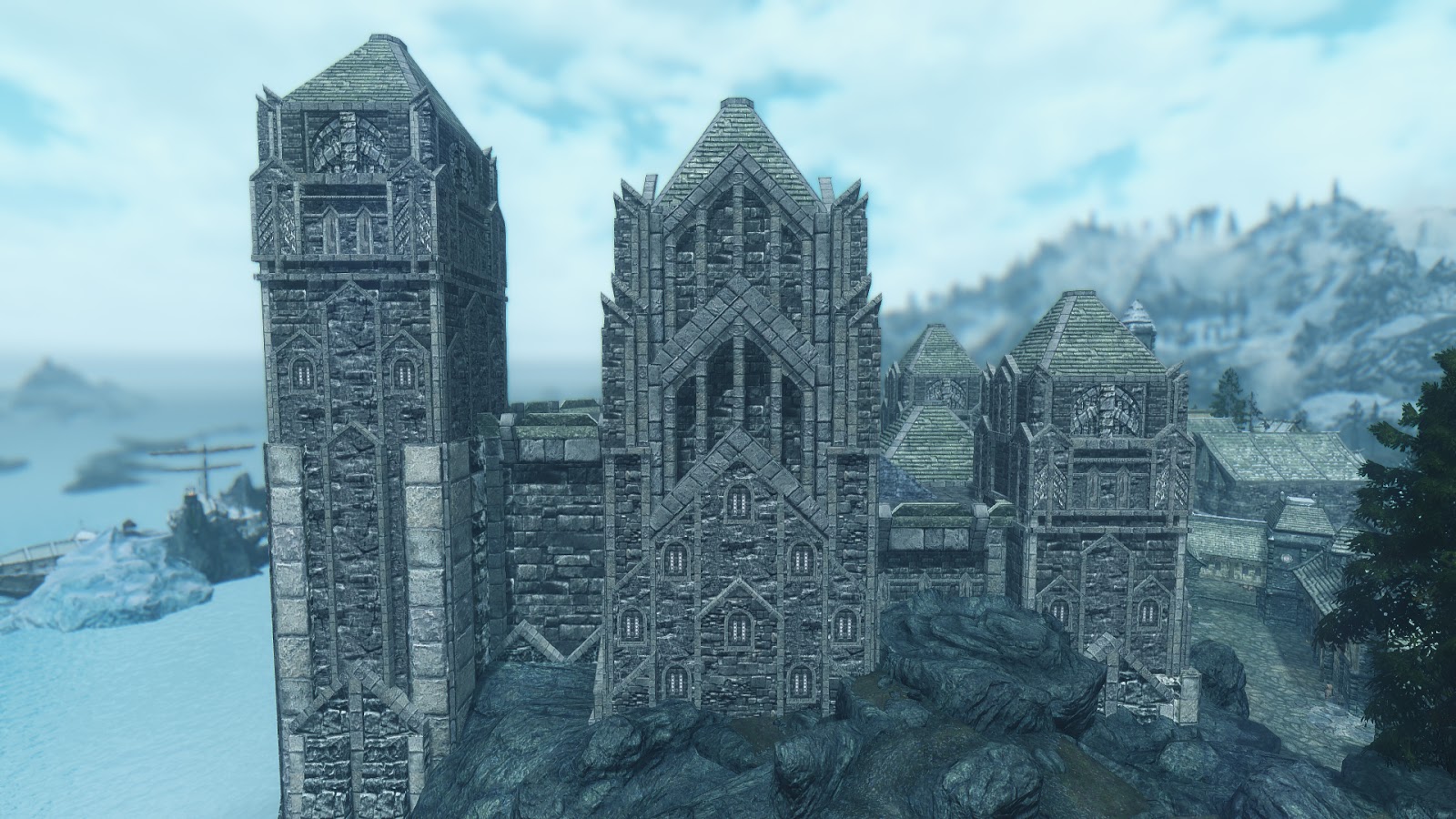 An important part of my modelling pallet is an all-axis variety. What I mean is that a wall should not be simply flat and two-dimensional, even when it has a detailed texture - it should also go inward and outward. For example, whenever another texture or element is used in the Keep, it is either protruding or receding by at least a small amount. This technique emphasises the difference in styles, making the object that much more interesting and giving the model its distinct silhouette.
I have been a part of Luftahraan's development for around two months as of the time of writing, and I find it to be the best decision I've made in a while. Working for a project like this with other people is highly motivating, which leads to more asset creation. It's a great field to experiment with modelling techniques as well as to learn the necessary steps to ensure that the end result is playable. Eventually myself, along with fellow modellers Tepa and Yurtex, will recreate the majority of the city in order to make it more unique and a more spectacular place.
Next time, DoubleFelix will talk about some of the houses he has built in the city, and how he has adjusted some of the buildings and fortifications around the city to match the style of the keep.