We all know what indie game development is. But what stands behind that all? It's a love story, two people, five years and fifteen games made at the time of our Independence.
The Cold
I was standing under the canopy of a very strange house on the outskirts of the Northern City. It was cold rain, and I was waddling waiting for a realtor. Our first day in a new unfamiliar for both of us place.
In 2012 I was an artist who quitted job to turn hand to something mine. I told her, "We have money for six months, and I don't know what will happen then." She said, "You will regret if you don't do that." She always says so.

Big Unfinished game
And I caught up on work. I painted as fast as never before. Our budget was melting even faster. I lacked skills. I made a sacrifice to the new Gods, but they didn't accept it — and I was weak. And then, I started to learn a new and strange to me language.
I wandered through the maze blindfolded: variables, methods, classes. I didn't understand where I was heading and where would this blind journey take me to. After 45 days I found a lucky charm — it was an Acorn that became a fragile beginning of our Independence.
2012 Acorn Story
The Silence
At the end of 2012, the Northern City died for us. I returned to the city of my childhood, and she went to her own. It was difficult to live separately. Then, we began to live in two cities - a month here, a month there. To get to each other at that time we had to spend two hours, today it takes at least one day.
I set to the second project, the third, the fourth. I saw with my own eyes my dream came true. Thousands and millions of people watched in their screens the results of my work. I was happy.

2013 Creat Breakout
And then I broke down, something went wrong. I got what I wanted, but could not figure out what to do next. And I left far away. Left to keep silent.
I was surrounded by hundreds of strangers. They were walking back and forth, avoiding looking in the eye, and none of them said a word. All this time I was silent too. We spent ten silent days alone with our thoughts.
When I was freed and able to speak, the first thing I wrote to her was, "I love you", she said, "Come back faster". That was all I wanted to know.
A New Home
In 2013 we started a new life in a very familiar and homelike Eastern City. We had a new home. In the mornings, through the open windows of our apartment there came along the freshness that breathed the river nearby. In the evenings, we played our childhood games: Golden Axe, Battletoads, Streets of Rage, The Anventures of Batman and Robin and watched the Adele concert at the Royal Albert Hall.

2013 Potato Rebellion
I was busy with an even more ambitious project, and it was hard. For six months, every single day my faith in myself flowed away like water outside our window. Once again, we had no money. She said,"I want to help you, but I do not know how". I needed help, and then I began to teach her what I knew best.
The brush in her hand acquired a special, feminine grace. I've never seen anyone learning so fast. Soon she joined the company as an artist, and I continued doing my project. Once a month she would bring home money and every day on the way home she bought some fresh pastries. She maintained us and the project was nearing completion.

2014 How Dare You
The Time For A Change
In 2014 I finished the game and we had money again. We even bought new curtains through which we could hear the birds singing and the barking of the neighborhood dogs in the morning. We were happy and thought that we would spend there our whole life.
One morning, together with the dogs barking, we heard explosions and gunfire. We were fleeing the country almost simultaneously with hundreds of students from Africa and India being massively evacuated by trains. The Eastern City turned to us into a dream which never came true. We never came back.
New country, new language. The Southern City warmly welcomed us. We woke up to the sound of the sea and were falling asleep to the scent of the lemon tree flowers. She still remembers our first two months here — we tried not to think about anything and just be happy. There was quietly playing at the distance the music by Sade.
2015 Rumble in the Soup
The Heat
In 2015 we lacked money again — living in the Southern City had its own price to pay.
She said,"If we don't start now, we will lose everything". She's never been afraid of anything and always supported me. At all costs we had to preserve our Independence. We doubled down on what we liked the most.

2015 The Last Samurai
We woke up and developed games until the sun sank deep behind the mountains. I still remember each character and each location created by us. We argued over the animations and colors, all days long we were testing and enjoying our games.

2015 The Ultimate Clicker Squad
Mad, we were not afraid to experiment and implemented the most crazy ideas: the rubber ducky shooting from the shrimp in the soup plate; the goat-monk takes revenge on the fish in the armor for the plucked from the beard hair; the green bear, the butcher and the clown fighting against the monsters. A Flash Food Of Colour was exploding in my ears.
We put our heart and soul in every smallest detail and the Gods noticed. In 2015, we launched six projects. The Southern City received its fee and had nowhere to retreat - it had to host us for another year. And then, we allowed ourselves to dream.
A New Beginning
In 2016, we faced a choice — to leave everything as it is or to evolve and move on. She said,"I see no reason why we should not try." Once again I caught her fearlessness. Fear came later.
The most ambitious project, uncertain future, and a lack of knowledge. It was like we traveled back in time to the beginning, about four years ago.
I had to learn to make games again: new language, new platform. The uncertainty of the future scared, new opportunities absorbed and threw into ecstasy.

2016-2017 Infinity Inc.
At this responsible moment she quit her job with me for the sake of something more important. I supported her decision and remained to work on the game of our life alone.
It was a time of absolute creativity. I was an artist and a writer, a programmer and a director. In the morning talks we lived hundreds of game situations so I could implement the most fresh and worthy of them.
We began to play again: Battleblock Theater, Broforce, Rayman Origins Legends, Rampage Knights. The year passed quietly. Again, this was the best and most unique time of our lives.

2016-2017 Infinity Inc.
The Crucial Time
All these five years we had to fight to have Independence. Our path was like one of the games we loved to play. We passed it with difficulty and excitement, with disappointments and with a few attempts.
In 2017 we finally reached the Boss.
We faced the biggest challenge in our lives. At stake there was all that we had carefully treasured for all these 5 years of our Independence.
Our Big Game has passed the point of no return. Again, we felt the bitter breath of difficulties — lack of money, pressures of the future. But this time we were not afraid to ask for help.
I asked her,"Are you ready to go all the way?" In response, she picked up the gamepad and silently smiled.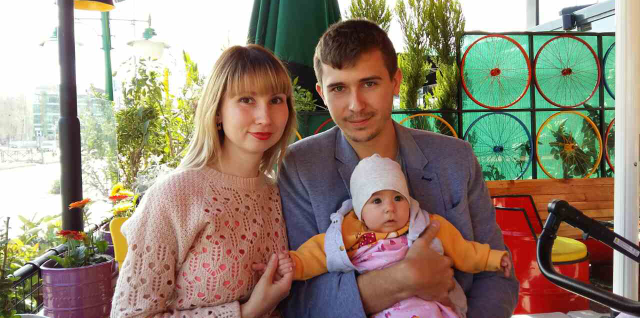 Infinity Inc. on IndieDB - Indiedb.com