Lost Dawn – Battles – Player Action
To make the gameplay of Lost Dawn unique we thought and decided to use a system of actions the player can perform within a battle turn.
As previously mentioned in the Dev Diary, this system is called MAA, that is Movement And Action. Let's explain better this battling system.
During the embryonic stage of this project, we thought about using a classic turn-based system, like the ones used in the first games of Final Fantasy or Pokemon. While continuing the project, the battle gameplay developped more and more, in order to creat a recognisable and unique battle gameplay.
For this reason we invented MMA, keeping its roots on the classic turn-based game, giving more freedom and possibility to the player on how to move within the arena, how to attack the enemy, paying attention to keep the healer in the back while the tank moves forward towards the enemy to get himself the damages.
MMA is based on two types of main actions: Player Action and Movement Points.
Player Action
Player Action within the battles of Lost Dawn will be all the actions the hero controlled by the player will perform during his turn and they will consequently use up the PA (Action Points). Every character has his number of PA that he can see increasing during the story and as he levels up, in order to perform more actions and more powerful attacks.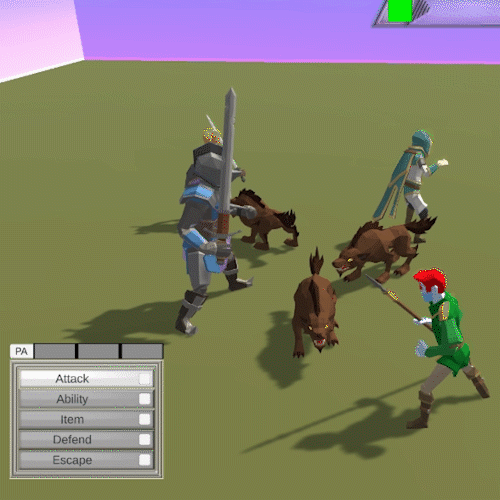 Player Actions available for heroes are: Attack, Talent, Item, Concentration and Escape.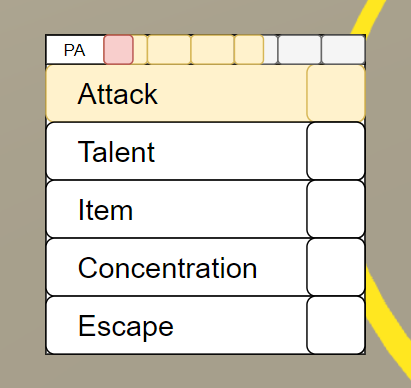 Attack: the simple command of basic attack of the character. Who can use up a various number of PA according to the weapon he uses.
Talent: talents are the skills/special moves of every single hero, a lost of talent that will increase more and more during the game.
Item: the list of objects that can be used during the battle, like cures or stones that can damage the enemy when you throw them.
Concentration: special action that allows to use up all the PA left to give special bonus to every character.
Escape: classic action for whoever is such a coward that he wants to escape ;D
Movement Points
Unlike PA, Movement Points are solely meant to make move the hero that the player controls, and unlike PA the indicator of Movement Points will be a cirle around the hero, which will shrink when the hero will walk.