One Question to rule them all,
One Question to stump them,
One Question to bring them all,
and in the ignorance dump them:
Does the mod work for the extended edition on Steam??!??1!
---
Now available: LOME For Steam Edition!
No tricks, no tales, no obscure desire to make things possible, that's right it's finally arrived! As of this very moment, you can download the first "alpha" build of Legends of Middle-Earth for the Steam Extended Edition!
The mod as a whole is very incomplete, but I'm very proud to finally make this release possible! In this version of the mod, players are free to play against one another in online play, with the roster of LOME random maps included. I need everyone's help to pull this release into a greater state, because the amount of bugs and mishaps is at an all time high.
Many features are currently not included such as campaigns, and single player Random Map, as the AI does not work, and the campaigns are relatively unstable. I am counting on people to enjoy online play as much as possible.
There are many bugs riddling this build of the game including textures, mismatched texts, among other things. Several models do not work as intended either. Rest assured that these problems are being ironed out almost by the hour, and what matters is that the mod actually works.
For those of you now new to the mod, allow me to introduce Legends of Middle-Earth, the full conversion mod for Age of Mythology. Replacing the original civs with Elves, Men, Orcs, Hobbits, Dwarves, and more, prove your dominance with all new unique factions, myth units, and god powers! Bear in mind the Chinese civ for Extended Edition is still present on its own, and you MUST OWN IT TO PLAY THIS MOD CORRECTLY!
Since the Chinese are on topic, the next question arises to you good folk: What should we make with the extra Chinese slots? Comment your suggestions and let me know!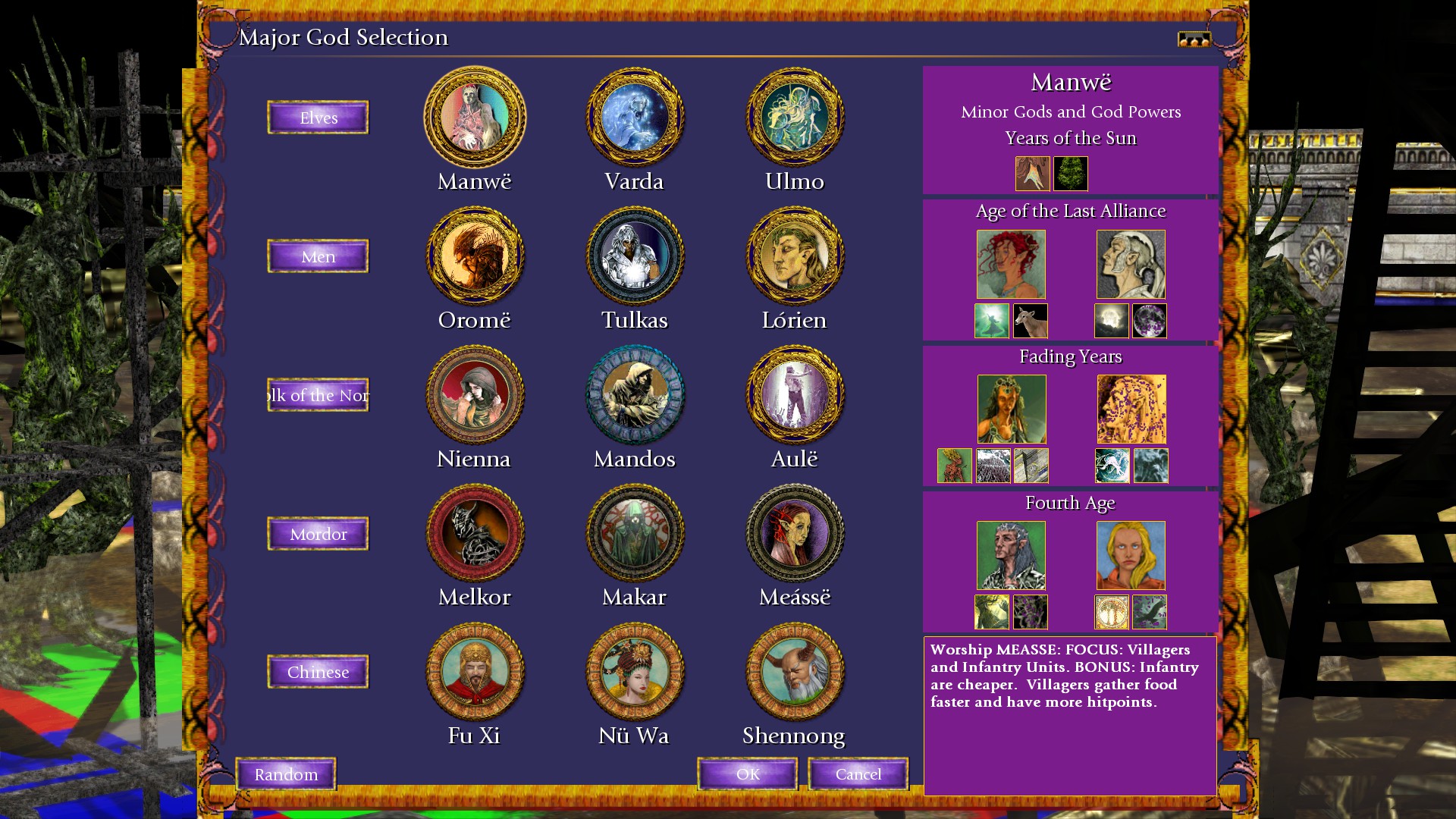 Go check out the download and play it now! You've been waiting years (probably). But before I go, check out more of my mods for Extended Edition including my "Increased Lighting" mod, which adds dozens of new lights into the game!