Hello and welcome back to another update of Forgotten Hope. In addition to a brand new German tank-destroyer, we also have two very special announcements relating to FH2.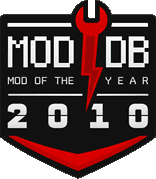 As many of you are already aware, the 2010 Mod of the Year competition has started. As such, we hope that everyone takes the time to log in and vote for FH2. However this year, we've decided to do things a little differently, and offer you, the community a challenge.
Help spread the word about the mod by voting for Forgotten Hope 2 in phase two of this year's MOTY competition. Should FH2 win one of the top 10 spots, a very special announcement will be made in the following weeks, relating to the future of FH2, as thanks to you, the players for your continuing support to FH2.
Now on to the actual update. Today we are showing off the German Jagdpanzer 38(t) 'Hetzer', one of the most common late-war German tank-destroyers.
The Hetzer was a true step above some of its earlier predecessors like the Marder series. The fully-enclosed hull made it much safer to operate for the tank crews, and the sloped armor gave it overall better protection. The Hetzer was also able to avoid the mechanical problems of some of the larger tank-destroyers by using the already proven Panzer 38(t) chassis. The small size of the vehicle was both good and bad however. In the field, the Hetzer could be easily concealed and knock out Allied tanks at range using a modified 75mm gun, but at the same time, the small size forced the crew to work in cramped quarters. Other problems included poor visibility and a limited gun traverse. Between 1944 and 1945, approximately 2827 Hetzers were produced. The Jagdpanzer 38(t) Hetzer was made by Toddel.
Last but not least, we have some more information regarding FH Game Night #11. You can view the announcement poster below and click on it for more details. A big 'thank you' to developer FatJoe for this excellent poster and betatester Flippy Warbear for organizing the whole event. See you there!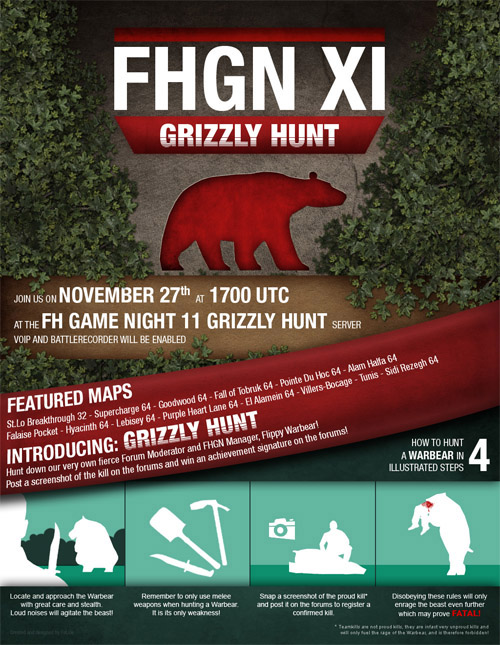 That's all for this week, but be sure to come back next time for another update. Until then, feel free to visit our IRC channel and our public forums.