Hello and welcome back to another update of Forgotten Hope. Today, we have two Allied weapons of war that should support the Americans in their defense against the attacking German armies, and an
announcement about the start of a new campaign from World at War.
First up is the M-24 Chaffee; a brand new light tank to serve the Americans in the Ardenne!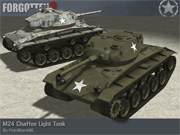 The shortcomings of the M3/M5 Stuart highlighted the need for a new scout tank. Starting in 1944, production began on the new Light Tank M24. The new vehicle featured 25mm thick armor and a new, lightweight 75mm main gun derived from the B-25H Mitchell bomber. The first thirty-four M-24s arrived in Europe in November 1944 and were send to various units throughout France. Most Chaffees entered widespread use during the Battle of the Bulge, but were slow in reaching the frontlines, and some didn't even reach their intended units until after the war. Those that did were generally happy with the 75mm gun, however the tank was still vulnerable to nearly all German anti-tank weapons. Over 4,731 Chaffees were produced from 1944 to 1945. The M-24 Chaffee was made by Pointblank86.
Next up we have a new twist on an already battle-proved infantry weapon. The M1919A6 Browning Light Machine Gun!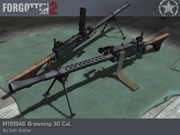 The M1919A4 medium machine gun had already served well with Allied troops throughout the Invasion of Normandy. The A6 variant was an attempt to turn the weapon into a lighter platform for Airborne troops. A wooden buttstock was added along with a lighter barrel and a bi-pod. Ironically however, the A6 was heavier than the A4 (without the tripod), but the bi-pod made it easier to carry and deploy, as the need for a man to carry the tripod was removed. The M1919a6 saw action in the later part of World War II, and extensively during the Korean War. The M1919a6 was made by Seth_Soldier.
That's all for this week, but be sure to come back next time for another update. Until then, feel free to visit our IRC channel and our public forums.