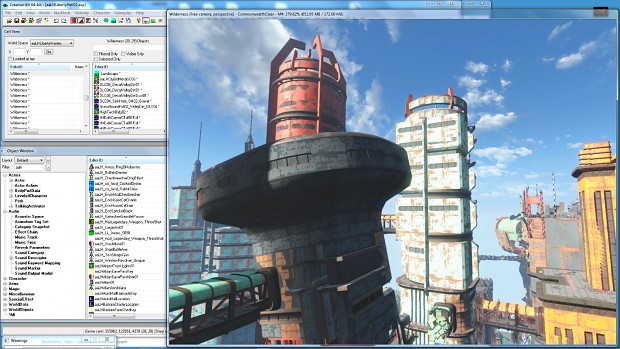 We finally made it...
Hey folks, I figured it was time to have some sort of public entity for Liberty Hell, hence this Moddb page! So, if you haven't heard of Liberty Hell or want to know more about it, let me break it down for you...
The Deets on Liberty Hell:
Philadelphia, once known as a prosperous city is ravaged by three nuclear blasts during the Great War. The result is a war torn landscape, riddled with radiation and despair. 210 years later, within the area now known as Liberty Wastes, mutated creatures of all types roam around reaking havok. Most of the surviving human inhabitants have gone insane, some become devout believers of mythology and worship mutants as gods. The few pockets of sane settlers build refuge underground, the last remaining "unoccupied" area.
What this mod will add (Subject To Change):
New Worldspace "Liberty Wastes" (consist of Philly, parts of Delco and Jersey)
New Storyline and Dialogue with Voice Acting
New Optional Start Player (Possibly, still in debate)
New Quests
New Creatures
New Companions
New Perks
New Items (Consumables, Unique Items (Relics), Weapons, Armor, Magazines)
New Recipes
New Radio Stations and Soundtrack, all lore friendly
A brief-ish history:
Fallout Liberty Hell was birthed from the desire to make a Fallout mod in a post-apocalyptic Philly setting, which goes back to the days of playing FO3 circa 2008. In the Capital Wasteland, there was a highway that went northbound which I thought could of been the I-95 corridor. I would imagine taking that route up all the way to Philly. Of course, I'd hit an invisible wall way before even leaving Maryland. Also to my disappointment, the road I thought was I-95 didn't even exist on the Pip-boy map (although I-495 did exist and does connect to I-95 but I digress). Nevertheless, the desire to make a Philly mod was born so I began to write storyboarding. It wasn't until the summer of 2011 when I was able noodle around the the GECK, and 2012 with the Creation Kit. 2014-2015 was when I kept myself preoccupied with a FNV mod called Frontier Saloon (changed to Mojave Spirits to spare any confusion with The Frontier mod). This took place just south of the Mojave Wasteland, into Spirit Mountain and points near Laughlin & Bullhead City. There wasn't really much of a story, more so I did it to pass time and sharpened my modding skills. When Fallout 4 was announced, I quickly turned my attention and efforts back to my dream project: Liberty Hell.
The work on the worldspace started back in last April 2016, building off of a generated TESAnnwyn esp which mirrored the terrain of a map I produced back in January 2016. Liberty Hell was pre-alpha until May 5, 2016 and plans to go beta are fastly approaching.
People behind Liberty Hell:
Death Leopards (myself) - Current role (but not exclusive to) Lead Level Designer.
Buns - 3D modeler of melee weapons from Blender to Creation Kit.
Volbrand Designs - Level Designer of Interior Development.
Blair Baskin - 3D modeler and character artist for creature design.
DiscoMoe - Outfit designer