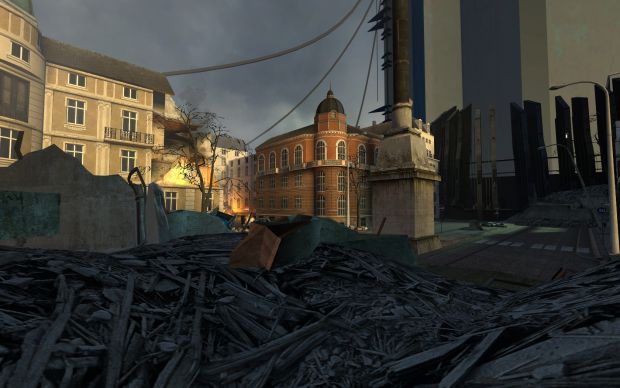 ---
Lethal Stigma is a multiplayer role-playing first-person shooter like no other. Combining elements from a multitude of different games and genres, the result is an exciting and highly-polished Half-Life 2 modification that is simply fun to play.
Admittedly, like many other HL2 modifications, Lethal Stigma provides the player with the choice of two teams: the Rebels and the Combine. Join a side and choose wisely, but don't get too attached to your teammates because if you die, you will find yourself fighting for the opposing team. The battle rages on until one faction has completely eliminated the other, at which time at least one side can claim victory.
Never fear, Lethal Stigma has far more to offer to its players than a simple variant on HL2DM's Team Deathmatch. In addition to teams, there are classes, each with their own unique weapons, benefits and drawbacks:
TANK - Armed with an AR2, this beast has double the amount of health as most of his counterparts and twice the firepower, making him the perfect bodyguard. However he is a little slow, so you can expect to have to wait for him to catch up to you if you really want some protection.
ASSAULT - A good balance between speed and power, the Assault class moves only slightly slower than your average soldier due to the sub-machine gun he carries. It is this balance that makes this class deadly in numbers and expectedly the most used class in the game.
SNIPER - Making up for his low health with speed and an accurate crossbow, the Sniper is the only class who is fit for both killing distant enemies and surviving close encounters. In addition to having plenty of upgrades, this is the class for those who consider themselves truly 'l33t.'
ENGINEER - Need a dispenser here! The Engineer class brings the perfect balance between stamina and speed. Armed with balls of steel, this is the only class that can manipulate his surroundings with the powerful gravity gun and support his teammates with automated floor turrets. Like the Sniper, the Engineer can be upgraded extensively, making him an excellent choice for those who are already familiar with games like HL2DM and TF2.
MEDIC - Charge me doctor! Okay, I'm done with the TF2 references, I swear. Lethal Stigma's medic is equipped with a shotgun and has the same stats as the engineer, but is provided with a single health kit. Heal your teammates and be rewarded, or be a selfish bastard and heal yourself. The choice is yours and yours alone.
But that's not all, kids - there's more! Why limit yourself to the same old classes and weapons when you can upgrade them by killing your enemies? You see, in addition to a sophisticated class system, Lethal Stigma provides its players with an experience system like no other. You actually get rewarded for things you probably first found yourself doing long ago, like blowing off someone's head with a shotgun or jabbing that devilish Combine soldier in the chest with a crowbar. This experience contributes to your overall level, and when you level up, you are provided upgrade points that you can use to trick out your favorite classes and weapons. It's about time you were able to throw on a couple of laser sights on that Sniper's dual pistols, in my opinion.
Lethal Stigma offers a whole bunch of miscellaneous features, too. Remember those turrets I was talking about? Aye, well they too can play a large role on the battlefield. All players have the ability to convert a functional floor turret to their team with the simple push of a button. Finally you can get rewarded for watching it pwn @ll th0se n00bz! There are also several new HEV suit features such as self-healing and the classic cloaking device, all unlockable through the upgrade system and totally pr0, d00d.
Like all good things though, you're going to have to wait for this bad boy; the first public release is set for early to mid-spring. If you'd like to stay informed, watch this modification and stay tuned for private beta testing signups. Don't worry, it'll be here before you know it.
And with that, I leave the rest to your imagination. =)
---
---