Hello guys!
Today we're proud to release a big game update, which we've been working on for weeks. It significantly improves the overall visual quality of the game.
In the past

Since I did not post here for a long time, now a little best-of the latest updates in advance:
- There are several new minor factions. Some of them are friendly and you can find their stations in outer space. Others are hostile and even have their own biomes.
- Enemy NPC ships (from the old and new factions as well) can be challenged for a quick 1vs1 battle. In case of victory, they have some loot for you, of course. :-)
- At jump portals, merchants spawn on a regular base to trade with your docking bays nearby. Also, enemy ships spawn every now and then and can be challenged for a 1vs1.
- There are new automation mechanisms in addition to the transmitter system, e.g. relay stations and lava pumps.
- There are new PVE missions available. We now have 4 of finally 12 missions implemented to the game and of course they contain loot and unlock new ship modules.
- The world can be upgraded up to Level 4. There are level 4 buildings, the level 4 ship designer and of course tons of level 4 ship modules.
- There's an interactive tutorial for newcomers, lots of tutorial videos, context-driven help texts and a complete ingame wiki.
- The API has been heavily extended, so there are many more options for complex mission scripts.
But now for today's update:
Lighting improvement

At first, we added bump mapping to all blocks an buildings! This increases the level of detail dramatically and creates a more three-dimensional surface for all blocks and building walls.
At second, we added light sources and illumination (this can be (de)activated in the settings). Items like buoys or powerblocks do now emit light and enlighten the environment around them. This improves the games atmosphere in a big scale. Furthermore, spotlights can be attached to your ships to create seeker ships or just as a nice decoration.
And with it comes the content

To allow you to make use of the new visuals, there are over a dozen new ship modules from level 1 to 3, which you can use in the ship designer (no need to unlock via a mission loot). From point light beacons over floodlights to lanterns, you'll find everything to build nice illuminated ships.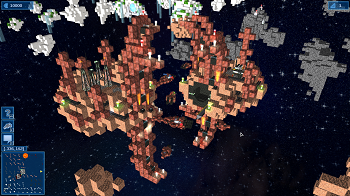 A new trading race has been introduced to the game, the Copper Miners. On the above screenshot you can see their home base, which can now be found in outer space as well. They'll sell copper, coal and also a new item called Lightbox. The lightbox can be used to illuminate your structures with spotlights of different colours (can also be seen on the above screenshot). Of course, the copper miners will also appear at your jump portals to trade with your docking bays. Just make sure you check out our wiki to see the supply and demand of all trading races.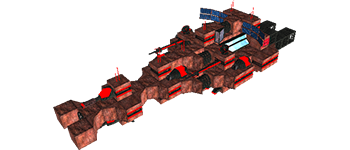 Bugfixes and improvements

Of course, as with every update, we also fixed bugs and added a few improvements and/or features from our to-do list. For example the tutorial has been improved with new tag messages, so it's even more obvious for newcomers to get into the game, and the shields (available for ships of level 2 or above) have now been implemented to the combat engine.
In the future

In the next few days, we'll focus on updating our shop page with new screenshots and trailers, so new visitors get a better impression of the game in updated quality. Also, trading cards and our wiki page will be updated with improved screenshots. Maybe, we'll launch another Steam visibility round to get a new wave of players in.
After everything has been updated to the better visual level, we'll return to mission scripting and finally release the next two PVE missions you're all waiting for.
As you can see, a lot of things are still happening in this game and we hope to leave Early Access state this year!
But for now, have fun with the update and thanks for reading! :-)