It's been quite some time since our last regular news post, and there's quite a bit to talk about. We'll be covering the new Empire at War patch and what it means, what's left to do for 2.2 and some early points on 2.3, and the fourth era breakdown, talking about Natasi Daala and the new Reunification. We'll start with the patch and what it means.
---
Official Patch

As most EaW players are probably aware, Petroglyph and Disney released a patch for the Steam version over the weekend, changing a few things. there are three major points to this. One is multiplayer, two is the steam workshop, and 3 is the selection freeze fix. The selection freeze fix means that for those with the steam version (and hopefully there will be an official version of the patch for the GoG and disk version), the defreezer tool is no longer necessary. The tool was a good workaround, but could be confusing for some players and could have edge cases where it caused instability with the save game, so this fix opens up several possibilities with Galactic Conquests, including some events and scale. There are one or two changes this allows us to consider, but we're mostly holding off on that until 2.3 (by which point hopefully GoG and retail will have official patch options).

Secondly, the Steam workshop - we have absolutely no intention to remove or reduce our presence on Mod Database because of this, since some people have been asking. The Workshop is very convenient, but all versions will continue to be published on both places. The 2.2 Demo needs a couple changes to be compatible with the new version to fix the green mess it caused (really, just deleting a folder in ICW22Demo\Data\Art named Shaders- you can do it yourself if you like), so it will be back available on ModDB soon. We'll also be publishing a few fixes to 2.1 to allow compatibility with online- these will be updates to the existing download as opposed to new uploads.

The major thing which everyone is of course focused on is multiplayer. Please, while trying to play mods in multiplayer keep in mind we were not able to make changes to accommodate the reintroduction of multiplayer beforehand, so things are still set up how they would have been for when it worked before. It will take some time to work out the kinks. The game does seem to dislike custom maps being used for matches, so we have pushed a patch to the 2.1 workshop copy allowing the use of base game maps until that gets worked out.

The multiplayer GCs in ICW 2.1 are mostly playable, but not all factions are available, and the maps have not had a chance to have balancing done, or hero spawns (we never assumed there'd be a chance to use them. For development, this means you can expect a lot more fleshing out on the GC maps, and a bit more work being done to skirmish, depending on what happens with the custom map issue. We will try to have at least one multiplayer GC map available for each faction at release, but we may end up releasing them in packs as we go. We have been asked if we can allow more than two players per map, but that is unfortunately impossible- the game is capped at two human players.
---
Era 4

As the shortest era covering only 12 ABY, Era 4 only includes the Reunification Galactic Conquest.
Reunification
"I didn't want to rule. I had no intention of becoming a political leader—but you have given me no choice. I cannot leave the Empire in the hands of fools like you."
―Admiral Natasi Daala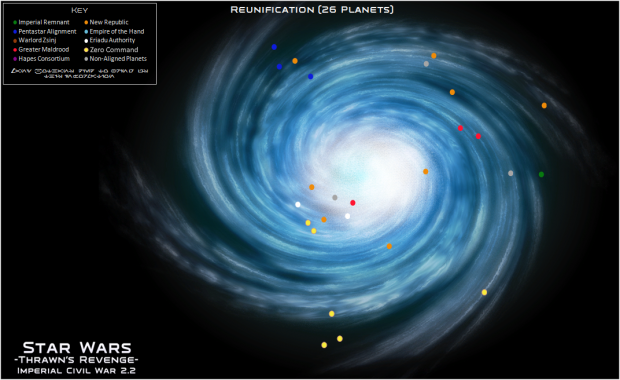 Time Covered: Imperial Reunification (12 ABY)

After the failure of Shadow Hand, the Imperial Warlords once again fell into conflict with each other. Natasi Daala, having been isolated with her fleet at the Maw since before Endor, emerged to find the Empire she had loved and loyally served in ruins. Taking her fleet of four Star Destroyers, she began a failed campaign against the New Republic. Upon regrouping with other Imperial forces in the core, she decided to act as an ambassador between the larger Warlord groups, hoping to reunite them under one banner. When ordered by Blitzer Harrsk to mount a counterattack against Treuten Teradoc's forces, Daala instead disabled the flagship of Harrsk and ordered the two to cease hostilities, threatening to destroy both her own ship and Harrsk's. In the process, Daala gained the respect and loyalty of other Imperial officers including Gilad Pellaeon, Thrawn's old protege, who shared her goal. This culminated in a meeting called by Daala for all of the Imperial Warlords at Tsoss Beacon, where she threatened to kill them all unless they found a way to work together. When they refused, Daala killed all of the leaders, and took control for herself, thereby uniting almost all of the Imperial forces in the galaxy under her command. In this GC, the Remnant follows Daala's attempts to unite the Empire and bring together the Warlord forces, gaining new heroes and ships as she goes. This GC will have its basic setup and Galactic-level events laid out in 2.2, with extra tactical missions added in 2.3.
Playable Factions:
New Republic - Coruscant
Imperial Remnant - The Maw
Pentastar Alignment - Entralla
Eriadu Authority - Kampe
Greater Maldrood - Hakassi

Non-Playable Factions:
Zero Command - Kalist VI


---

Since we're getting closer to release, we wanted to talk about what specifically is left, and what happens after that. Because of just how much we're overhauling with 2.2, we've decided that some of what we'd initially been planning we are better off leaving to 2.3. This both allows us to get the update out more quickly (so people aren't still playing 2.1 for too long), and more importantly allows us to more thoroughly test everything and work out the bugs before building too much upon it. One of the big pushes in 2.2 is to add in some extra story elements, so we're breaking that into two phases. With 2.2, we're mostly focusing on the main plot points for any given GC on the galactic level, and in 2.3, we'll flesh them out more with missions (both tactical like the Katana fleet in 2.1, and galactic like forming the Hapan alliance in the 2.2 demo). The main thing which we are currently working on for 2.2, which has taken a lot of our development time, is that we rebuilt every galactic conquest from the ground up- something we won't be redoing for 2.3. While we will add a small handful in the next version, we'll have more time and opportunity to add more depth to the existing ones, after using the 2.2 feedback to fix any bugs which will inevitably result from what we're working on now.

There are a lot of features which follow the same logic- a lot of the systems we're working on now on the backend have taken longer to introduce in 2.2 because of what we're setting them to to be built into. Things like the structure display and raid fleet scripts have been rebuilt to allow for other tactical events and galactic information (as well as the container method to display other information on the galactic map), meaning along with raid fleets, in future versions we'll be able to have other randomized events within battles to help add some variety and other objectives. We currently have 3 new ones planned. We also have the generic object scripts, which are how we handle fighter spawning, single-unit retreat, and other abilities, meaning it will be much easier for us to add a wider variety of abilities in the future on top of the new ones we have already. This basis is also being set up for use on Fall of the Republic, our Clone Wars mod.

So, that should hopefully explain the situation and why things are taking the time they are, as well as give you an idea of what to look forward to- now, for what exactly is still left to do. There are a small handful of art assets we're still working on, namely the Sorannan, Vigil, Imperial II frigate, Intego, and ULAV. Hopefully the updated Providence and one or two other things will be in as well. We're also going through and trying to update as many of the skydomes as we can for space maps, bringing them more in line with the newer ones. This is something that will likely continue with 2.3.

The Galactic Conquest work is starting to all come together- most of the basic layouts are done, with a lot of the story skeletons in place, and playable as at least one of the factions. What remains in this department is to finish the setup for the Era 5 and Era-Progressive GCs (we'll have separate news posts on them) and to go back through, adding in support for all playable factions for the GCs which have been set up. Basically, 11 of the main ones are done or close to being done, and 8 remain. that may sound like a lot, but among those 8 are From the Ground Up, which don't involve separate story scripting and are made much easier by the GC Editor, the Era 5 GCs, which are mostly planned, and the era-progressive GCs, which are more about compiling the work done with other GCs and putting them together in a way which makes sense.

What this means is we are getting very close to reaching an alpha/beta phase. We are about to start opening up specific GCs to our internal beta testers, and we will be slowly adding to that group as we go, trying to cover as much ground as we can, as quickly as we can. Many people have asked to be testers, but because of how directly involved we have to be with each tester, we do try to keep the pool kind of limited- we'd love to let everyone test, but that gets really cumbersome, so we typically pick testers based upon past ability to provide feedback, whether it's on the forums, Discord, ModDB, whatever. Because the testing is run on the forums, the tester signup thread can be found there, and does require having an account on the forum- just post here and we'll start messaging people as we go.

That about covers it for now. Next up will be a breakdown of Era 5 and the time of the Old Man of the Empire. We've also added a channel to the Corey Loses & GB Gaming Discord server specifically for Thrawn's Revenge discussion, so if you want to join, click the happy little button below.
---
As usual, I've been doing full preview playthroughs talking about development and showing off the newest changes on my channel, right now covering the changes to Shadow Hand, which can be seen here for thos interested: