LAZARUS MOD – Version 2 RELEASED! OUT NOW!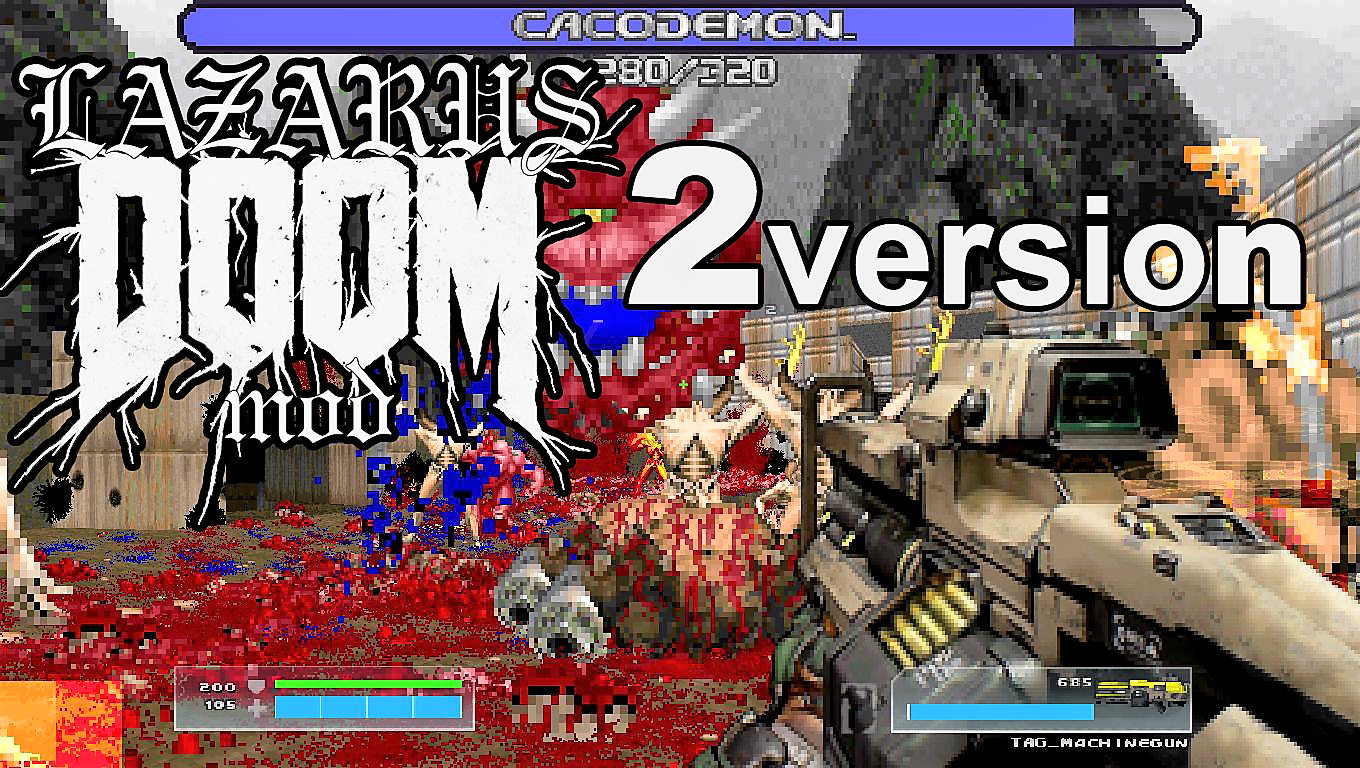 ENGLISH
First of all, Hello Marine! Hello, I'm Victor Cajal and I'm so glad you downloaded my mod. It is the first mod I do for DOOM and I hope you enjoy it!.
I invite you to write me and leave me suggestions and opinions on my social networks, thank you! Thank you so much!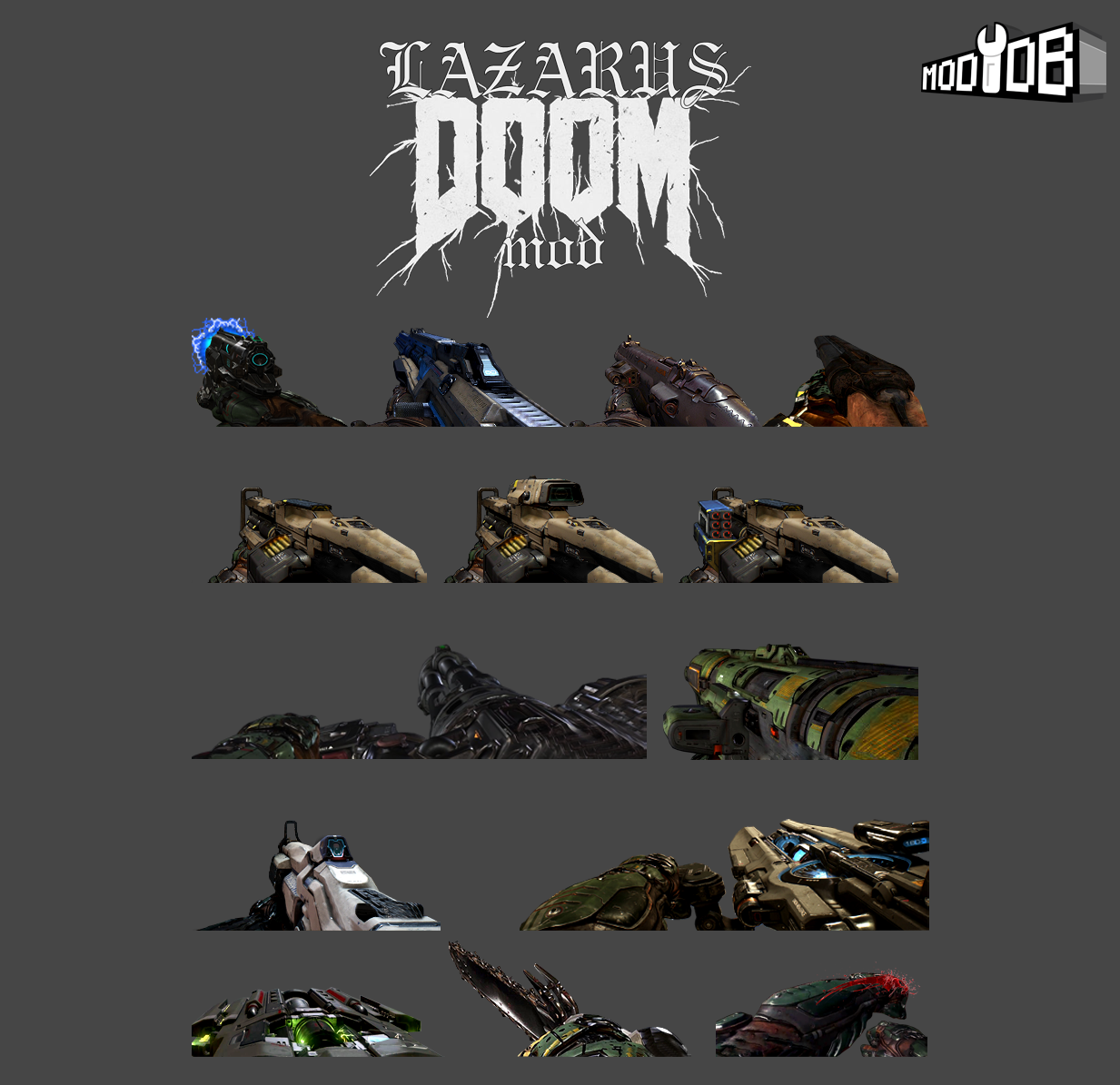 What is Lazarus Mod?
Lazarus Mod is a weapon modification of Doom 4 for Doom I and Doom II with the weapons and aesthetics of Doom 2016. Lazarus is a redesign of the weapon sprites created by Necronixis but using part of the original artwork created by Betsheda for Doom4.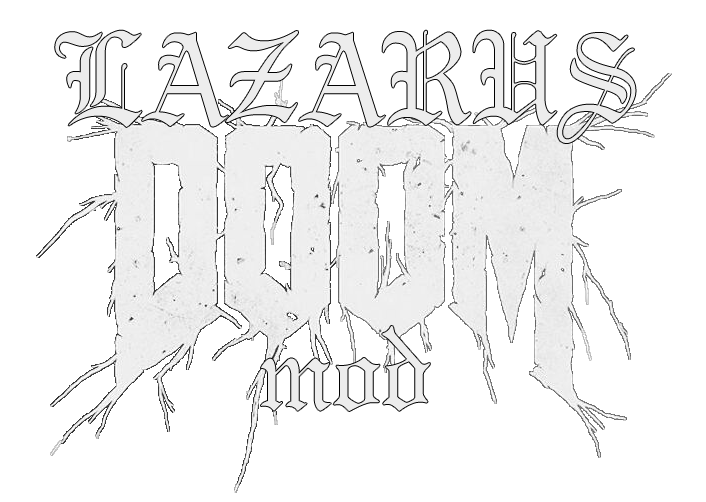 What's new in Lazarus Mod 2?
-12 original weapons of Doom 4 (2016) redesigned from the original art of Betsheda
-Weapons: 1) Mark V Pistol, 2) Repeater Rifle, 3) Shotgun, 4) Double Shotgun, 5) HAR Heavy
Assault Rifle, 6) Chaingun, 7) Rocket Launcher, 8) Plasmagun, 9) Gauss Cannon, 10) BFG
9000, 11) Chainsaw, 12) Hands Fist
-All weapons include upgrades.
-New Hud style Doom 2016
-Double Jump
-Doom OST 2016 (OGG Compressed audio)
-Doom 2016 Music Covers by BillyTheBard11th
-Brutal Monsters (SGtMarkIV)
-Brutal Friends BOTS Coop Addon (SGtMarkIV)
-New Sounds
-New Items Sprites Doom 2016 Style
-Fixed some animations of the weapon sprites
-Will include ports .rar files Gzdoom 2.1 (windows 10), Zandronum 3.0 (windows 10) and
Doom Touch Pro Apk.
-Compatible with Gzdoom 2.1, Zandronum 3.0 and Doom Touch (Android)
-No Voxels Animations to Reduce Lag on PC and Android
-Compatible with Zandronum 3.0 and multiplayer options for deathmatch games with bots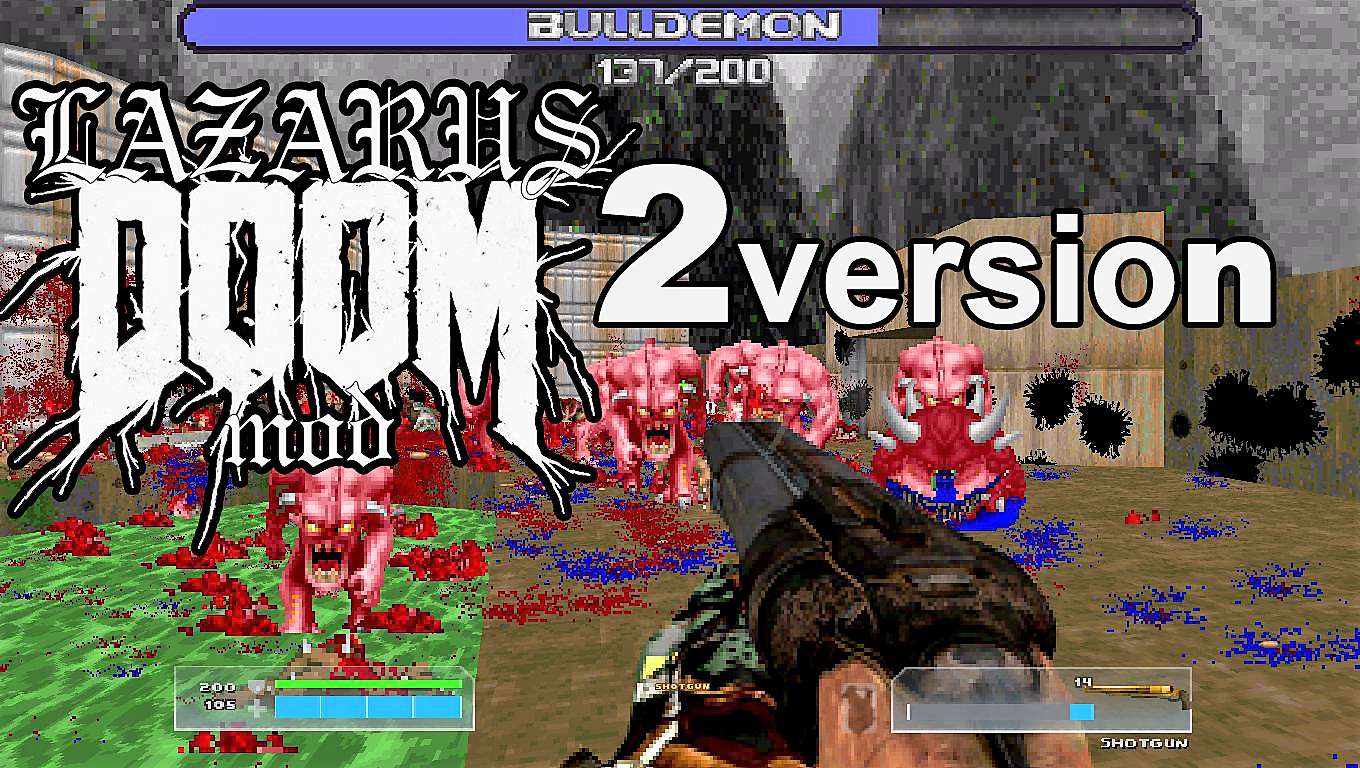 WEAPONS UPGRADES
To be able to use the weapon upgrades activate the IDFA cheat, and then go to OPTIONS>
CONTROLS> ADVANCED MOVES And assign the key that you like, then you can activate
the upgrades!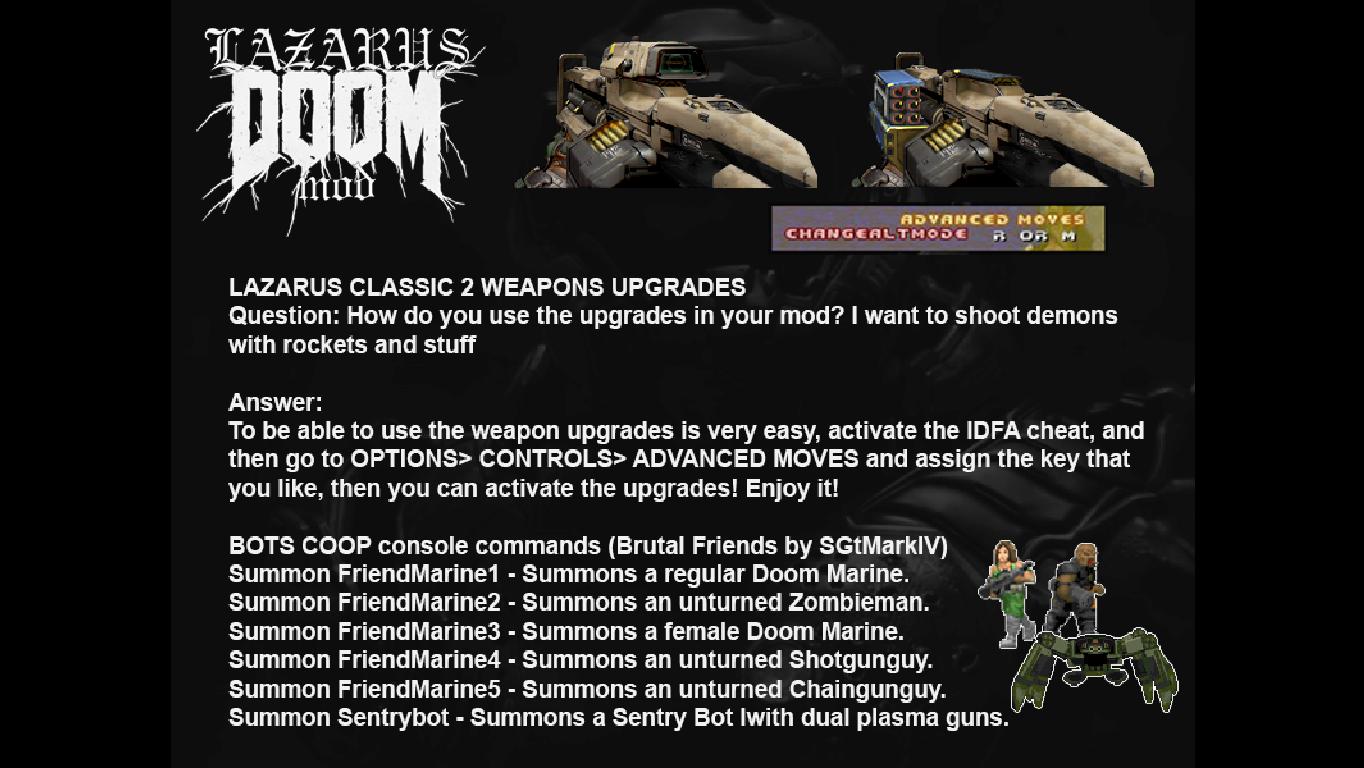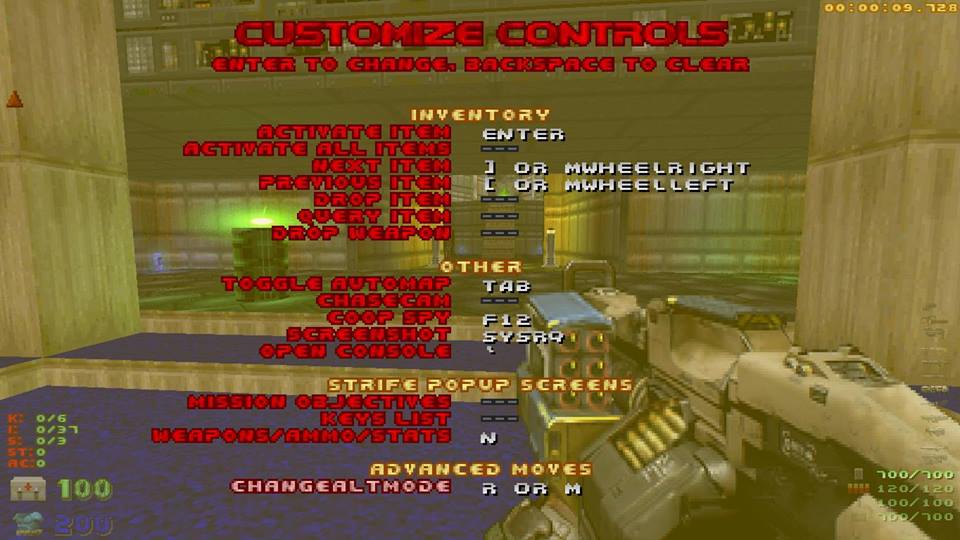 BRUTAL FRIENDS BOTS COOP (SGtMarkIV addon)
The summon commands are the following:
Summon FriendMarine1 - Summons a regular Doom Marine.
Summon FriendMarine2 - Summons an unturned Zombieman.
Summon FriendMarine3 - Summons a female Doom Marine.
Summon FriendMarine4 - Summons an unturned Shotgunguy.
Summon FriendMarine5 - Summons an unturned Chaingunguy.
Summon Sentrybot - Summons a Sentry Bot like the one in Doom 3 with dual plasma guns.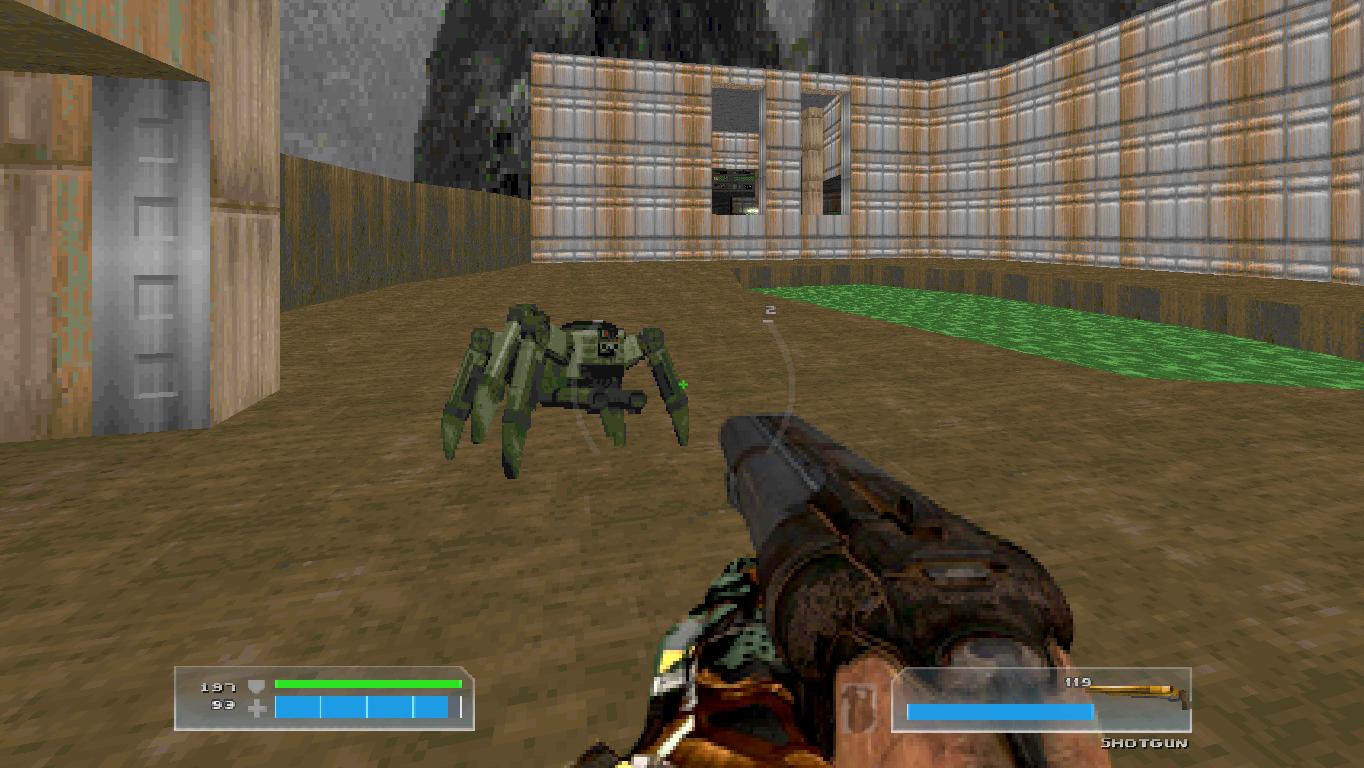 ANDROID – BETTER PERFORMANCE
Lazarus Mod Doom is compatible with Doom Touch and Doom Touch Pro. For a better
performance of the Doom Touch set up as follows, thanks.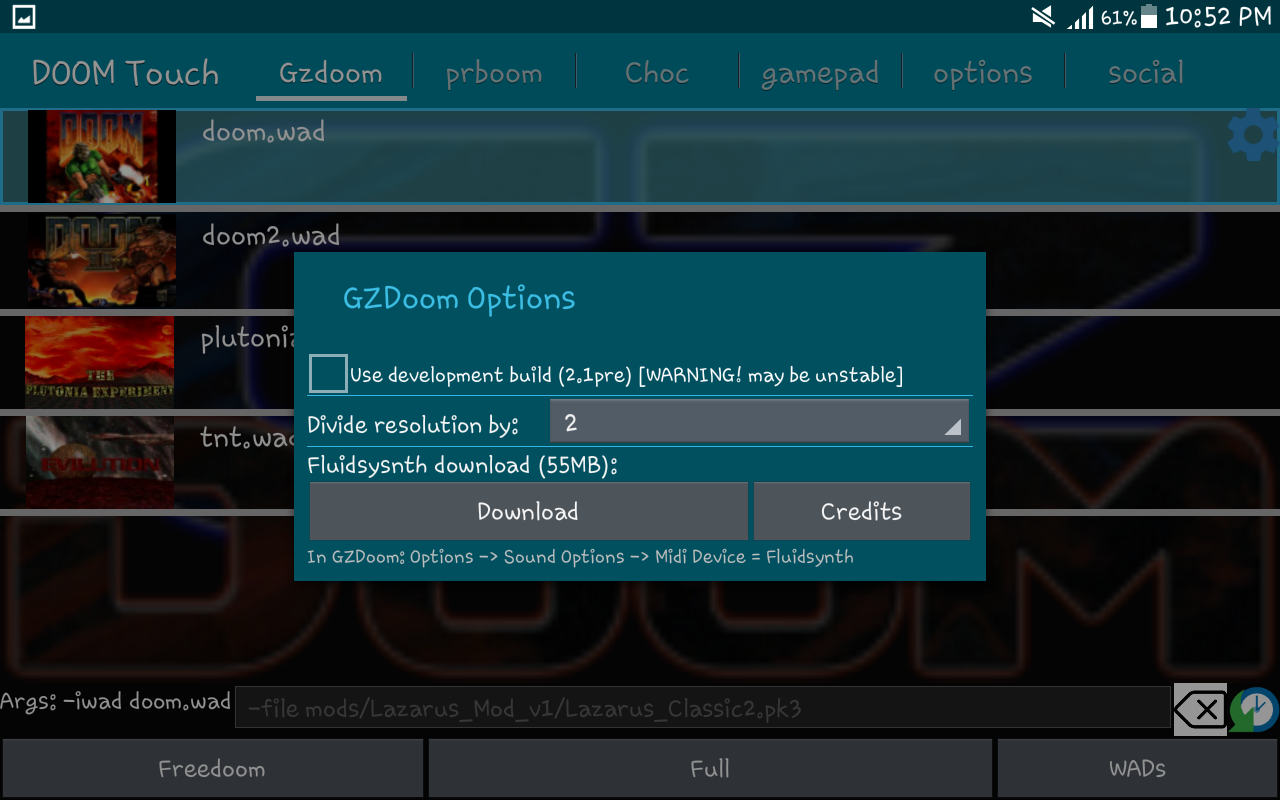 HOW TO PLAY WITH BOTS IN ZANDRONUM 3.0 (PC)?
To play Lazarus 2 with bots in Zandronum, run the mod in Zandronum 3.0 (port included)> go
to OPTIONS> MULTIPLAYER OPTIONS> OFFLINE SKIRMISH> select level, game mode,
skill, botskill, bot setup> START GAME! Enjoy!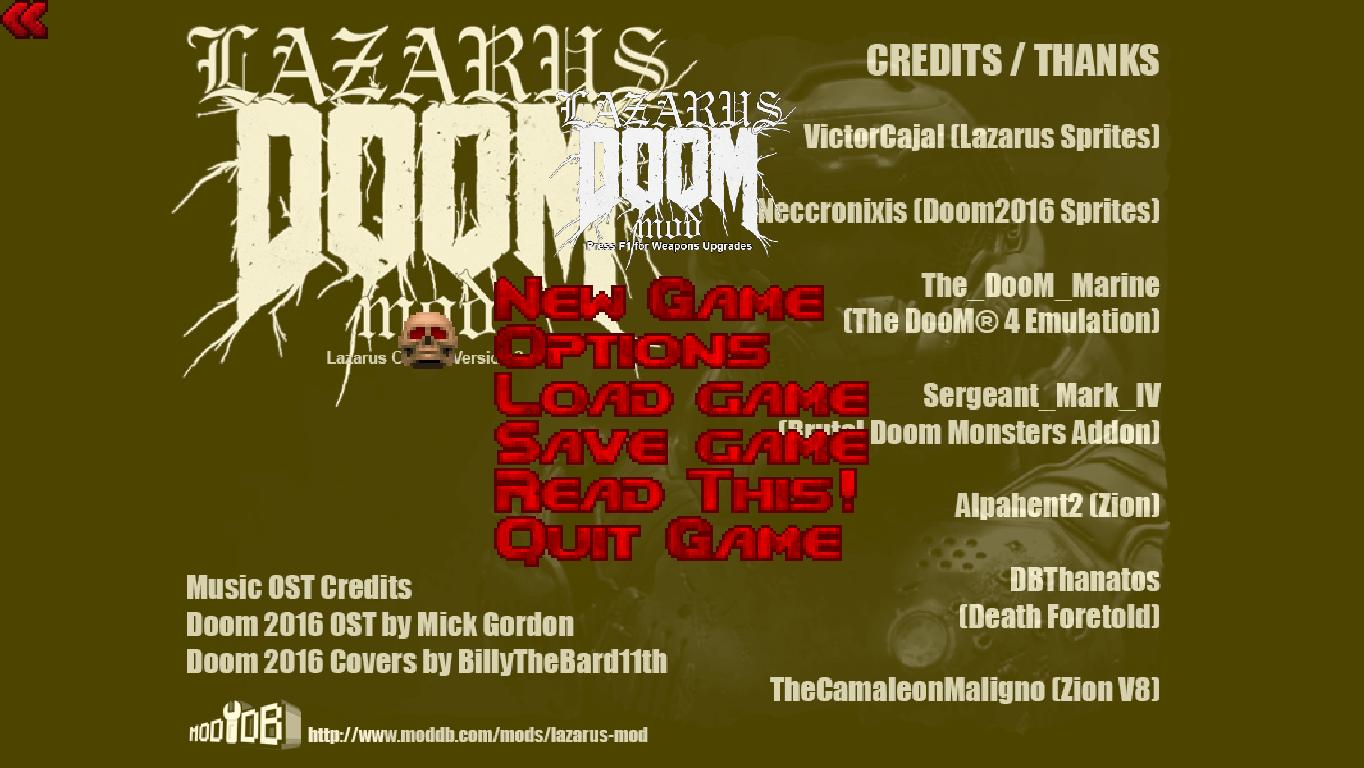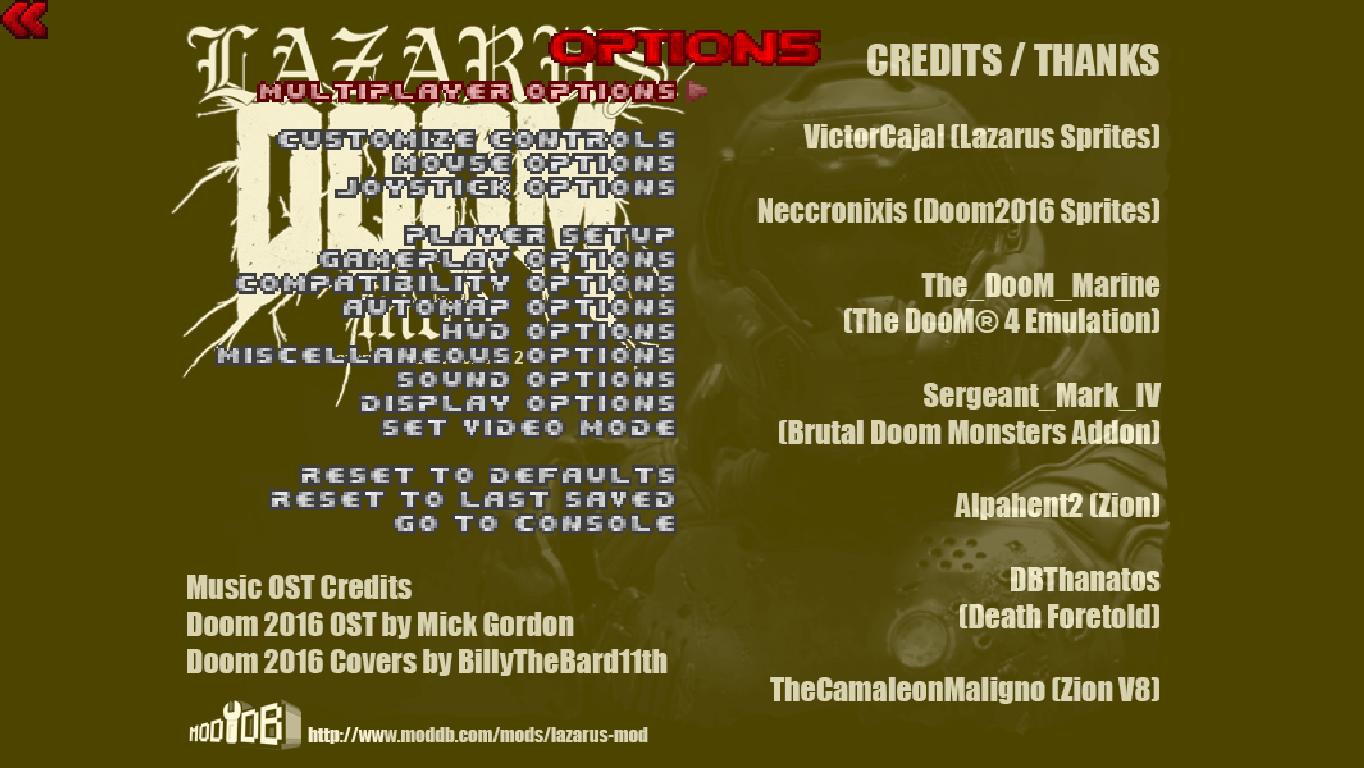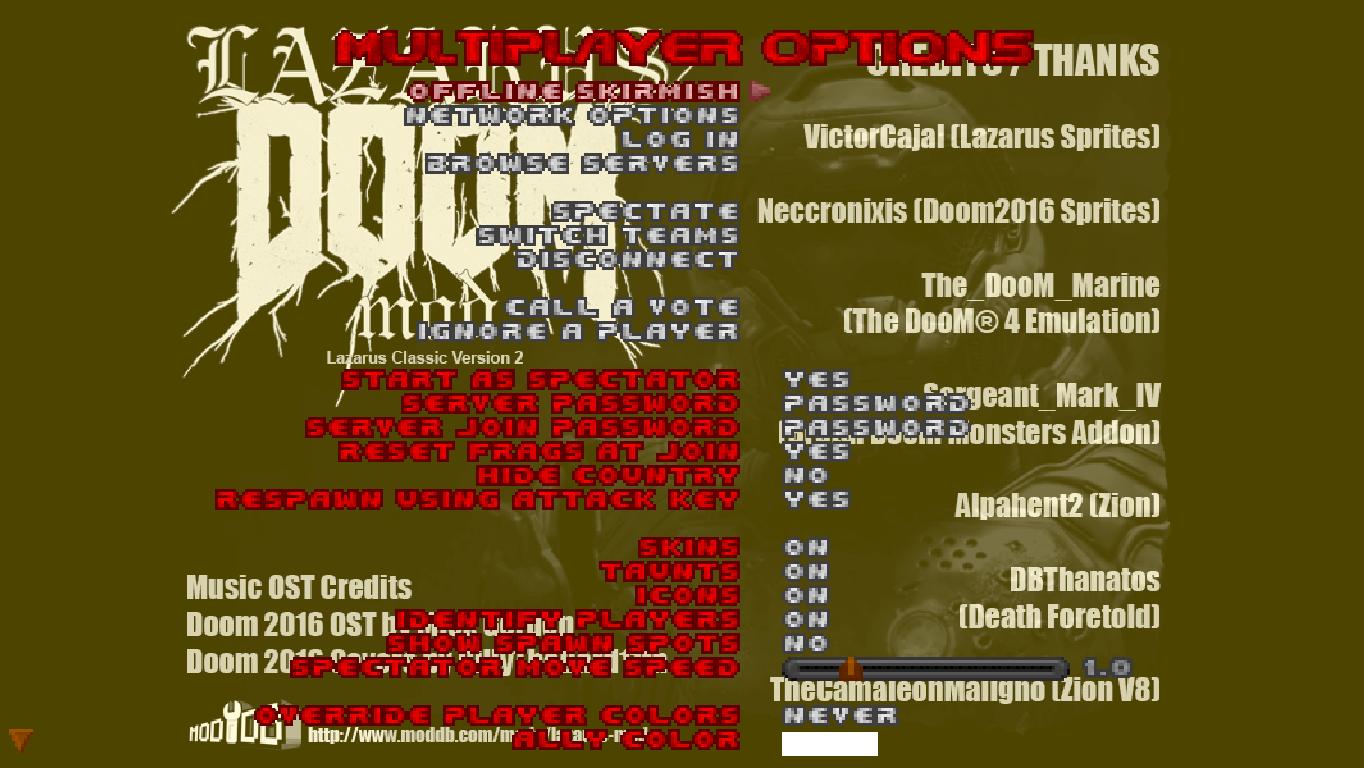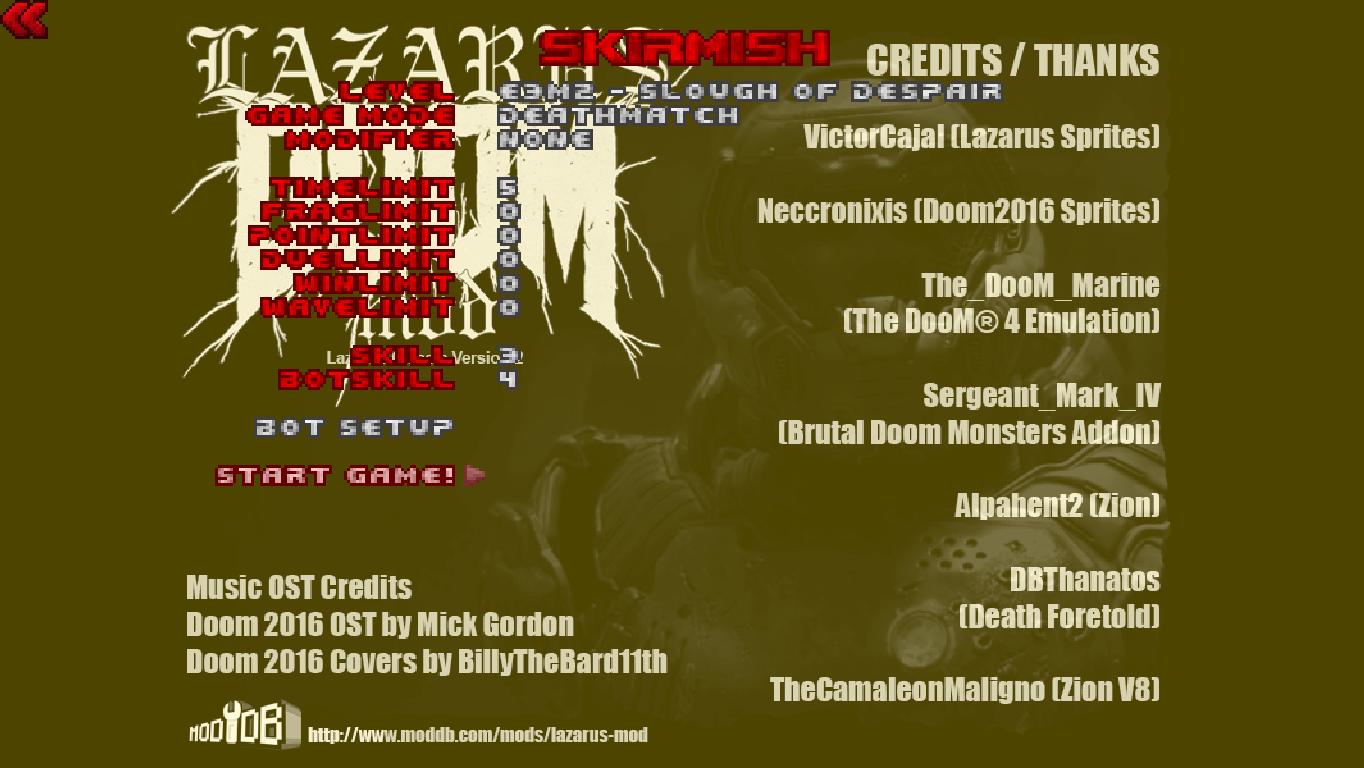 THANKS / CREDITS:
AlphaEnt (Senpai) Moddb.com
DBThanatos, D4T Moddb.com
The_DooM_Marine Moddb.com
Malignant Chameleon Bagget Moddb.com
SGtMarkIV Youtube.com
ORIGINAL Sprites made by Necronixis
DOOM 4, art, conceptual, weapon design by Bethesda and Id Software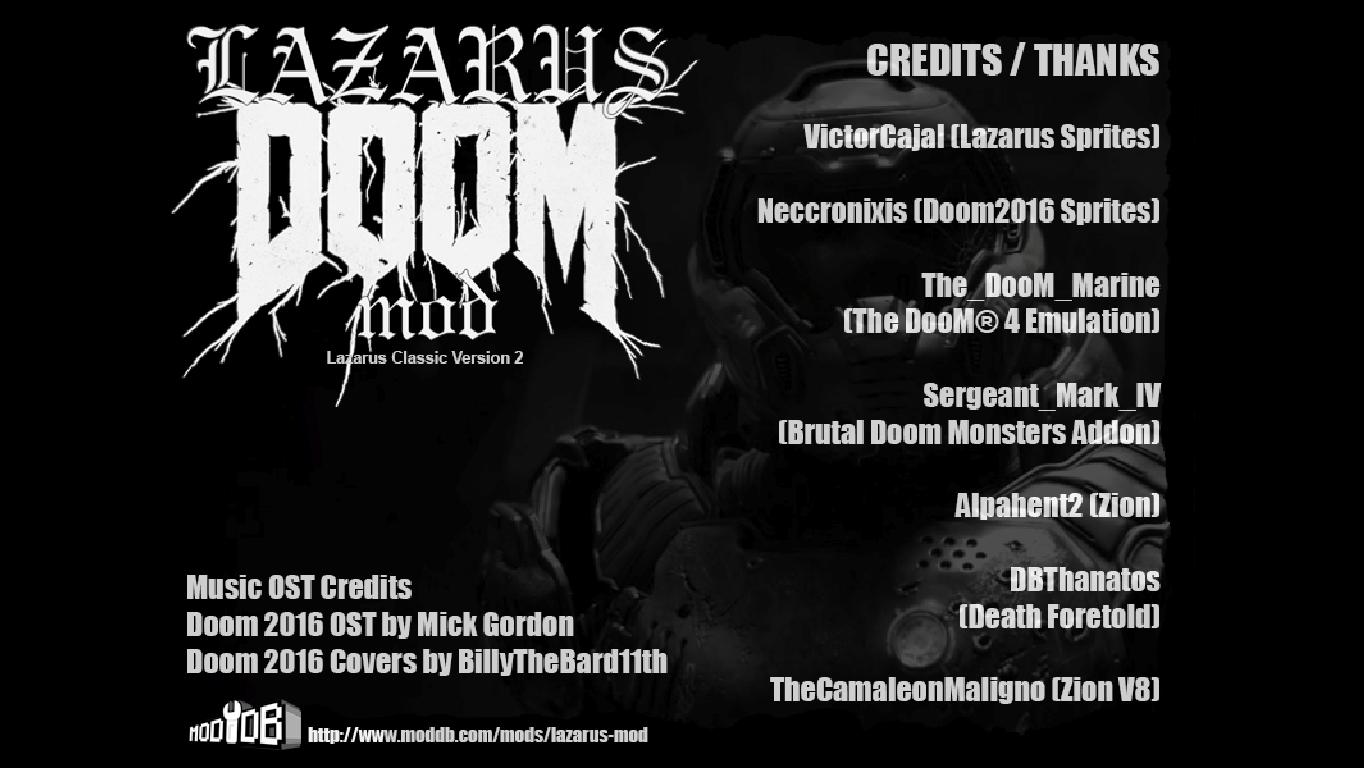 OST MUSIC
OST Doom 2016 by Mick Gordon Youtube.com
Doom 2016 music covers by BillyTheBard11th Youtube.com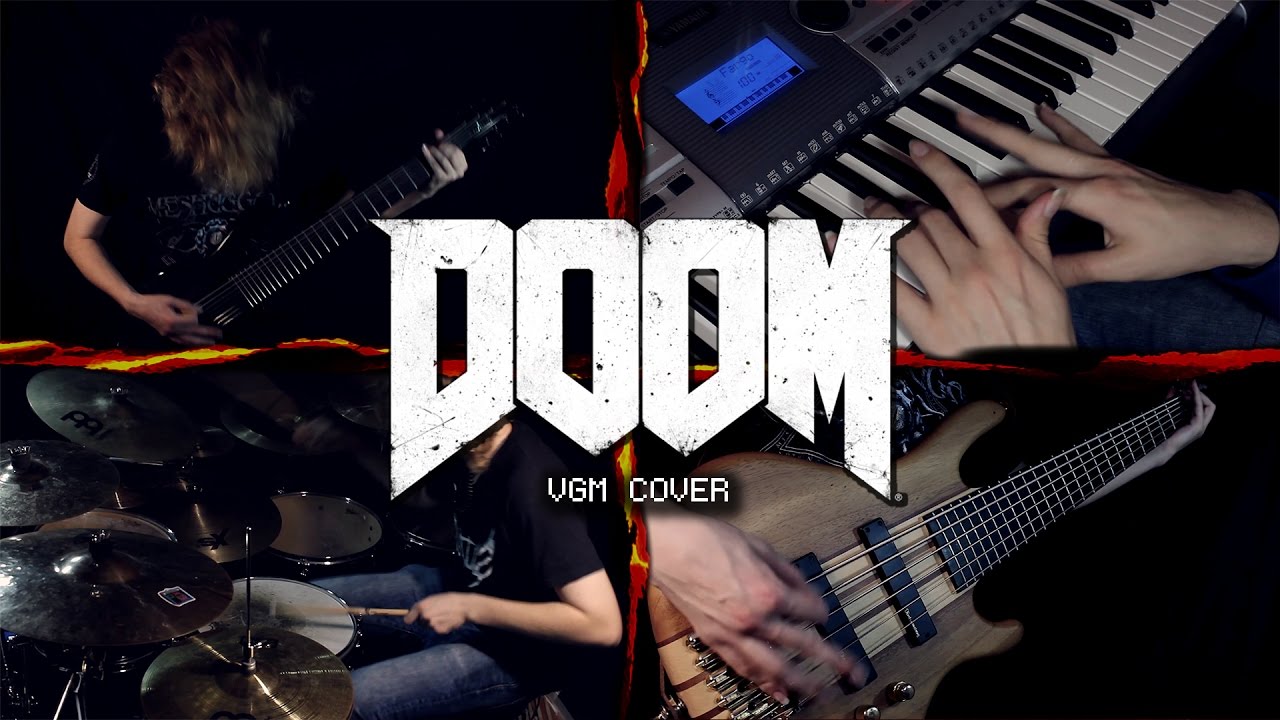 Lazarus_Mod_2 by Victor Cajal
For you, my love <3