Here are several sumptuous samplings of some sexy summonses! After amassing enough "concentration" through victorious hand-to-hand combat and by collecting power-ups, these lovely lasses can by summoned to assist you in cleaning up the map. Katia runs-and-guns while Candice takes a knee and snipes!
These wallpapers are 1920x1080. Other resolutions and color schemes available upon request! Please don't hesitate to ask!
As mentioned briefly in the previous press release, work is being completed on the game's unique narrative! In keeping with the cel-shading art of the game, Dreamcasters' Duel's cutscenes will feature a manga explaining the unique world of DCD (well, unique enough until the release of Inception...). The first page reads;

"The visual scizophasia of the dream coalesces into a bright hot point of light...
and explodes.
Lunacy. Man's collective nightmare reaches critical mass and beckons tides of gore.
The blood flows and flows; the cataract deluges and destroys humanity.
As the light of a million lives are extinguished, a pall falls over the world
and the dream fades.
...I awake.

The premonitions are getting stronger..."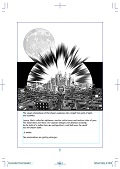 This is just a teaser image of what you can expect from the comic book... And in case you were wondering, work on the game itself is nearing completion. Great big things are on the horizon!
And to those who haven't given up faith, I salute you.