Hi guys,
It's been almost two weeks since our last update. The time has come to share the next portion of completed work.

SENDING STEAM KEYS
A few new gray hairs notwithstanding, at the time of writing this article, 1400 of 7200 keys still need to be sent. By the end of this month we should have sent them.
LIST OF ITEMS
For those who are constantly following the development of our game on our forum, this topic will also be interesting Afterreset.com. In it we go through the items that have already been added to the game build. It doesn't mean that they will be available right away to players, but it means that they are already in the game itself and can be obtained in game (loot, found items, quests etc.).
In addition we are also publishing links to detailed item descriptions, which makes this topic something of a wiki for items in the After Reset world.
PHELAR-17
Having already sent out over 5000 keys by hand, we couldn't help noticing of our backers' email domain names. It's great to see people from leading tech companies among them. As a result, I can say that the deciding factor in bringing them to us was our hard sci-fi feature :)
They have asked me not to name names, but I'd like to express my extreme gratitude for their consultation and information that have helped us bring even more realism to the setting of After Reset.
In essence, in this update, I'd like to direct your attention to the laser rifle, which is part the arsenal of the Military Police of the Military Corps of the United Governments. Yes, you'll be able to get your hands on it and shoot it in even the Prologue :)
How it looks in standard factory colors: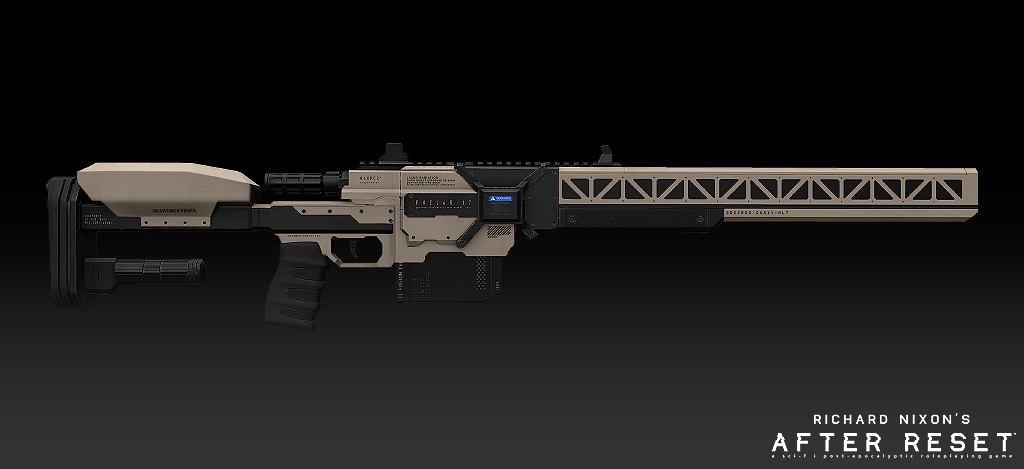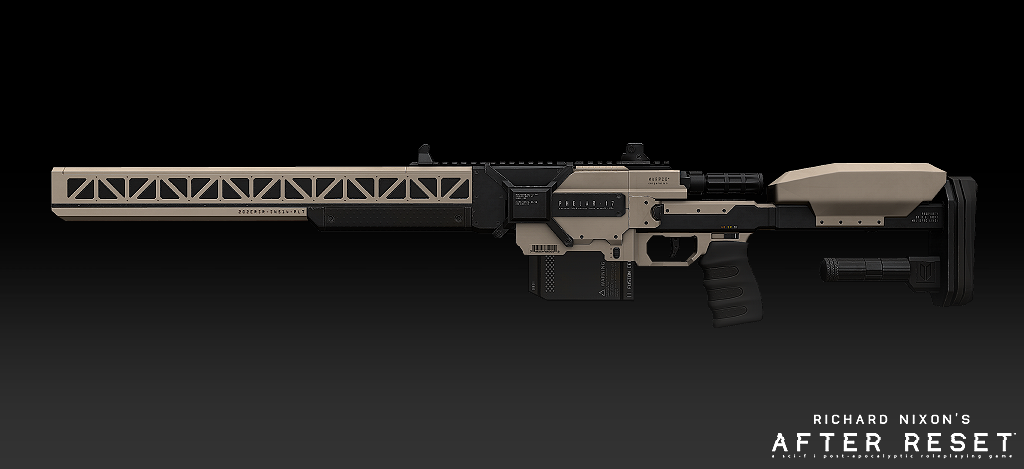 From perspective: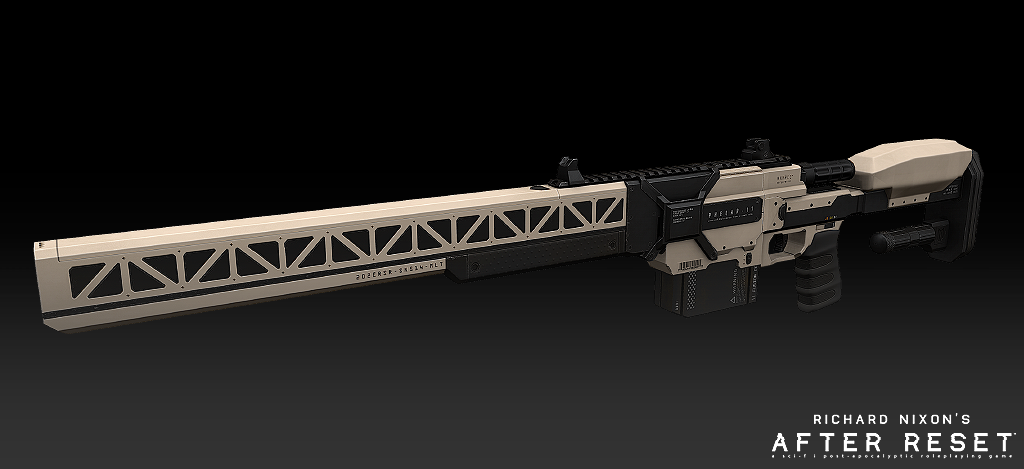 How it looks in UG Army camouflage in the game's region: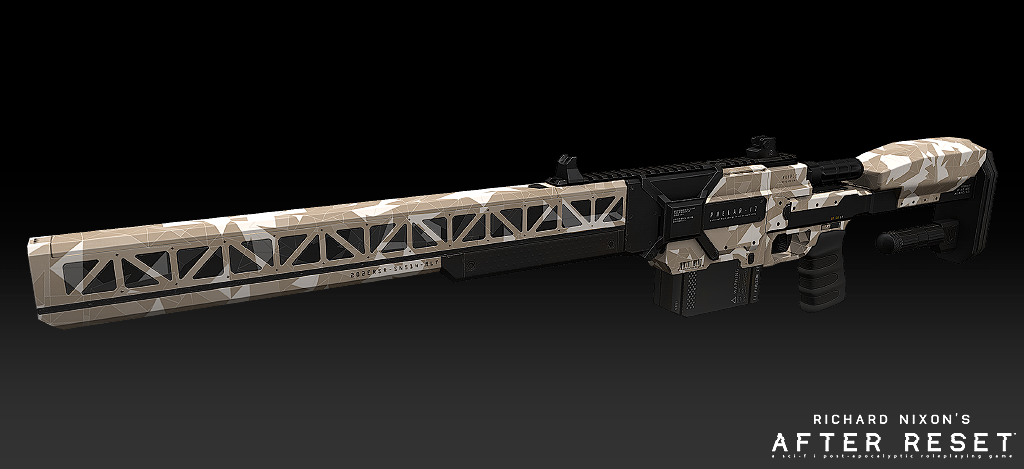 And some more shots with the Vizo Sight 'LEOTech' visor sight: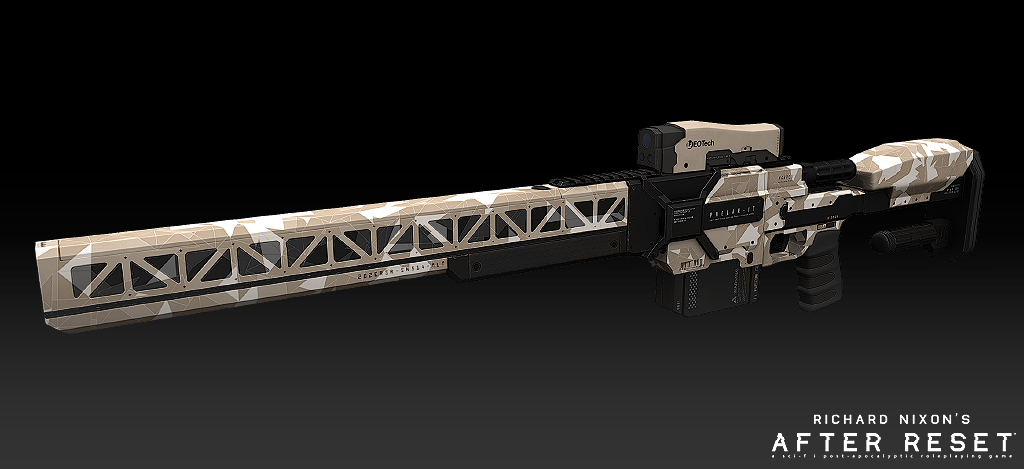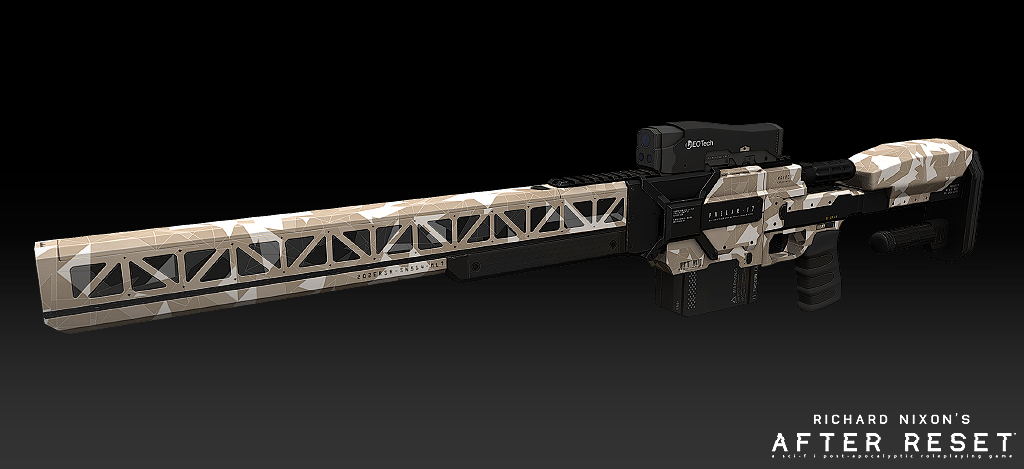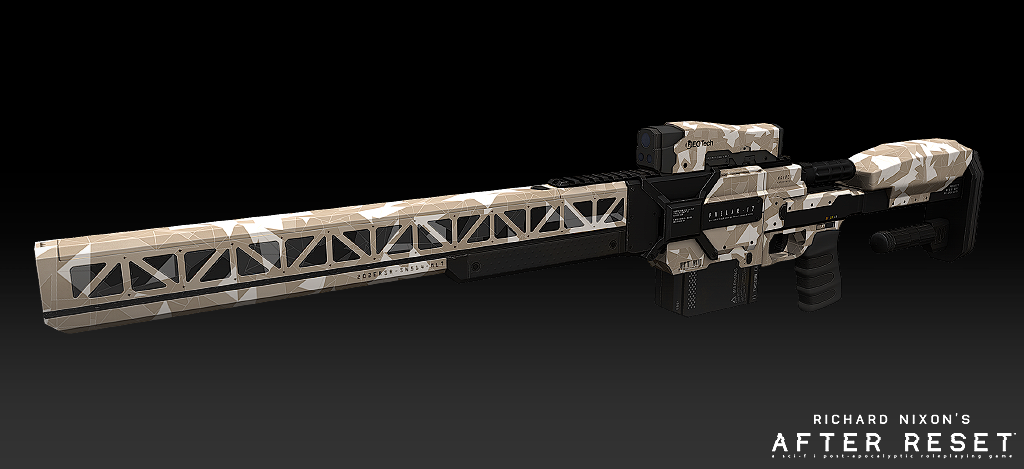 Yes, most likely (!), some weapons in the game will be modifiable. In any case we are putting an appropriate structure for that into the core of the game. As always, our Co-Founders can download screens of this laser rifle in Full-HD: Afterreset.com
What features does this rifle have from a hard sci-fi point of view? Well guys, the cool thing about it is that it was developed completely by our little "science council," who constructed it down to the smallest detail and made it workable from a modern physics standpoint! Its basis comes from modern developments of high-energy weapons from DARPA, Lockheed Martin, Raytheon and BAE Systems. I'd like to give our backer-consultants from these companies another huge thanks. I can say that the only "fantasy allowance" made with this gun is its power source, the Fusion Cell. But it seems to me that for After Reset this is an acceptable recipe: 87% hard science / 13% fiction.
Technical characteristics, the characteristics of the materials used, dimensions and detail schemes are all in accordance with a slightly extrapolated version of the modern understanding of physicists, engineers, builders and social designers about the personal high-energy weapons of the near future (I'd like to remind our readers that this rifle is one of the oldest weapons the UG uses, I'd even say it's "out of date." Something like the M16 for us now).
At present Mariuseus and I are working on realistic shooting sound effects for this weapon, recharging, battery indicators, etc. There won't be any "pew pew" like in the Star Wars Cartoon – only realistic characteristics. :) For example, look how a modern industrial laser "shoots": Youtube.com

Below I'd also like to share the in-game characteristics of this weapon:
PHELAR-17 Desert [Vizo Sight 'LEOTech' Desert]
Base Damage: 2d10.
Base Critical Threat: 20/x2 (miss: 1).
Base Magazine Capacity: 30.
Base Range: 0-260 ft.
Base Damage Type: laser.
Mobility Penalty: none.
Base Item: laser rifle.
Ammunition Type: fusion cells.
Feats Required: Weapon Proficiency (energy weapons) or Weapon Proficiency (pastager).
Weapon Size: 2-handed.
Weight: 14.1 lb.
Special Properties:
- No-Recoil (+3 to Attack Bonus).
- Vizo Sight (+1 to Attack Bonus).
* * *
The PHELAR-17 (Personal High Energy Laser Assault Rifle) is a high-tech weapon that emits a concentrated photon impulse of coherent light, with a sufficient wattage to do considerable damage. PHELAR effectiveness is proven at mid-range distances, and served the Police and Security departments of the United Governments well. Mass production began in 53 A.R.
The core of this weapon, pulsed fiber laser, operates at a number of lasing transitions between 153 and 156 nm. That is out of visible spectrum, though, in combination with compact Fusion Cells it uses this rifle could emit an effective energy impulses of 100kW. Beam-steering technologies make these arrays conformal with the airframe, to provide instant retargeting across a large field of regard, and to compensate for the effects of atmospheric turbulence.
With the compact high-energy sources availability and scattering issues solved laser weapons became very popular during the underground expansion of the UG. Having no recoil or ejected shells, and no gravitational effect on beam trajectory, laser weapons have almost completely displaced firearms on the arms market and on the streets of underground cities of Underearth by the 67 A.R.
This version of PHELAR-17 is painted with a desert-camo pattern of the U.G. Army to provide better concealment effectiveness within relevant the desert-like environments of the Yellow zones on Earth's surface.
Beyond that, this PHELAR-17 is equipped with visualizing weapon sight "Vizo Sight" produced by LEOTech Corporation for various models of energy weapons. This non-magnifying gun sight allows the user to visualize shooting line within sophisticated glass optical window and see a beam parallel to the barrel based on beam-steering analysis.
EXTRA:
Stack: none
Item Basic Value (PA, NT, SV, ST, RZ, YZ, GZ): 7200, 1250, 1450, 6100, 1500, 1400, 1500
Identification Difficulty Challenge: 37
Unidentified Description: This is definitely some kind of hi-tech weapon with a strange angular coloring and a gadget. Unfortunately, you are unable to grasp how to make it work.
And Vizo Site mod for laser weapons with top Picatinny rail: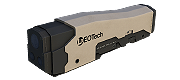 Vizo Sight 'LEOTech'
Base Item: mod.
Weight: 2.1 lb.
* * *
The "Vizo Sight" is an augmented reality weapon sight produced by the LEOTech Corporation for various energy weapons that support beam-steering technology. Although the sight doesn't offer magnification, it does allow the user to visualize the beam's trajectory through a sophisticated glass window where the projected beam can be seen parallel to the barrel.
LEOTech Corporation was founded around 100 A.R. by Jason Kwan and Pierre Lempereur while they were still students at the Eos Institute of Advanced Industrial Science. By 132 A.R. the company designed, manufactured, and marketed electro-optic products and systems, and established their headquarters in Helios, Underearth. Their augmented reality weapon sights are used in a wide variety of small arms for close combat, and have been adopted by various security corporations, law enforcement agencies, and even the U.G. Army.
EXTRA:
Stack: none
Item Basic Value (PA, NT, SV, ST, RZ, YZ, GZ): 1000, 100, 150, 1000, 100, 500, 400
Identification Difficulty Challenge: 32
Unidentified Description: Decently made but weird thing. You can't figure out how it works, however. It should works... somehow... right?
* * *
I hope you liked today's update. In the next few days you'll also: be acquainted with the game's interfaces (inventory, character, dialogue etc.), new pages and characters from The Fall of Gyes, with new lore. I'll really try to raise your expectations for the remaining 1400 keys. Stay with us, friends!
Add us on Steam Greenlight.
Visit After Reset official Store.
Join After Reset™ RPG official website.