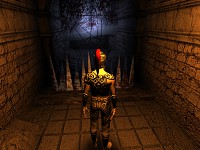 A lot has happened inside the editor with LoD the past week. Phase one has seen significant updates and improvements to the game. The alpha demo has been updated to reflect the changes. You will notice that the demo is still only one short hallway of death, but as I enter phase two of development, that will quickly change. Phase two, level construction, has begun !
Here is a list of changes to the game since the first alpha web player.
- adjusted turning speed to feel more controllable.
- added blood ! Yeah !
- When you crawl, the character controller scales down so you don't collide with objects above your head.
- you now limp when hurt and die after so many injuries. (you heal if you make it past traps)
- Changed camera to orbit.
- Added a lot of sounds ( thank you animation events ) footsteps, getting hurt, trap sounds, back ground ambiance, etc.
- Updated the metal texture to look a little more shiny.
The webplayer is up to about a 15 meg D/L at this point with all the audio.
Try the Hallway of Doom for yourself!
Future updates
- Complete labyrinth floor to explore
- Stand alone player to download and test