Hello, guys! It is time for another update and boy what an exciting update this is!
On 20rd of March, we finally made the leap to register our game into Steam Greenlight. That was our first time submitting something to Greenlight, so we were awash with a mix of anxious excitement in anticipation of receiving feedback on what people think about our game, and whether they want to play it.
Well, it turns out that our worries are completely unfounded as KITTEN MITA GOT GREENLIT IN ONLY 10 DAYS!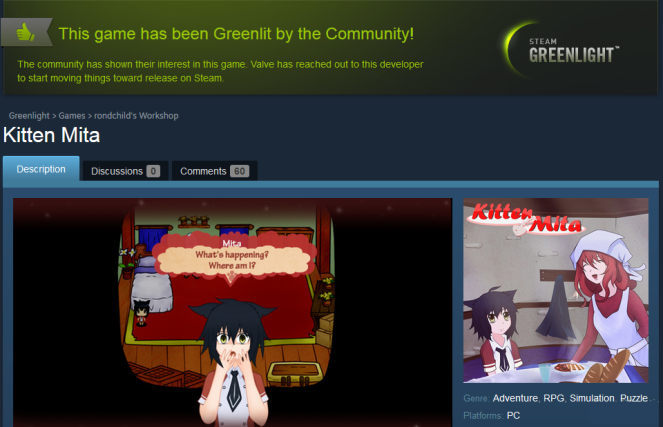 Um, yeah. We jumped out of our pants that morning, opening up Greenlight to reply to new comments and bam, there it is. Greenlit. Ho-ly-crap. Words are never going to be sufficient in describing how much this means to us, but… thank you so much, people! We made it with all of your help!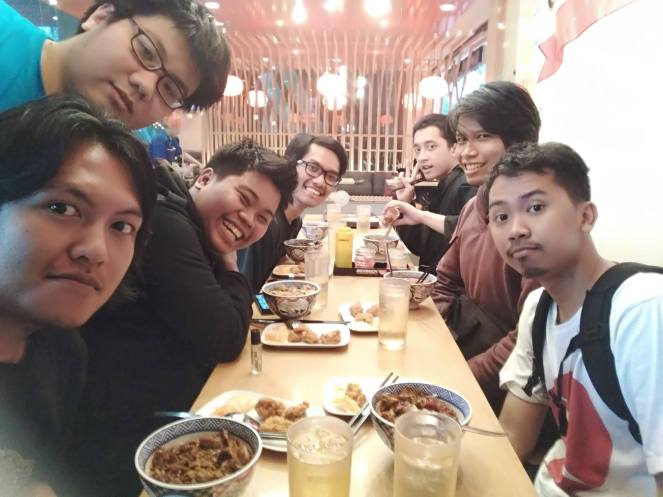 I was told that Ron and Kuro had already thrown a small party to commemorate the moment. Well, at least small only in number of people attending it. I heard the party was pretty crazy considering that it's only attended by two people…
…It is a well-warranted celebration, though. None of us had expected to make it this far, but we did, so hurrah! Supercharged with energy and ready to give it our all to finish the game!
And....We know that at this point it's starting to sound unreal even for ourselves, but boy do we have another great news to share with you!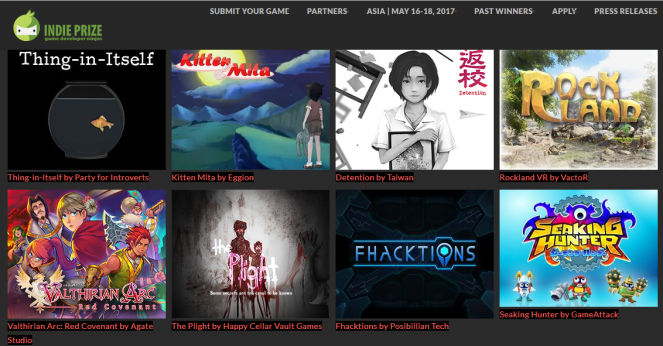 Kitten Mita just got accepted for the Indieprize submission at Casual Connect Asia 2017,
and is going to be showcased in Singapore, from 16th to 18th May this year…
and we thought we were super lucky already to have passed Steam Greenlight in a little more than a week!
If you happen to be nearby, be sure to drop in to try our latest demo,
as well as say hi to Ron and Kuro!

We know full well that your support means even more reason for us to try our best to make Kitten Mita as good as it can ever be, so thank you so much!

Right. There will also be our fellow Indonesian developers that made it into the Indieprize as well:

1. Rage In Peace, by Rolling Glory
2. Legrand Legacy, by Semisoft Studio
3. Azure Saga: Pathfinder, by Masshive Media
4. Zombo Buster Rising, by FIREBEAST
5. She and The Light Bearer, by Mojiken
6. Nonstop Show by Wisageni Studio
7. Valthrian Arc: Red Covenant, by Agate Studio
8. Umbra: Amulet of Light by Niji Game

Among these, some are big studios with years of experience under their belt (well, not AAA-big, but definitely bigger than our small team!) It's such an honor to be able to stand alongside these studios in the Indieprize, and we aspire to be as successful as they are.

Still, this isn't a competition among ourselves, so we hope that one of us will have the honor to receive awards for our homeland Indonesia. Of course, it'd be great if we win it ourselves, but just getting into the Indieprize is enough of an achievement that will allow us to spread our wings even further into the international world.

On another note, we're seeing a pattern emerging here, don't we? Looks like we'll be posting updates even more frequently this year, at least once a month. Well, even if we don't have anything really meaningful development-wise to share, we'll still let you know what the team is up to, both as a whole and individually. Hopefully this'll make up for the complete void of update last year…

This year marks yet another higher apex we've conquered, and we couldn't have done it without the team and your support. We'll be attending more events in the near future.

May this year be a prosperous and prestigious year for all of us!