Hey!
Today there is some questions about Kingstagram we'd like to ask ourselves. And we will be happy to answer them! Let's get started.

What has happened?
Today we started an account on YUNOIA, the platform that connects developers (that's who we are) with publishers and investors (that's who we're looking for).
Kingstagram is looking very attractive there, despite the fact that we don't have video. By the way, it comes next week (we hope so). We already have 4 reviews and they are extremely positive!
Why do you need this YUNOIA?
The answer is simple. To make reading more useful for you, we put it in 4 sentences:
1. Now we can make Kingstagram only after our actual works. It's pretty annoying.
2. Therefore we don't have enough time to make the game we're in love with. To be honest, that's pretty annoying.
3. To get this time we have to get rid of our works (or at least reduce the time we spend there).
4. And that's why God invented investors!

I think it's too early for you to look for actual investor, isn't it?
Absolutely not! And there are 3 reasons why:
1. The early bird catches the worm. Or, in Russian, кто рано встает, тому Бог дает (the one who wakes up early gets God's bless).
2. Each day we have no funding we lose time we could spend on Kingstagram. Each day we lose time makes the release date of Kingstagram unpredictable. And, you know, window of opportunity, trends, etc.
3. The sooner we start to find funding, the sooner we find it! It's absolutely clear to us.
Ok, I completely agree. And what do you want from me?
A little help, that's all. Please, follow this link and click REVIEW (the button on the bottom panel). It will increase our chances to find what we are looking for!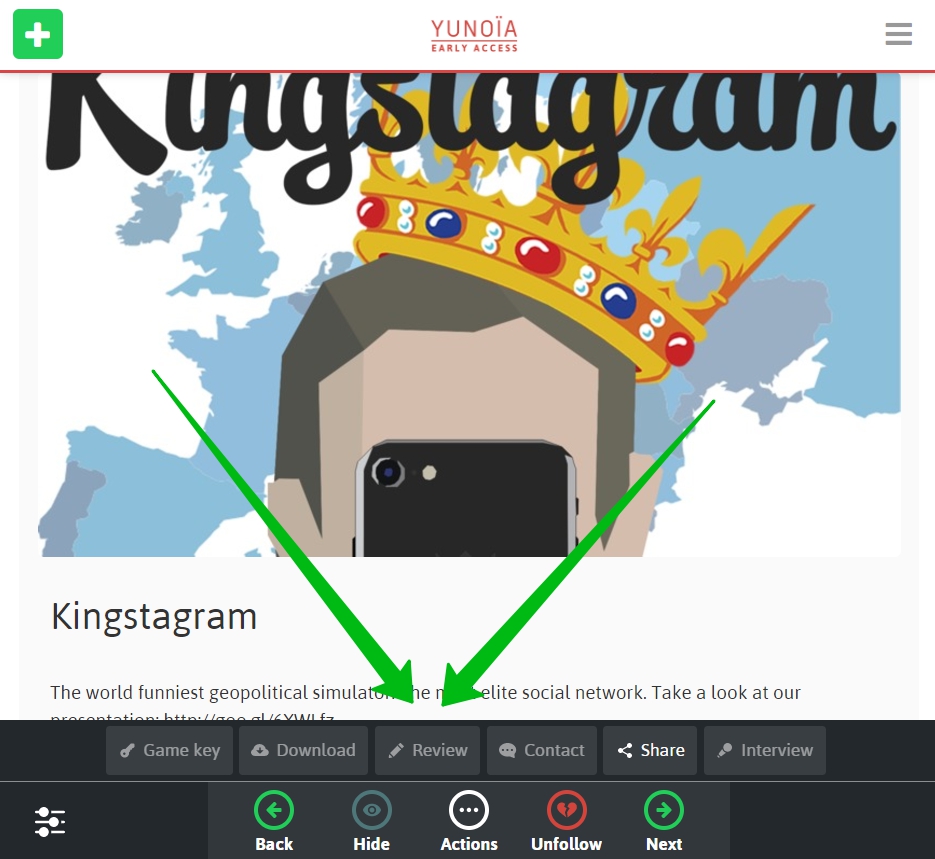 Sounds reasonable. I'm going to do it right now!
Thank you! And you can be sure we're going to release the game that will not disappoint you!