In a feeble attempt to hold your interest, we thought we'd mention a few changes we've made to KC leading up to the beta release. In an earlier video we showed KC has having a game mode involving capturing point using a flag but after a lot of testing we've done away with the flag object. Now, to capture areas, players simply need to stand in an area for a set time (it's less time based on how many teammates are with you). This change was made since we found that we where kidding ourselves to believe that players will actually care about the objectives. In our tests we've found people generally simply want to dive into combat, the games would only end when someone got really bored of the current map and decided to start moving the flags. The new system is a lot more streamline with how people will already want to play KC and it actually compliments the game instead of hindering it or slowing it down.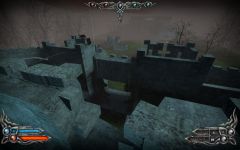 We've also gone through out tree of spells and tried to work out which ones people use the least and why they are unwanted. The Glacier spell is one that summons a large spike of ice up from the ground. This spell was originally designed for blocking tight pathways, however instead we found players would only use it to decorate wide open fields, call it a useless spell and then never use it again. So to make this spell a bit less useless we've now added a secondary fire, where the player can cause a spike they have summoned to shatter/explode (this makes it able to be used similar to C4 mines in most modern warfare games)
I'd also like to draw your attention to our new website, www.kingdomscollide.com, if you haven't checked it out already please do, we need your support. If we are ever going to be able to hire some dedicated servers for the beta (instead of everything being hosted locally by players) then we will need your help. As you know, you can help out either by clicking internet adverts or donating via PayPal on our website.
Otherwise we hope you'll enjoy the mod once it's released, new screens uploaded and more media soon.