Greetings!
We have been working on this update for a few months and today we would like to share our progress with you.
Here is a detailed presentation of the changes you will see in this version.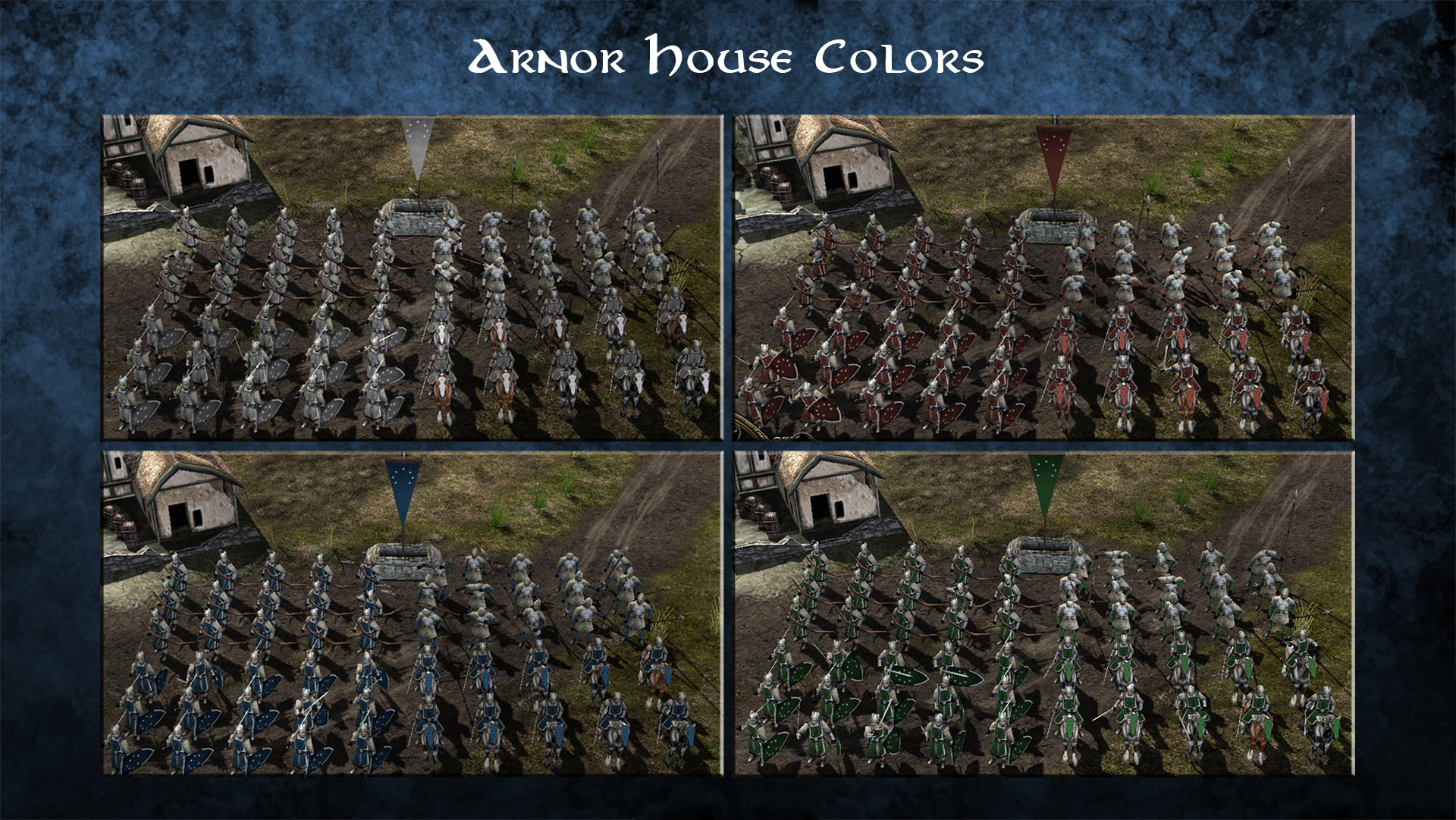 Now the technical stuff:
We have updated to 2.02 v8.4.0.
We returned to the Seven Stars as a symbol for Arnor. Therefore you'll see seven stars everywhere, on shields, surcoats, pikemen armor, living world army banner, capture flag banner and even the citadel in Fornost.
No changes were made to the other factions.
Fixed living world/wotr issue. Game will no longer crash when Arveleg, Arvedui and Carthaen transition from rts to living world map.
Removed Elrond and Glorfindel. Four Arnor heroes and a custom hero is good enough. Like Dwarves faction.
Removed buildings from builder palantir buttons. No more Elven buildings for Arnor.
Reduced Arnor Elven units to Lindon warriors recruited from Arnor barracks and Rivendell Lancers recruited form Arnor Stables.
Arnor Rivendell Lancers will not change skin when receiving heavy armor because the heavy armor skin dose not match with other Arnor units.
Arnor Blacksmith has all the necessary upgrades for both Dunedain and Elf units.
Added House of Healing effects/glow like 2.02 done to Gondor.
Added Grand Harvest effects/glow to Arnor Farms as suggested by Rp@#@#.
Dunedain Pikemen (formerly Dunedain Royal Guards) no longer use lines with "Gondor" in them. And Arnor Cavalry Banner Carrier no longer use Gondor voice lines. Also suggested by Rp@#@#.
As was suggested by glassman. Arnor Archery Range has been removed. Arnor Barracks now recruits: Dunedain Soldiers, Dunedain Archers, Dunedain Pikemen and Lindon Warriors.
Arnor Stables recruit Dunedain Knights and Rivendell Lancers.
Restored original Ranger banner carrier.
Added a new Amon Sul map, the same one from the campaign and replaced wotr Amon Sul with it. Same with Fornost map. No more destroyed Amon Sul and Fornost in wotr.
Dunedain Archers are comparable to Lorien Archers in terms of range and damage.
Lindon Warriors have the same arrow effects as Noldor Warriors, but they are not as strong.
Replaced Elven Wood spell with Enshrouding Mist. And replaced Bombard withe Eagle Allies.
That will be all for this article. More details will be provided in the file description.
Have a good day!
-King Arveleg-