Killing Floor 1.0 has been released to the public !
You can get the 120Mb Setup file from one of two mirrors on the site right now!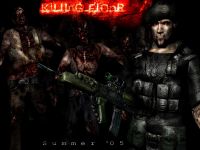 The mod features a full SinglePlayer experience complimented by some intense COOP multiplayer action, pitting a small team of commandos against massive hoardes of zombies!
If you've played the demo, you probably have a pretty good idea of what to expect. But this release is a serious step above what's come before, in almost every way.
NOTE: If you're a Mac user, there is a slightly larger .zip file you can download from the site as well! Look for a link on the main page.
Installation instructions can be found on the forums.