Happy new year everyone!
This is our first update for 2018, as we have completed most of the user interface for Katyusha.
As you can see, the UI will include a health bars for Katyusha and her eagle, as well as xp bars.
Both Katyusha and her eagle will gain xp and level up. You will be able to spend attribute points upon Katyusha's level up, as well as unlock new skills (currently under construction). Her eagle will be also able to level up and gain new skills which are going to be revealed later on.
The inventory is not final, as some stuff are still placeholders. The game will include a Favorites horizontal bar (currently not implemented in this version) where you will be able to quickly access your weapons and healing supplies. Katyusha will also be able to craft stuff. The first craftable resource in this prototype version is the healing gauge. Katyusha grabs cotton from trees and two cotton pads can form one healing gauge, which heals more than...apples and pears.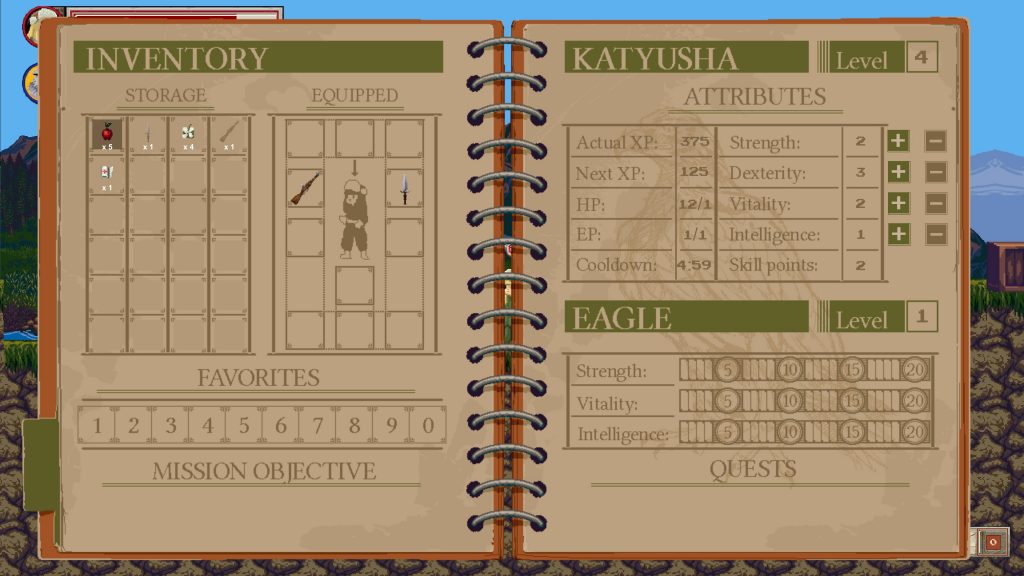 The user interface also contains info about the main mission objective and quests. You can also see the cooldown timer on which the eagle will return so that you can use him again.
Stay tuned for more info and thank you for your support.