Hey everyone! Tragically, I'd already written up this blog post and then the gods of hubris swooped down and wiped it... so here we go again! Anyway, We've had a lot going on this past month, but none of it would be enough to make a full blog post about, so we're going to a bit of house keeping in this one! Buckle in!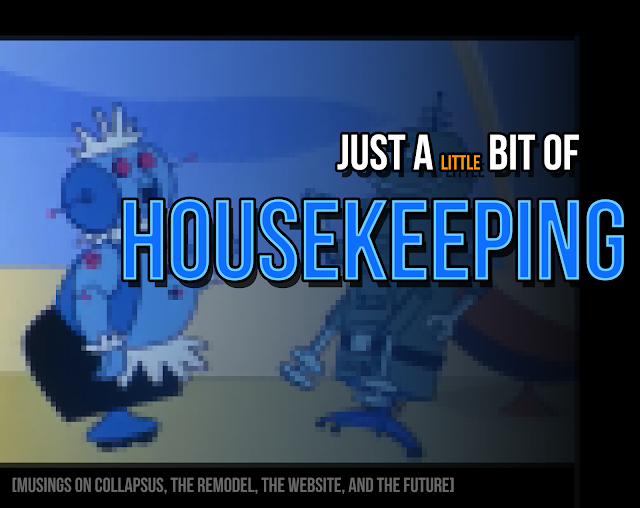 For starters, in Collapsus news, this month saw the release of the long-awaited Puzzle Mode update. For those of you who don't know, Puzzle Mode is a mode that contains 300 single-screen puzzles that you must clear with a limited number of breaks. Puzzle modes have been a staple of great puzzle games almost as long as there have been puzzle games at all. My personal favorite is from Tetris Attack, aka Panel de Pon, aka Puzzle League (MAN that series has WAY too many names)!
All of our puzzles are hand-made by our very own Kristy Iwema. She started doing a few of them way back in the early days of Collapsus on paper, then eventually moved on to a notepad doc, and until recently, used MS Paint to design puzzles. With our decision to include an online Puzzle Maker, she decided to switch over to the same tools our players would be using!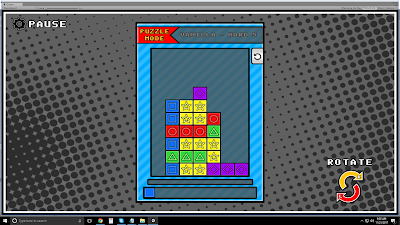 The only problem is that with all this new content, some of it was bound to break. Luckily Mark was able to patch all the bugs and Kristy was finally able to release the first 80 of her puzzles a few days ago (with only a couple week delay on the update)! With each weekly build that will be coming out now, we will also have several new puzzles for you to sink your teeth into!

Other than that, we have a few things that need to be done before we can ship Collapsus out the door:

- Saving
- 2 Challenge/Plus Modes
- More puzzles, Daily Puzzles, Puzzle Sharing (+ Puzzle Mode additions)
- Leaderboards & Medals
- Tutorial
- More accessibility options
- Languages
- Porting
- Bug fixes & other minor tweaks

Considering what we've already done it's not a whole lot left to do. We're trying to get Collapsus finished up as quickly as we can without sacrificing quality, but you can bet we'll have more news pertaining to release very soon!

Other than that, one of the other thing's we've been working on is the studio expansion/remodel/renovation. Not much to say on it other than it's going well... but you can bet we'll have a TON of new on it after the first of the year over on our blog and social media! We also have a new website design rolling out soon, so stay tuned for that, too.