Firstly, I once again apologize for the lack of posts in the public section, but here at Twisted Insurrection, we have all been very busy people. As much as we'd like to work on Twisted Insurrection and release updates every other day, it's physically impossible for us to do so, but like a good blend of Whiskey, Twisted Insurrection gets better with age, so patience is greatly appreciated.
With recent bursts of activity behind the scenes from various members of staff including myself (Aro), Lin Kuei Ominae and ErastusMercy, I am proud to show you some of our latest pieces of work from all new material to re-worked older material.
Lin Kuei Ominae is back to work on the Nod structures, and the wait was well worth-while for our new Nod Technology Center and Nod Helipads, both of which live up to the quality of the rest of the Nod structures currently in Twisted Insurrection, be sure to check them out!
Technology Center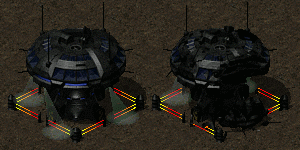 Helipad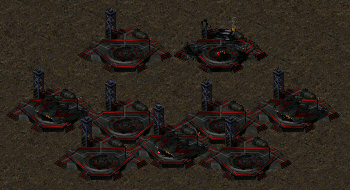 ErastusMercy has been busy in the Nod Voxel department, re-working several of his older pieces and beginning work on some new promising voxels to replace the ugly placeholders. These re-works include an updated version of the Stinger Mobile SAM, Scorpion Light Tank and Inferno Flame Tank.
Scorpion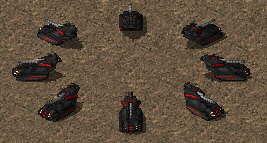 Inferno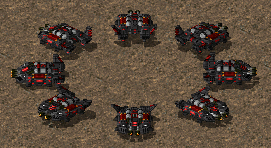 Stinger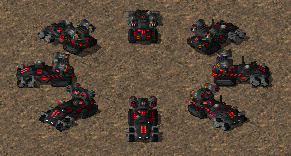 In the mapping department, several of us have been busy working on new maps (several of which have previously been posted for public preview). There is plenty of work being done on the campaign, which we are keeping hidden for now until more work is done and many new multiplayer maps are both in the works and complete. A preview of some of those maps can be found in our Maps forum.
Cruentus Canyon (2)

(Click the image to view map in actual size)
Badlands Duel (2)

(Click the image to view map in actual size)
Tiers of Sorrow II (2)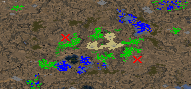 (Click the image to view map in actual size)
Upcoming Map...
(Click the images to them in actual size)
Swirekster is also working hard, pumping out promotional sketches. His most recent work on the Infector promotional sketch is worth its weight in gold.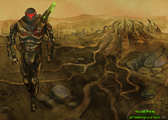 (Click the image to view in actual size)
For those of you whom are aware of the mod Tiberian Fall, I'm sorry to announce that it has ceased production, but not all is lost as it's leader ZoidZilla has kindly donated several of the assets to be used in Twisted Insurrection, he has also been added to the Twisted Insurrection staff in return. There are multiple discussions occurring in the Staff Forum over how these additions can be added and boosting the gameplay experience without causing any form of balance issues. More information on this will become available at a later date. Here is a preview of a couple of upcoming additions.
Tremor (Mutation)

???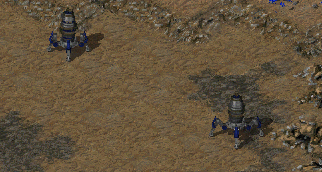 That is all I can reveal to the public for now. Unfortunately my own and a fair number of the TI team have our free time being devoured by multiple other tasks to handle, but I'm glad to say that Twisted Insurrection is going stronger than ever and the change-log for the upcoming Public Beta 3 will be an impressive list. Keep your eyes peeled!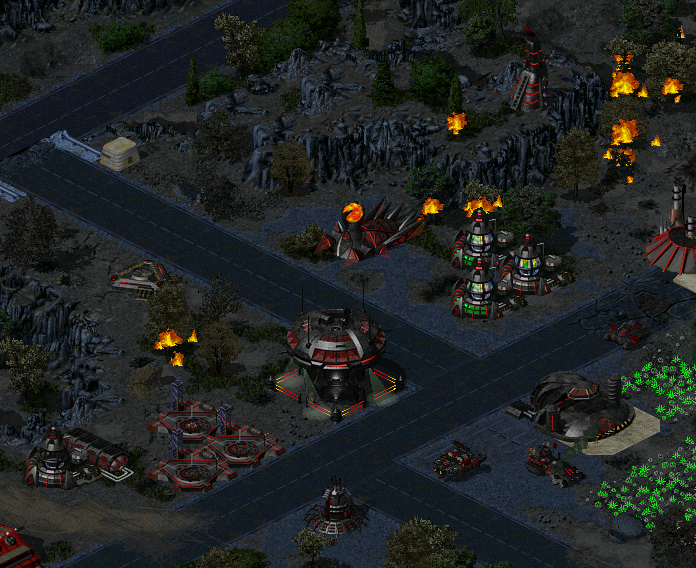 Twisted Insurrection will never die!