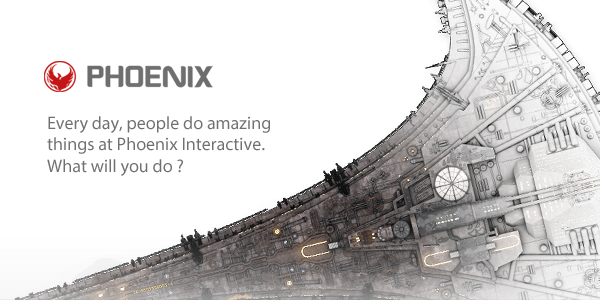 Phoenix Interactive is constantly hiring the best volunteers on the internet. If you think you have the required skills to work for us, then, this news is dedicated to you. We accept almost all people of goodwill. Who knows ? Maybe YOU are the future of Phoenix Interactive.
---
We need an English Executive Director
This may sounds like a joke, but it's definitely more than serious. Truth is, our association is getting bigger and bigger over the time and we need someone that is capable to lead a part of the association. We're not talking about paperwork, not at all. We're talking about leading the team, establish development guidelines, develop the English community by working with English volunteers...
Of course, a such position means that you will be integrated added to the administration of our association. In such case, you will be declared to the European Union as a director of Phoenix Interactive. In order to become an Executive Director, you need to have at least a sense of management, a perfect English (fluid, by the way) and a "team-spirit".
We need several Public Relations Officer
Because we wants to be as close as possible with our community, we definitely want people who can promote our free products, write and publish news, establish a great contact with our community by using Facebook (for example). In order to become a PR Officer, you only need to speak at least English or French. However, you understand that a such position is really important. You are the heart of Phoenix Interactive. With your help, the fans can stay tuned, and it's really important nowadays.
We need artists... but we guess you know it already
Nowadays, hiring artists is somehow difficult, mostly when you are an association. If we were talking about paid-positions, it won't be the same thing, that's for sure. If you think that you can contribute to our products, in any way (2D, 3D, SFX, Audio and so on...), feel free to comment here as well.
We need QA/Testers
Hiring testers is something easier. However, finding the good ones is more difficult. Truth is, our products are working on both Windows PC, Mac OSX and Linux (Ubuntu). However, only team members are using other platforms such as Mac (Thibault Testart for example) or Linux (PayDay for example). This is the reason why we need testers who can test our products on Mac OSX and Linux. However, having Windows testers is a great thing too, but both testers we have are using Windows, which is difficult when you want to find bugs.
---
How to Apply ?
You can simply comment here. However, you should at least contact Erayser on ModDB for being an Executive Director or a Public Relations Officer. If you want to be an artist or a tester, you have to register yourself on our website and submit a ticket in the "Careers" section. Anyway, the "Jobs" page will be available soon on ModDB on both mods we have so that you can find both options by reading "How to Apply".