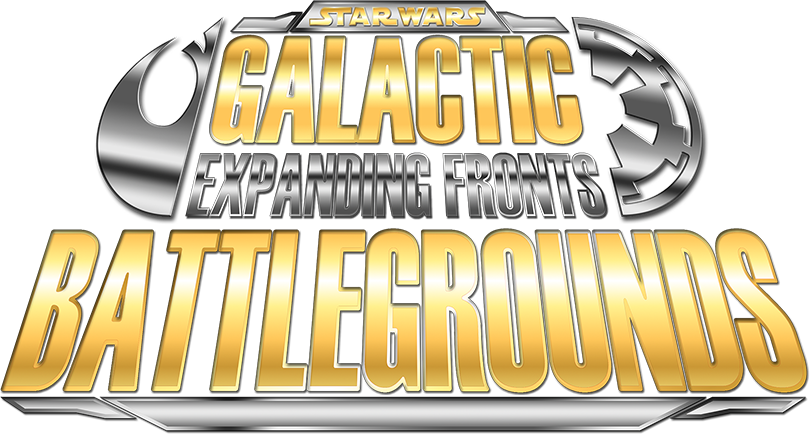 ALMOST THERE
It's been a busy few months for the Expanding Fronts team. About 75% of all visual assets for the new First Order and Resistance civilizations are complete. Unfortunately, we were not quite able to meet our launch goal for January, but we are not far off. While we still have not established an exact date, we can say with confidence that the new version of Expanding Fronts should be available sometime in February; early March at the absolute latest. We're sorry for the delay and we hope to get this new content into your hands as soon as possible. In the meantime, we are finally ready to reveal more information about the new civilizations and their traits!
Important Note: The mechanics of these new factions are still a work in progress, so this overview may not be entirely accurate to what is released.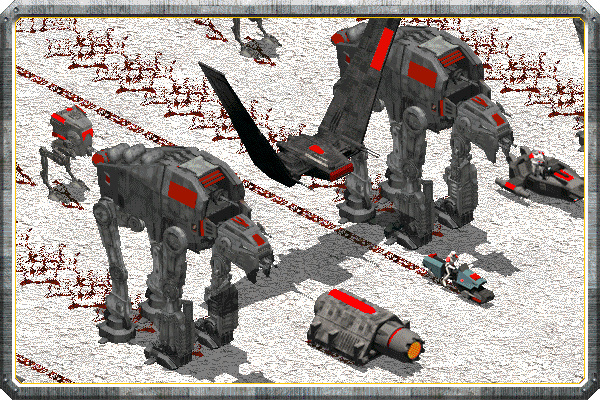 FACTION OVERVIEW - FIRST ORDER
The New Republic's rise reduced the once-mighty Empire to a rump state hemmed in by strict disarmament treaties and punishing reparations. But in the galaxy's Unknown Regions, former Imperial officers, nobles, and technologists plotted a return to power. This movement evolved into the First Order, ruled by Supreme Leader Snoke, and is now ready to reclaim the Imperial legacy.
The First Order is a technological powerhouse, relying on advanced weapons backing scores of stormtroopers. A powerful booming-focused faction, the First Order excels at gathering resources and quickly advancing through the Tech Levels, where they gain access to devastating siege weapons and bonuses. If left to their own devices, the First Order can shred through base structures and defenses with ease.
They are less skilled at fighting protracted wars against enemy armies. Their early-mid game advantages fade quickly, and their mechs, ships, and aircraft will become outpaced by enemy forces, though their infantry units remain powerful contenders on the battlefield.
CIV TRAITS:
Infantry and Siege civilization
Workers carry +5 resources

No buildings are required to construct other buildings/units or to advance Tech Levels

Troop Center technologies cost 25% less

Mounted Troopers are replaced by Flametroopers. They do not require an Animal Nursery to train but move slower.

Fortresses attack 10% faster

(Team)

Research Centers work 30% faster
UNIQUE UNIT:

Jet Trooper - (Fortress) Agile infantry units equipped with jetpacks, First Order Jet Troopers can effortlessly traverse terrains that other land units cannot, allowing them to launch surprise attacks from any direction using their deadly explosive projectile launchers.
UNIQUE TECHS:

Indoctrination - (Fortress) Infantry units attack 15% faster. Affects Troop Center units, Bounty Hunters, and Jet Troopers

Advanced Torpedoes - (Research Center) Anti-Air missiles travel 20% faster; Anti-Air missile units and structures gain +1 Range and Sight.

Auxiliary Power Cells - (Mech Factory) Assault Mechs gain a secondary siege cannon attack

Conflagrine-14 - (Troop Center) Flametroopers gain +1 Range; Attacks cause targets to suffer additional bleed damage after the attack ends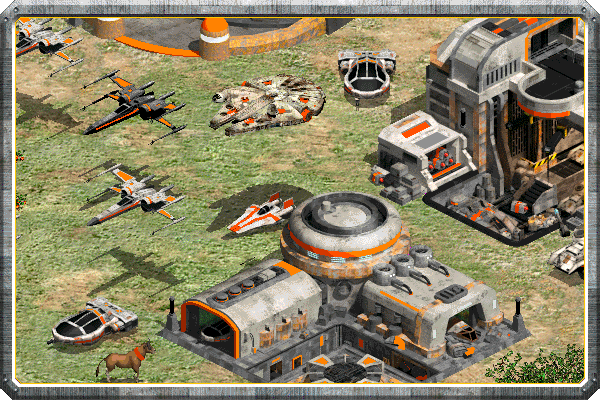 FACTION OVERVIEW - RESISTANCE
A small, secretive private military force, the Resistance was founded by Rebellion hero Leia Organa to monitor the actions of the First Order. Most New Republic power brokers tolerate the Resistance while regarding Organa and her fighters as dead-enders with an unfortunate fixation on the past. Organa's cash-strapped movement relies on credits, ships, and equipment quietly funneled to it from the few senators who share her concerns.
The Resistance is intended to be a very resilient faction centered around stealth, mobility, and air superiority. While they are generally mediocre at frontline fighting, the Resistance is very good at bouncing back from near-certain defeat, as well as repositioning forces and resources at a moment's notice to conduct devastating hit-and-fade attacks.
CIV TRAITS:
Air and Stealth civilization
Airbase technologies cost 20% less

Airbase military units move 5% faster

A Nova Stockpile is created at every newly built Command Center

Workers move 10% faster; conduct repairs 2x faster

Fortresses generate Power for nearby structures

(Team) Scouts and Fighters gain +1 Sight

(Team)

Hutt Endorsement

available automatically
UNIQUE UNIT:

Ski Speeder - (Fortress) Low-altitude speeders that pre-date even the Rebellion. Ski Speeders are nimble, low-cost vehicles that can chase down enemies before attacking with light rapid-fire blasters. Effective mainly against siege weapons, but capable of engaging other threats when massed.
UNIQUE TECHS:

Supply Lines - (Spaceport) Cargo Hovercrafts and Freighters gain self-shielding

Sensor Cloak - (War Center) Air Transports gain stealth capabilities

Bunker Busters - (Airbase) Bombers gain +5 Attack in general, and a +45 bonus against Defensive Structures

Resilience - (Fortress) Lost Prefab Shelters, Command Centers and Forts do not reduce population headroom
The Expanding Fronts team once again wishes to express our sincere thanks to those who have followed our progress over the years, and for their continued patience as we put the finishing touches on our new civilizations. We wish everybody a Happy New Year.
Our plans for expanding fronts don't stop with what we've done so far. We have new campaigns, new units, and entirely new civilizations on our to-do list, but we need additional help to make them possible. We are currently looking for:
Concept Artists - We are looking for skilled concept artists to help us visualize and design structures, characters, and vehicles for our planned new civilizations. The more art we have, the better our modelers can put new in-game art assets together. Battlegrounds, like Age of Empires before it, uses a very distinct set of visual qualities for its architecture. Just by looking at a building, you can immediately tell what type of structure it is, what civilization it belongs to, and how far down the Tech tree they've advanced. We need artists that can meet those criteria with new and interesting designs for the new content we have planned. In addition to this, we will also need designs for new infantry, droids, tanks, spacecraft, boats, and artillery where pre-existing canon designs aren't available.
3D Artists and Animators - Modelers are responsible for bringing our new planned new units to life. The requirements to help us out aren't very demanding, amateurs are certainly welcome to lend a hand. Because SWGB is a sprite-based game, the amount of detail we need on infantry models and animations is not particularly high, as can be seen in official renders of the original art. Most units have five main animation sequences: Standing, Walking, Attacking, Dying, and Decaying. Special units like Jedi and Workers have additional sequences such as using force powers or gathering resources. Generally, all of these animations are rather simple, typically ranging from 8-16 frames each.
Technical knowledge of SWGB or AoK modding is certainly welcomed, but not necessary; we can handle most of that on our end. All that's required is a program capable of orthographic/parallel projection, and the ability to render the needed animations as a series of 2D images (using the correct camera/lighting setup for Battlegrounds) that we can convert into in-game sprites.
AI Scripters - Scripters teach the game's AI how to play the game. We need scripters capable of writing new strategies for the computer players that take advantage of the many new units, buildings, technologies, and gameplay elements available to players in Expanding Fronts. Scripters will also help to write scripts for new campaign levels. Anybody interested in learning AI scripting can take a look at the Computer Player Strategy Builder Guide for more details about the AI process.
Writers and Scenario Designers - We are looking for users skilled in the use of the Scenario Editor, as well as talented creative writers to help us craft our planned new campaigns. Our designers should have a good eye for map design and trigger use.
If you or anybody you know has the skills and would like to contribute to the Expanding Fronts project, please let us know. You can get in touch with us here, or on our Discord server.