Introducing Heat of Battle, a BF2 modification unlike any mod before it!
In this article I'll be describing what Heat of Battle is and what its main features will be.
Heat of Battle is the culmination of my four years of modding BF2, as well as the combined product of many content creators from all around the world. As a project, it is built on the philosophy that putting together many different people's work can result in something greater than the sum of its parts. In Heat of Battle, any given weapon may be the work of two or more modellers, two or more texture artists, and two or more animators, all blended together and fine tuned to perfection.
Here are the key features of the mod:
Suppressive fire mechanic
In vanilla BF2, gunfire is often so pathetic that you can barely notice you are getting shot at. No longer. Heat of Battle features a unique suppressive fire mechanic that makes you feel the impact of every bullet around you. When enemies lay suppressive fire on your position, you'll find it difficult to return fire accurately and you'll be forced to take cover.
Realistic 3D distant sounds system
Heat of Battle is based on Dodek's Improved Sound Environment, a highly innovative mod that introduced an incredible sound system with multiple distant sounds per gunshot. The result was an immersive audio environment never before heard in BF2. Heat of Battle builds on DISE with a boatload of new weapons, each with their own unique firing and reload sounds.
Top-tier animation and lighting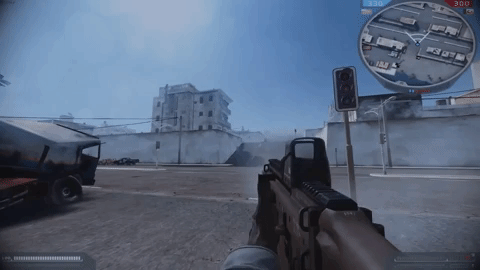 Most of my work for Heat of Battle is focused on adapting the most fluid and lively animations from the BF2 community. Animations have been edited, blended together, and fine tuned for every weapon. The result is weapon handling that looks and feels like a modern AAA video game.
Moreover, the weapon models I used were carefully chosen and modified to deliver the most realistic lighting quality. That means using environment mapping techniques and high-resolution specular maps to highlight the shiny metallic parts of the weapons while making the plastic parts feel matte and realistic.
Heat of Battle is about 99% complete, so you can expect a release before the end of the year!
You can watch for new updates on my YouTube channel or simply track this mod on ModDB. In future updates I'll show off new gameplay, more weapon animations, and describe the gameplay design of the mod.
Stay tuned!