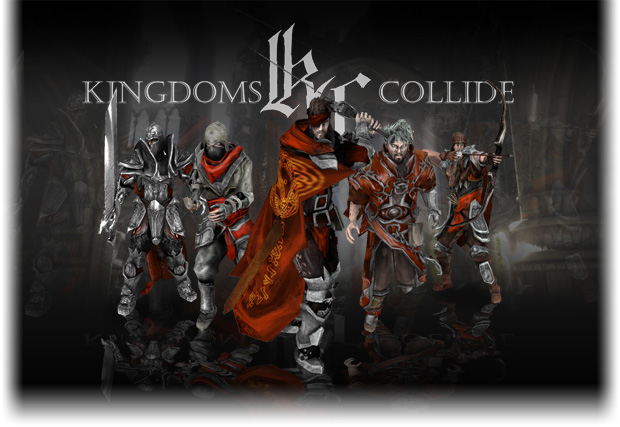 As the Kingdoms Collide team takes some extra time to polish up the bits and bobs of their first beta release, they're also taking this opportunity to crank up the visibility of the project to gamers far and wide. With that in mind, Instant Respawn has helped them organize a whole line-up of extra media and coverage to help make the wait a little more bearable. Today we'll start out will a brief overview of what kind of experience you can expect from the mod straight from one half of the creative force behind it, lead artist Leigh Jackson:
Instant Respawn: Before we get into it, who is the team behind Kingdoms?

Leigh: Well, the entire development team consists of Paul Jancar and myself. I do the art and sound type stuff and he does the programming and scripting type stuff. We're long time school friends; we only became the Kingdoms Collide Development Team when one day we decided that games shouldn't just be made by other people. From playing other awesome community MOD's like "The Specialists", "Pirates, Vikings, Knights", "Natural Selection" and many others, we were inspired to join in and share our own ideas and vision. They showed us that making games it possible for anyone to do.
Instant Respawn: For the uninitiated, what is Kingdoms Collide about?

Leigh: Kingdoms Collide is what evolved from our initial plan, that was to make a game that looked similar to the RPG's and MMO's we liked the appearance of while having the same level of skill based PvP/multiplayer that we enjoyed from games such as Counter-Strike and Call of Duty. So, set within a fantasy medieval setting, the gameplay of Kingdoms Collide revolves around sword combat with other players. We've built a precision system allowing for a high range in skill, instead of the usual button-bashing or combo-memorizing close combat you may have seen before. But this is just the core; on top of this, players choose from a huge range of supernatural/magical abilities that give players diverse roles within a team.

Instant Respawn: Indeed, with the involvement of magic, that sets it apart from other melee combat Source mods out there and even lends some comparison to the combat aspect of WoW.

Leigh: To the contrary, in WoW magic spells are cast simply by point and click, they auto target enemies. But one of the key goals in creating Kingdoms was to have highly skill based combat. To throw a fireball or summon a bolt of lightning all requires aim and skill. Skills and weapons don't win frags for you; they only help you by enabling you to play more to your own style, allowing you to attack the enemies how you and your team find most effective.
Instant Respawn: What kind of gamemodes will Kingdoms feature? How many levels will be available at release?

Leigh: Currently Kingdoms has two game modes: "Team Death Match" and "Capture the Points". Team Death Match involves scoring the highest frag count within the time limit of 10 minutes, with players fighting as 2 kingdoms/teams. The "Capture the Point" mode involves players working as a team in an attempt to capture all 5 predetermined capture areas, placed around the map in a linear order. Each team starts with 2 capture points owned and one middle neutral point to fight over. The aim is to push towards your enemy's spawn and capture the last of the five points to win. There will be seven levels available at release, ranging from simple, open battlefields to large multi-level ruins. Since this will be our first public release, we're still experimenting with what kind of levels and server sizes will work best with our gameplay.

Instant Respawn: Looking around your website, I see that the mod isn't class based like Pirates, Vikings, Knights II or Age of Chivalry. How do you handle the unit and magic variation?

Leigh: In Kingdoms players are able to build their avatar to match exactly how they want to play, with literally hundreds of possible combinations to create. The abilities and weapons that can be used in Kingdoms aren't bound to any predetermined or set classes. Instead the player can select any weapon the game has to offer but is limited by the "price" or "rating" of each weapon. For example, if one player wanted only to be most powerful in melee combat alone then he/she would choose the best sword, but then they wouldn't have enough points left for anything else, such as bows or throwing knives etcetera. On top of this, players also choose a unique set of magic skills. These really enable you to fit any playing style or team purpose that you want. You could choose to be a disabler, who freezes enemies in ice or ensnares them while their teammates are standing by to rain down damage. You could chose a clever combination of spells like teleport and fire circle, getting you into the heat of a large battle to do large AoE damage. The possibilities are endless.
Instant Respawn: The art style for Kingdoms is a unique one, any big inspirations there?

Leigh: I had always liked the typical fantasy art style that you get in things like Fable or Warcraft but I personally wanted something that looked a little more realistic. You know, players being within more human proportions, not wearing shoulder armour that looks heavier than the rest of their body. Another influence that I tried to put into my work for Kingdoms was to give them more of a brutal and gritty feel than you normally see. I wanted everything to look a bit more "GRRR".

Instant Respawn: Finally, did your parents really say your mod was the "coolest ever"?

Leigh: Haha, well funnily enough I didn't want to be a liar when I quoted them. I did actually ask them to say that. So yes, they really did. :P
This coverage is brought to you by...