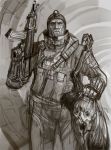 The world has been changed by nuclear war. The cities have been ruined and poisoned by radiation. The human kind are not welcome on the Earth's surface anymore... This is a story about the survivors, who are living in the deepest subway in the world, St. Petersburg, Russia. Welcome to the underground city named Metropolis!
Hello there!
Were would like to make a brief introduction of our mod called "Metropolis". Our team is working on this project since early 2008. We've been inspired by the book "Metro 2033" written by famous Russian writer Dmitriy Glukhovskiy.
Unfortunately, we made a mistake by starting the development of mod for Source engine. We think there is no technical possibility to make all what we've planned. In our opinion, the Source SDK is very uncomfortable to work with, the tools are seems very outdated and slow. In the 2009 we decided to switch to Unreal 3 engine, which has everything what we need in terms of technology and tools.
Currently we are working on the making of environment and prototyping the gameplay. More information and media coming soon! Thanks for your attention!
Stay tuned!