Hello everyone!

We're thrilled to introduce to you today our second paid expansion pack, Interstellar Space: Genesis - Evolving Empires!

In Evolving Empires, we're taking your galactic empire to a whole new level through the introduction of exciting new gameplay features. This expansion's focus is to provide you with new playstyles to pursue, a host of new strategies to execute, and near endless replayability. In addition, it brings in more to explore, with the addition of emerging societies that serve as hidden treasures waiting to be discovered, studied, and potentially incorporated into your empire.

Interstellar Space: Genesis - Evolving Empires is now available on Steam, GOG, Humble Widget, Humble store (soon), GreenManGaming, Fanatical, and Itchio. DRM-free versions are available through GOG, Humble, and Itchio. By the way, from Humble, we earn the most money when you buy from the widget.

Evolutions

Play with all the races in meaningful new ways and evolve your strategies through the introduction of highly thematic, unique and asymmetric abilities that are specific to each race.

Hire android leaders, swap your unique abilities at will, crash your ships into your rivals for massive damage, mutate your populace to live in any environment without a care, instantly assimilate your rivals, and create a formidable capital defense force capable of defending your holdings. These are but a few of the many possibilities and divergent paths waiting to be explored and used in your pursuit of galactic prosperity or domination!

Each evolution ability tree is usable by its own race as well as all custom races assigned to use its affinity. And yes when we say all races, we really do mean all races, as any expansion race you own will also receive their own unique evolution tree!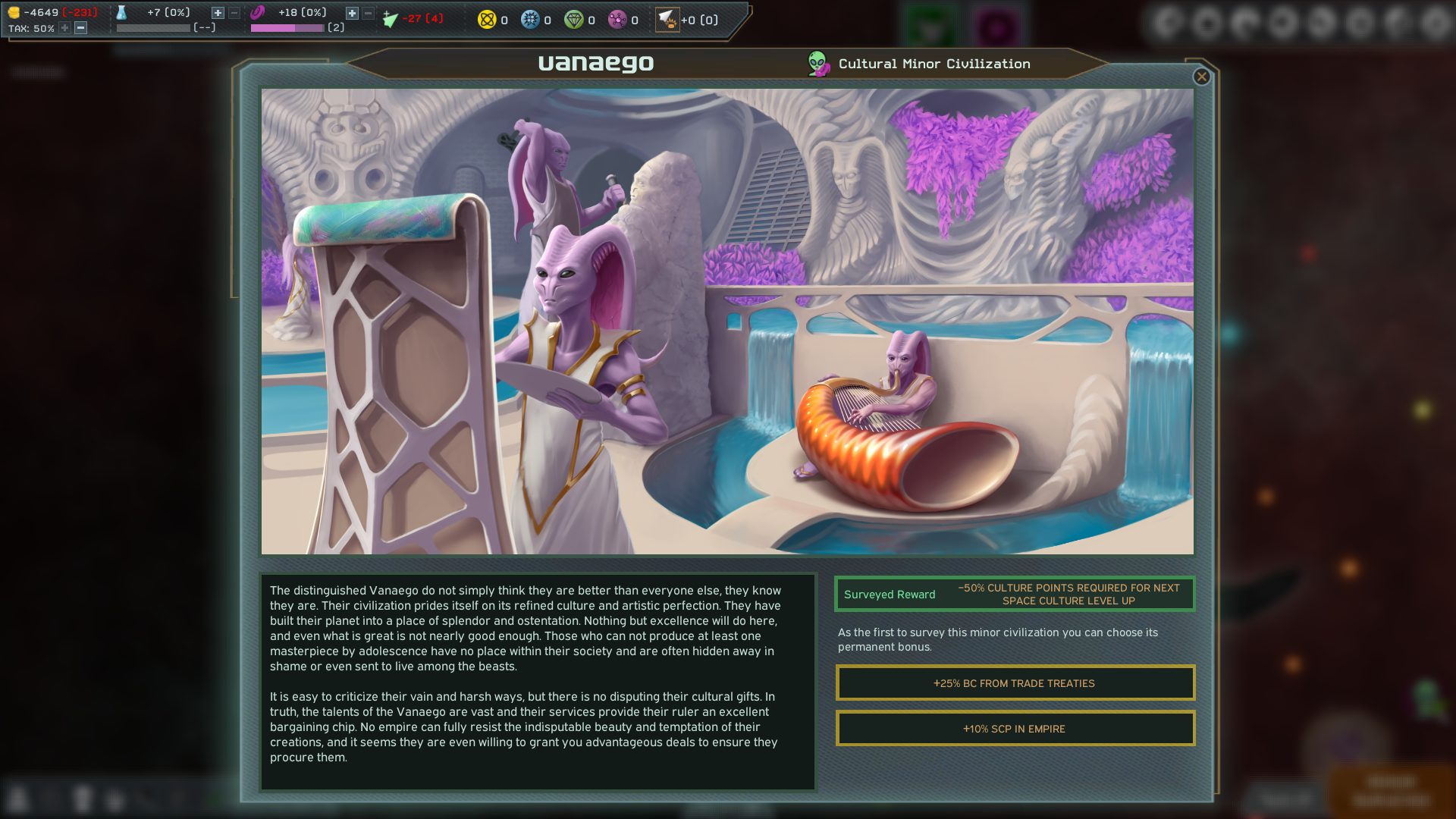 Minor Civilizations

Discover a wide variety of unique minor civilizations and reap their powerful benefits. Study these emerging societies and unlock their full potential, taking your relationships to a whole new level.

But don't delay, as you'll need to race against your rivals as they seek out these minor civilizations and look to gain the benefits for themselves. While you can choose to share their benefits, you may instead desire to form an exclusive relationship and keep them all to yourself... and if you can't do that, you may even decide to destroy them and deny their benefits to others. The choice is yours.

With 7 different categories of minor civilizations, and a total of 21 minor civilizations, there's always mysteries to uncover as you'll never know for sure which civilizations exist in your galaxy!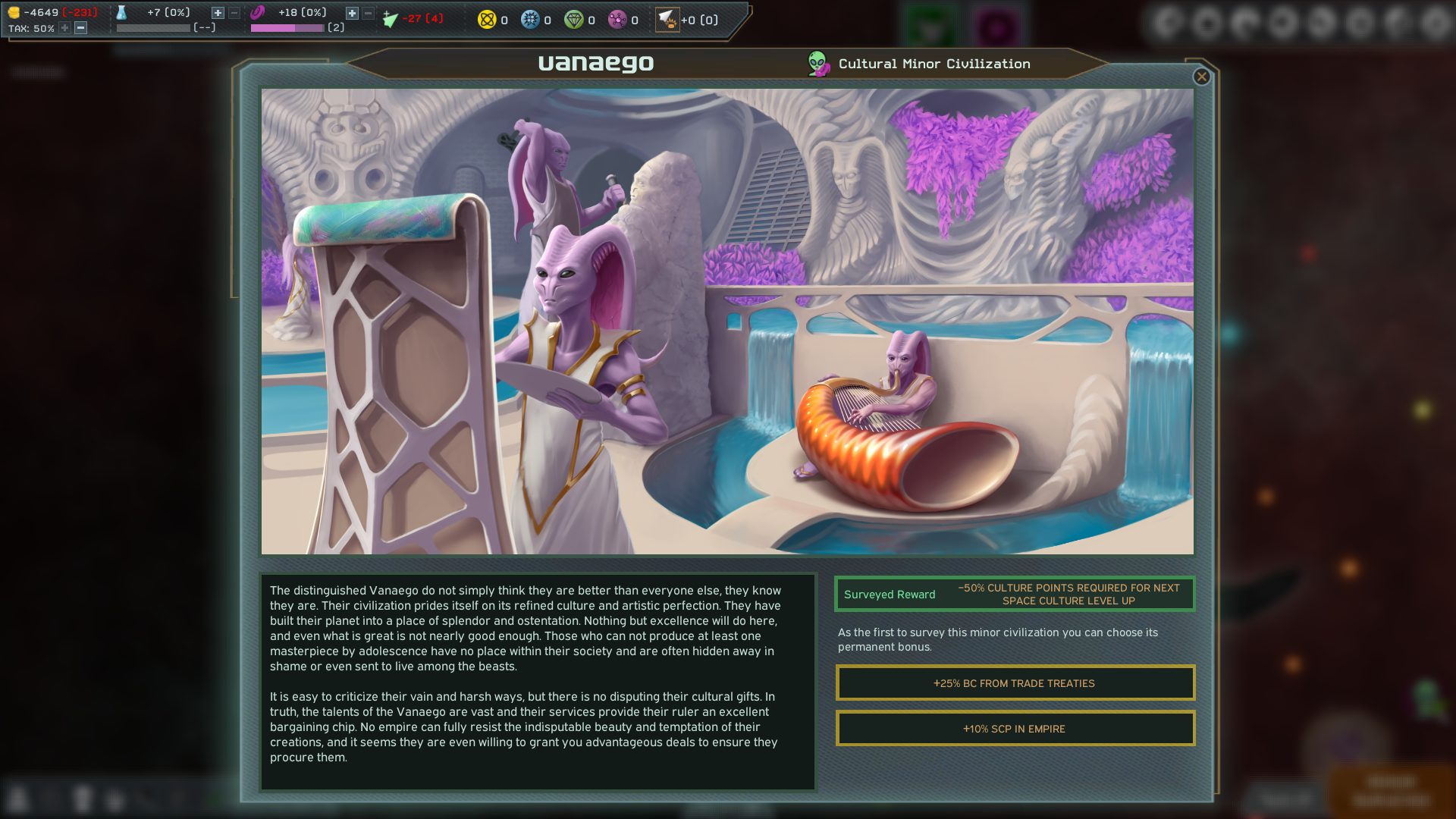 7 New Leaders

You can hire 7 new exclusive leaders, a representative from each minor civilization category. These new leaders await the opportunity to put their skills to work for a mighty empire like your own. That is, of course, if you prove yourself worthy of their trust first.

2 New Music Tracks

You will get 2 additional galaxy map tracks inspired by the new Evolutions and Minor Civilizations features.

Free 1.4 update

Players can now update to Interstellar Space: Genesis version 1.4 for free. This version was previously tested in a beta branch for almost 3 weeks. Find the full change log here.

Compatibility and finishing an ongoing game

Saves from previous versions are not compatible with 1.4.

If you want to finish your current game with the previous version (1.3.4) please go to the Steam client -> Games -> View Games Library -> Right-Click on Interstellar Space: Genesis -> Choose Betas tab -> Select the "old_version" branch.

For GOG, choose the previous 1.3.4 by choosing Options -> Manage Installation -> Set "Automatically update to newest version" to off and choose the 1.3.4 version. On Humble and Itchio download the "Previous version" build.

Thanks

We want to thank everyone who has helped create this new expansion and helped test the new 1.4 update. Big thanks to everyone who has bought the game so far. A big thank you also to our artists Darío Martín Dominguez (3D), Camilo Abelayras (2D), Igor Puškarić (3D) and Ryan McQuinn (Music) for producing the beautiful new art and music for the Evolving Empires expansion. Thank you.

We hope you like this second expansion and the free 1.4 update. If you haven't bought the Natural Law expansion yet, please consider buying as it adds 2 very nice playable races to the game, that will have their own Evolution tree with the Evolving Empires expansion, among other features and music tracks. If you have a few minutes to spare, and have been enjoying what we do, please leave us a review on Steam or on GOG! ❤️

Level up your Galactic Empire with Evolving Empires today!

Have fun!
The Development Team
Praxis Games