New Test Sessions & Gadget
We are sorry for the long break in doing beta tests but we had technical problems which now are solved so new test sessions are coming! For our fellow developers and especially for testers we have created a Windows 7 Gadget. It displays the time to the next beta test on a speedometer on your desktop. We call it Test Meter... Never miss a test again! You can download it from our downloads section: Click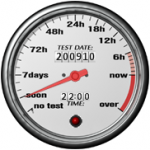 New Mod Content
We also have new content to show! Our finnish modeller JazzDevil has created another new vehicle. This time it is a 1969 Chevrolet Corvette Stingray called Courcheval Manta in the mod. This green variant of the Manta is property of head villain Antonio Malochio in Interstate 76.
Final Words
We started adapting to the social media aswell. This means we have a Twitter page AND a Facebook group. Feel free to watch/join them for the latest information! Please post your feedback about the website in our forums.
The Interstate Nitro Team is still looking for more dedicated contributors and developers in all areas. Check our Join Us section for requirements. This concludes the September Update!