As said before, I am currently pushing for a release in the 27th. Progress has been as swift as possible for now!
First off, I'll show the finished World Map placings (not all of them, as the mod isn't able to compile - yet!)
Map Progress -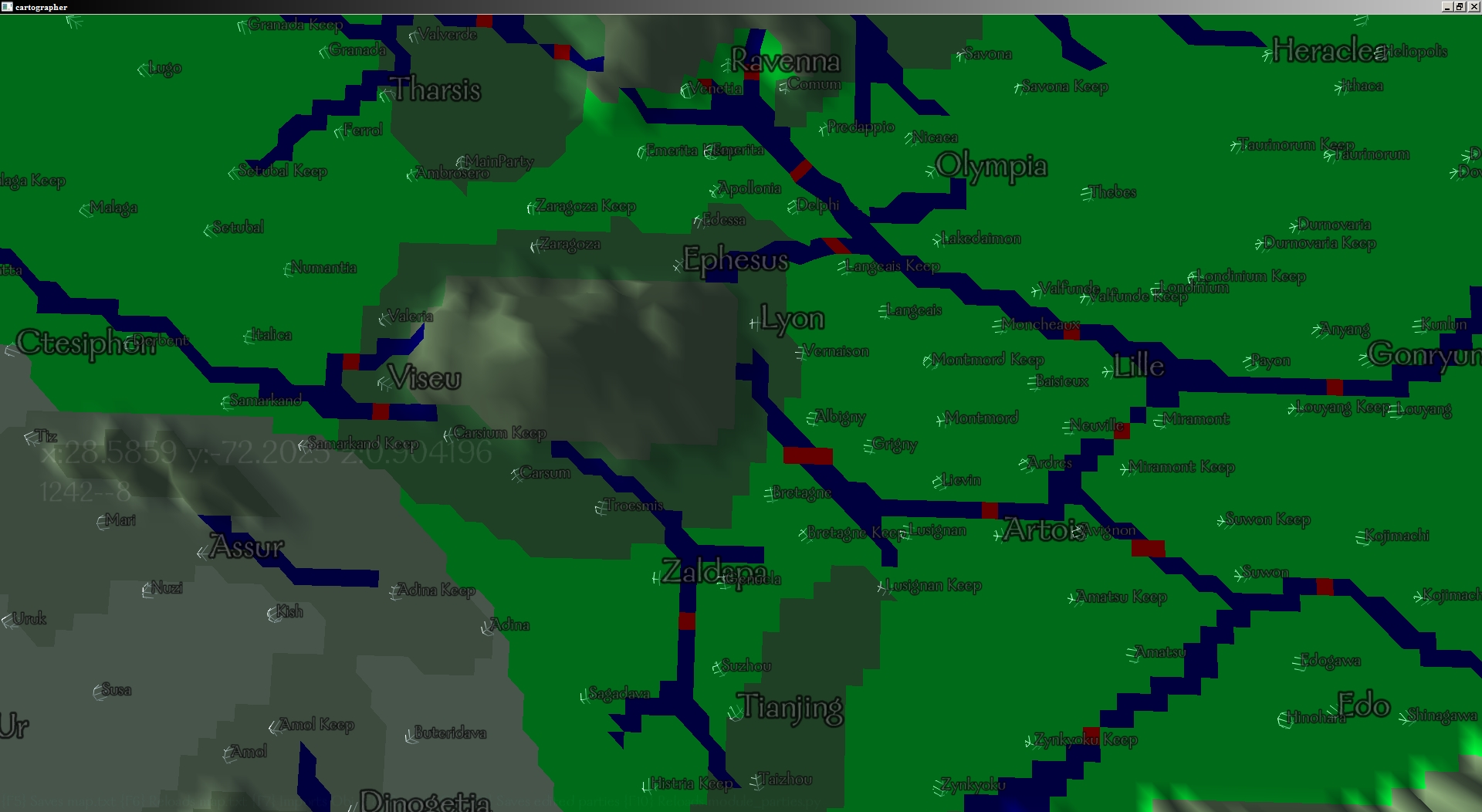 In this image, you can see the Roman-Greek Faction, as well as the Asian, French, Iberian, Scythian and Babylonian!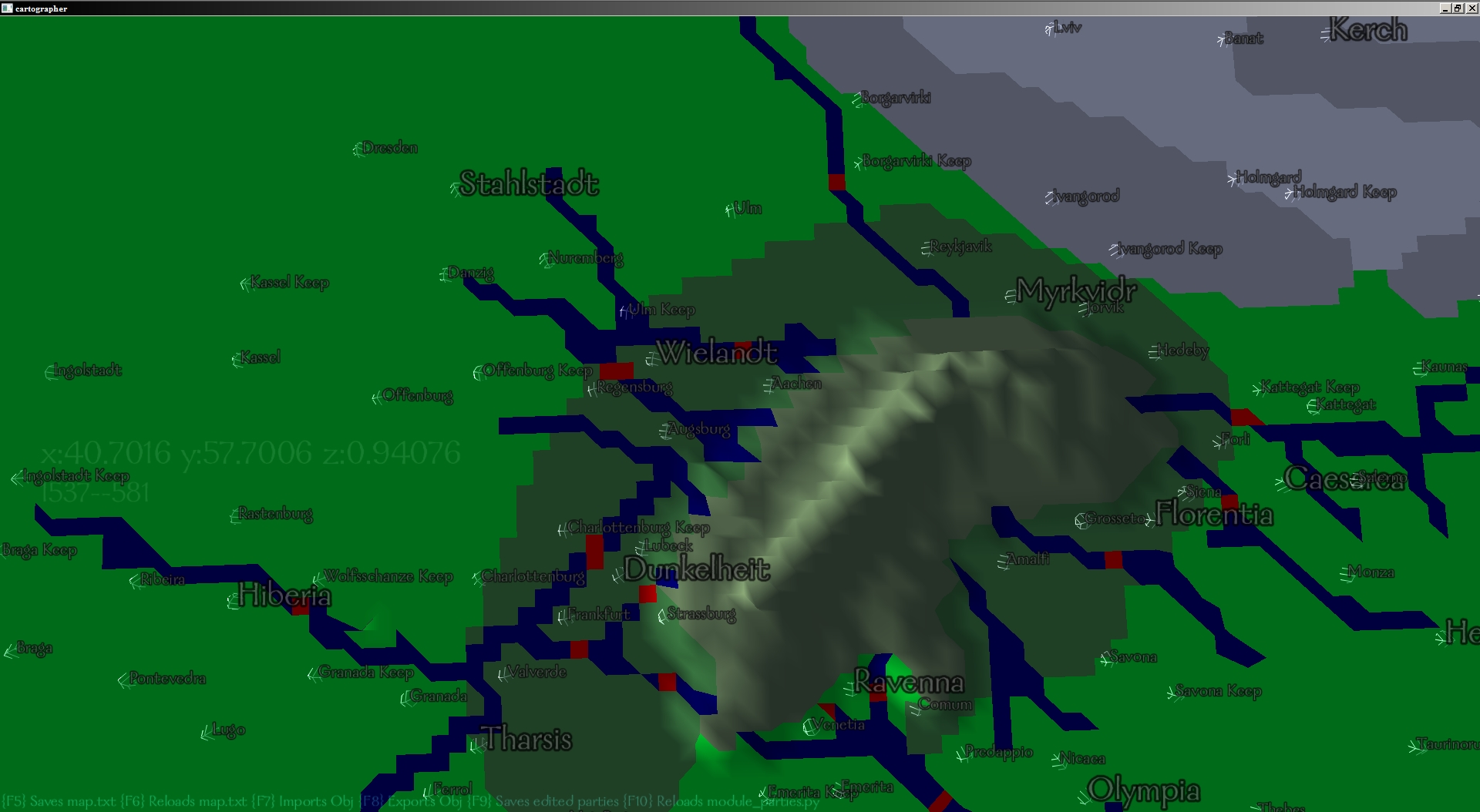 And on this one, the most fleshed out faction so far, the Arch Dukedom of Wielandt, based on the late HRE; as well as the Nordic-Slavic-Baltic faction, and a bit of both Iberia and Roman-Greek.
The map, as stated, is mostly finished as far as factions are concerned. Only smaller things like bridges, and (maybe!) some neutral places you can go to.
Factions and leaders
This is the first draft of the Faction and Lord naming:
- The Arch-Dukedom of Wielandt, based on the HRE, led by the Archduke Heinrich von Wielandt.
- The United Tribes of Ruthenia, based on medieval Slavs, Baltics and Nords, led by Council Leader Eirikr Svarthamar.
- Unnamed Scythian faction, based on the ancient Scythians, they will probably feel like Khergit and Vaegir combined.
- Holy Kingdom of Tharsis, based on the Renaissance-Modern Iberians, led by King Sebastian III.
- The Republic, based on the Greeks and Romans, led by Augustus Nikolaos Marinetti.
- Kingdom of the Sun, based on ancient Babylonians, Assyrians and Zoroastrians, led by King Sargon IX.
- The Frank State, based on the Renaissance-Modern French, led by President Ludovic Bohemont d'Valfunde.
- The Asian Federation, based on (undecided) China, Japan and Korea, led by High Chief Tokugawa Hideki.
Troop Trees -
The troop trees have been largely defined. I will be using a system of tiers. Each type of unit has a tier, and they go from I to X, grouped into "Low Tier, I-III", "Medium Tier, IV-VI", "High Tier - VII-IX" and "Elite Tier - X". For comparison's sake, the Wielandt Knight, which is Cav. Tier VIII, is as strong as the vanilla Swadian Knight.
With this, I aim to balance the troop trees, related to proficiency, attribute and skill - however, the tier will NOT be ruling over the level of equipment of the unit! A tier X infantry can have lesser equipment compared to a Tier VIII, for example, if the other faction is more or less 'advanced'. Of course, that will only apply between two tiers that are close to each other, so no Mid Tier having better equip than an Elite one, unless it's a specialized unit! (Specialized units will be featured later on, the plan is to have them available only if you're a lord or a king, and they all will be High or Elite tier.)
With that out of the way, I will now present the (WIP) troop tree of the Wielandt, already implemented.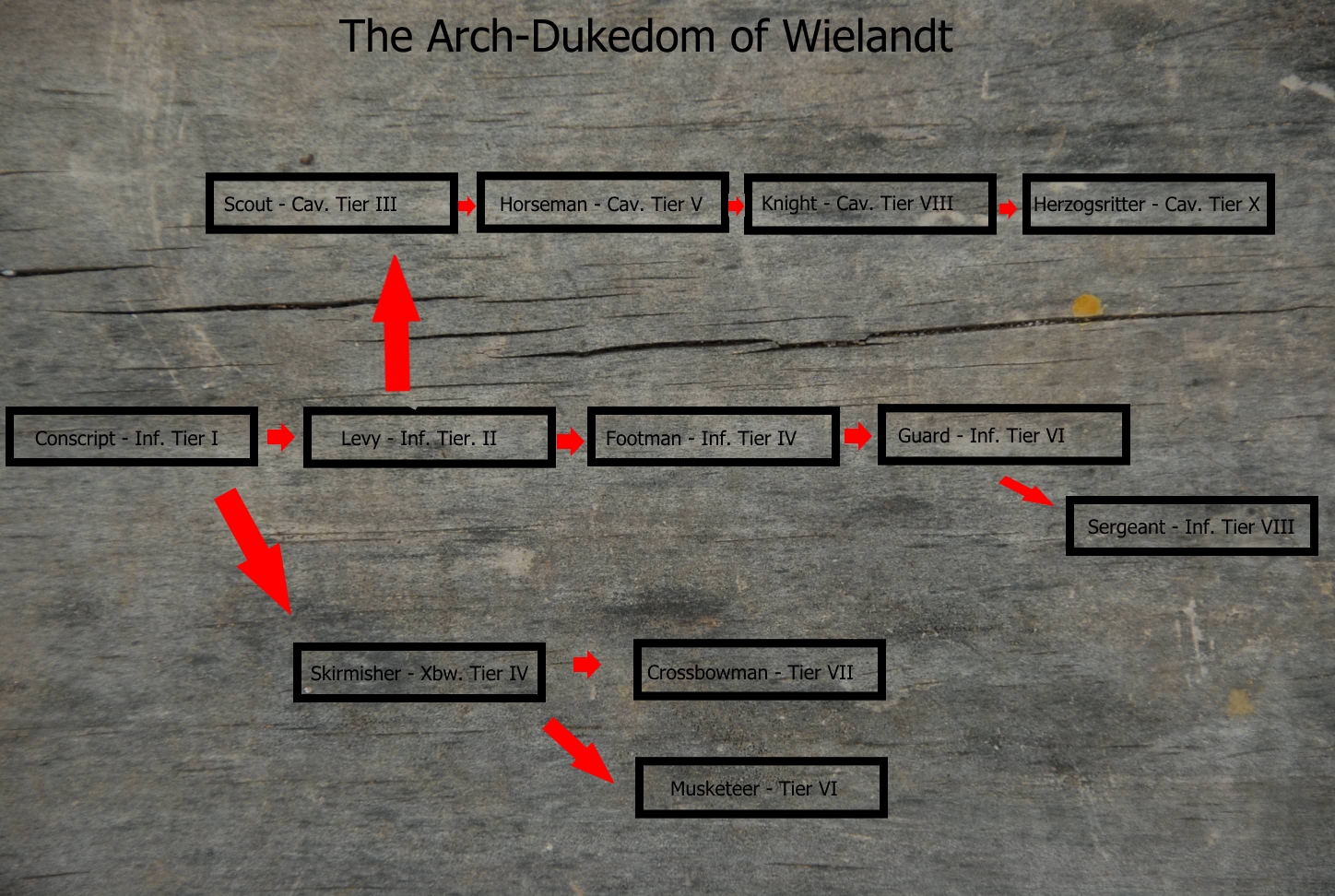 Here you can see the tier system in place, as well as the current mindset regarding troop trees: simple and effective. The names of the troops, of course, are all temporary. There are significant differences in level between some of the unit upgrades; and, as said before, the "knight" will be as strong as the vanilla Swadian Knight, for reference.
Each faction will have its strengths and weakness. As very obvious as it is, Wielandt will have a strong Heavy Cavalry, good Heavy Infantry and below average ranged units. Not every faction will have an Elite-tier unit, as some will have more 'spread out' trees and branches.


Planned Schedule
The next few days I'll be focused on the troop trees, and then on working so that the map is done and the module will at least compile, so I can show off some screens!


Thanks for your attention!