the Mobile command vehicle, or MCV for short, is the core of the modern warfare command chain.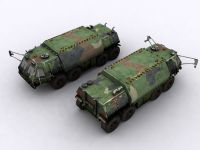 once deployed on the battlefield - now the field command center - it provide your army with tactical and strategic benefit, such as better vision and range, or new support power.
and of course, if the MCV or the command center be destroyed, without any unified command, your troops will be in disarray until replacement MCV arrive.
(ok, things are getting a little hard these days. i got works to do, also the building deploy animation almost cost me a whole month to complete. anyway, AW will not die. till the next update!)