Where Have We Been?
Well, let's cut straight to the chase, where the heck have we been? I mean, we did guarantee a daily update on our website and all that, oh well... there is a reason for it! we are still alive! And we are sorry about the delay!
For us right now, it's testing season... yea... we have that too... and this project is a "side-job" which we hope to turn into a full time job soon (we are planning a kickstarter, information at the bottom!) Anyways, we are going to be back FULL power and even better, on may 6th. Can't wait to get back to programming 24/7 :D. We didn't spend this whole time doing nothing though, we added stuff to the game here and there (artists were stuffed with work to do, so there isn't a graphics update yet, except for the background which constantly goes through changes.)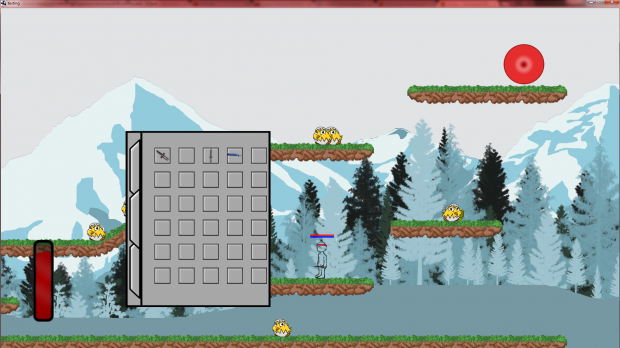 What did we add?
... you may ask... well, we added a new design (temporary) for the Inventory GUI (which looks much more attractive than green and red blocks on grey rectangle...) and made the inventory function-able with 3 tabs, one for clothing on equipment, one for potions and stuff you can interact/use, and one for monster/enemy drops. we added actual items in the game that can fill up these spots in the inventory and used, (for now only about 4 equipments, give or take, and they are designed by me, so quality is poop-quality.... don't expect anything better..)
We have 2 headbands (blue and red) and 2 Swords ("long" and "short" which btw are both short... Ihave no sense of proportion apparently and I didn't feel like fixing... mostly because it's just temporary and for testing.) these items can be equipped and now have names and descriptions (details about the equipment float above them once you hover over them)
Even though this all worked, it still didn't save the inventory. But don't you worry! I am actually working on this as I write this article and I believe I will finish by today!
Wow...
Looking back I did add a lot (programming wise...) we also have a portal now to "teleport" or transport from one place to another, and three maps that circulate in a loop, and yea... just wait for the next update for more information! hopefully this weekend, and expect daily updates to start coming up on IsolatedPixel.com starting May 6th!
here is a quick video about the new updates:
Kickstarter
We are planning on making a kickstarter in late May so expect that! for now, unjoy these new updates as they come along! BTW, all of you who have joined for the Closed Alpha Testing, you will receive your copy a few days before Kickstarter Launches
Side-Note
Want a free copy of this game? follow us on twitter and check out our websites and this page often (we recommend you press the "watch" button so you'll get updates as soon as we release them :D.) once we hit version 0.1.0.X ! (It's getting closer!)
Don't miss out on this awesome giveaway!
So if you and/or your friends are interested in obtaining a copy of this game make sure to
check out our website IsolatedPixel.com
and our twitter and facebook: