Hey everyone!
This week, we've been checking out our mechanics for player feedback and it seemed appropriate to make a little post explaining our mechanics and design ideas, so that's what I'll be doing today!
Strap yourselves down and let's get it all started!
---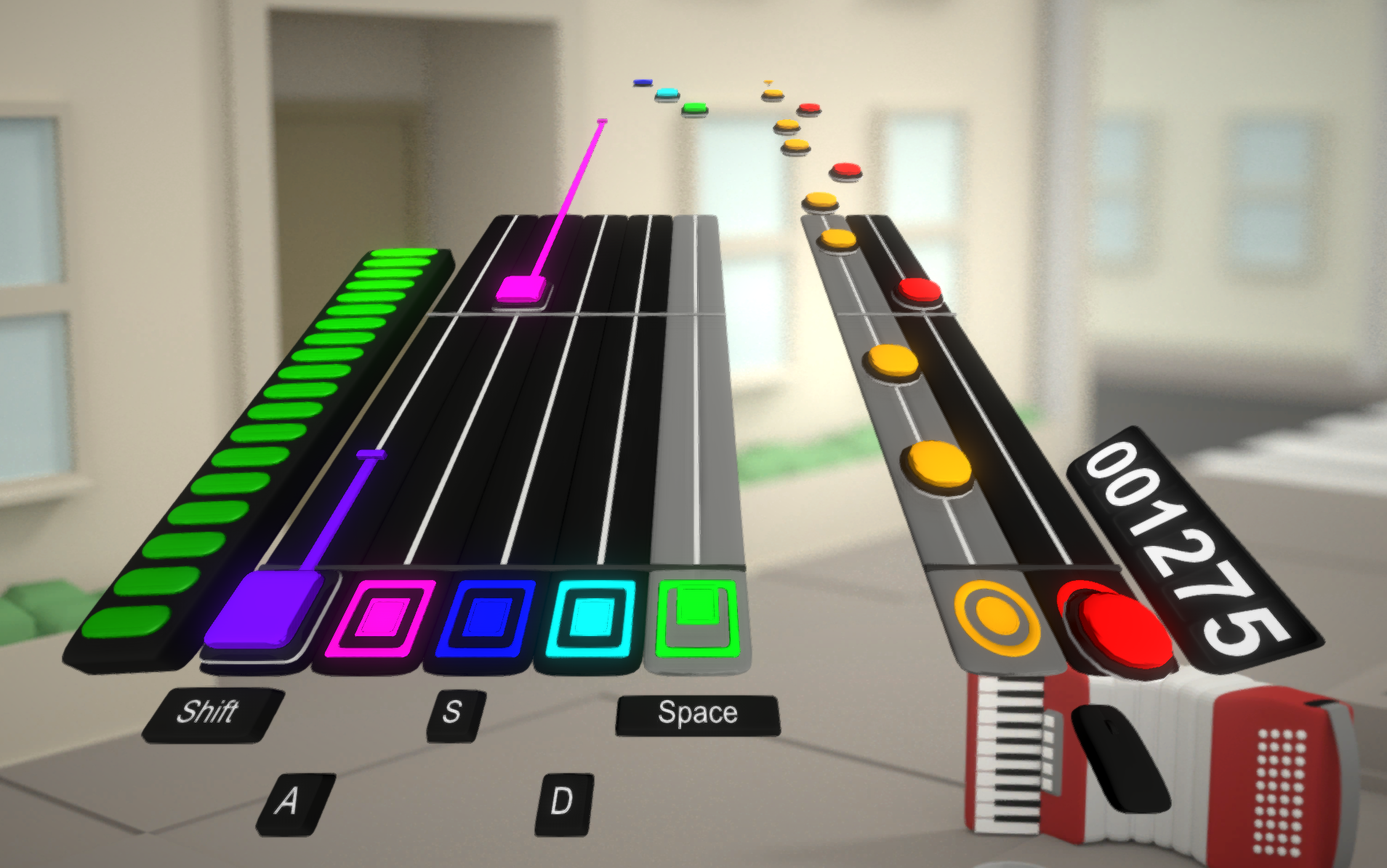 The issue
The game is based around one theme: Rythm. The idea here is that notes fall down from the skies, each tied to a button, and you have to time those inputs correctly so that they'll match with the notes coming down.
Now, many games already have mechanics like these, but we make it even more difficult for the player: By adding a bass line.
If you're not familiar, an accordion basically consists of two parts: Keys (or piano notes) on the right hand and bass (or chords) on the left hand. This is much like a piano, where one hand plays the lead and the other plays a secondary line on the music sheet.
It looks somewhat like this on paper:

So, in contrast with generic rythm games, we're going to have to make sure the player is able to "process" both lines without too much effort.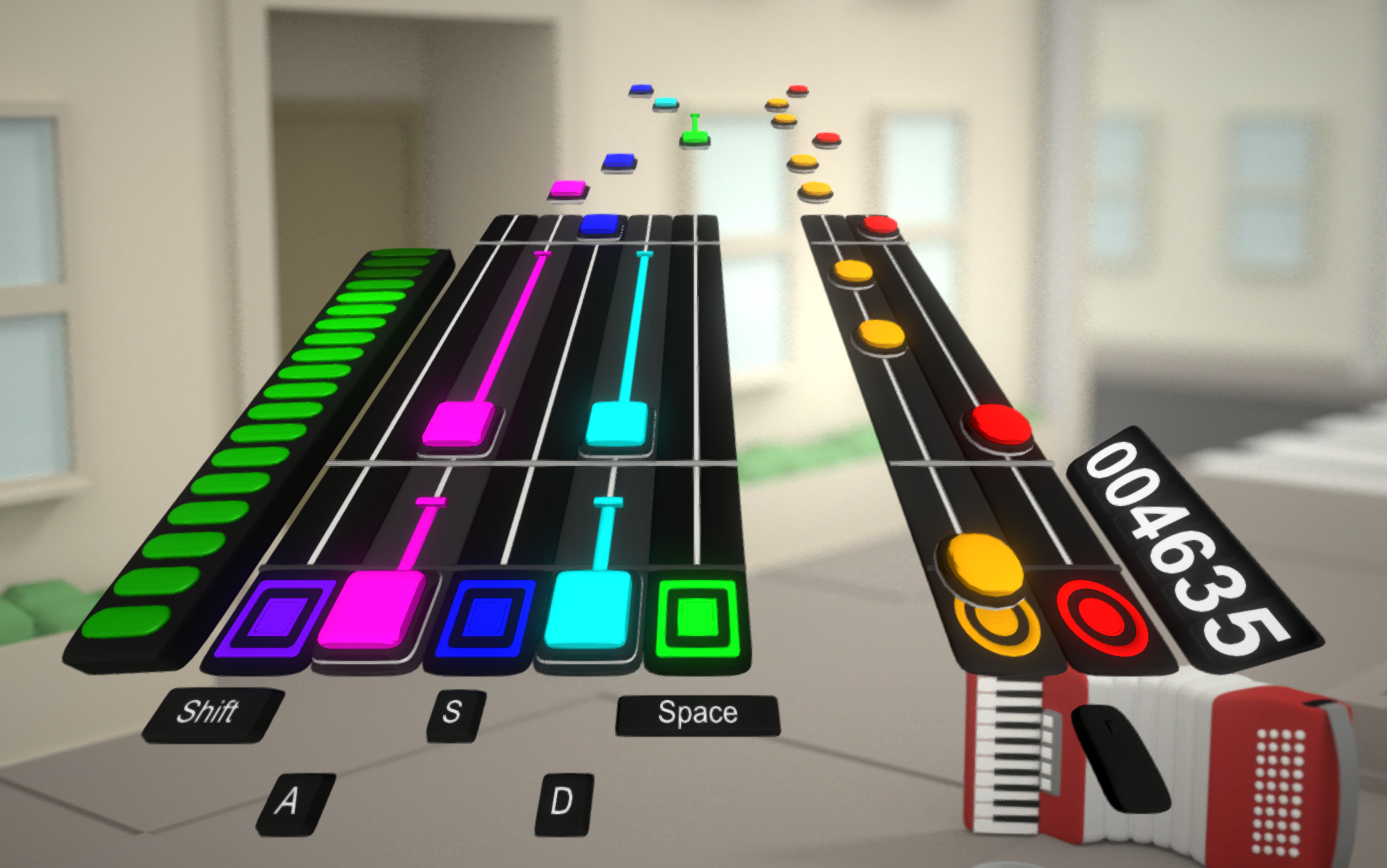 ---
How to interpret these notes
Our first few songs focus on waltzes, which simply means that every measure of the song is cut up into three notes. It's a classic "1-2-3, 1-2-3" that many people are familiar with.
It actually provides another benefit. People are very good at cutting things into thirds. You may think that this makes no sense, but it's actually very true and several studies have proven this to be a fact (it's also where the golden ratio comes from!).
Now, because we have three notes per measure and people are very well at cutting linear things into thirds, it seems sensible that we use this to our advantage.
Look at the example below: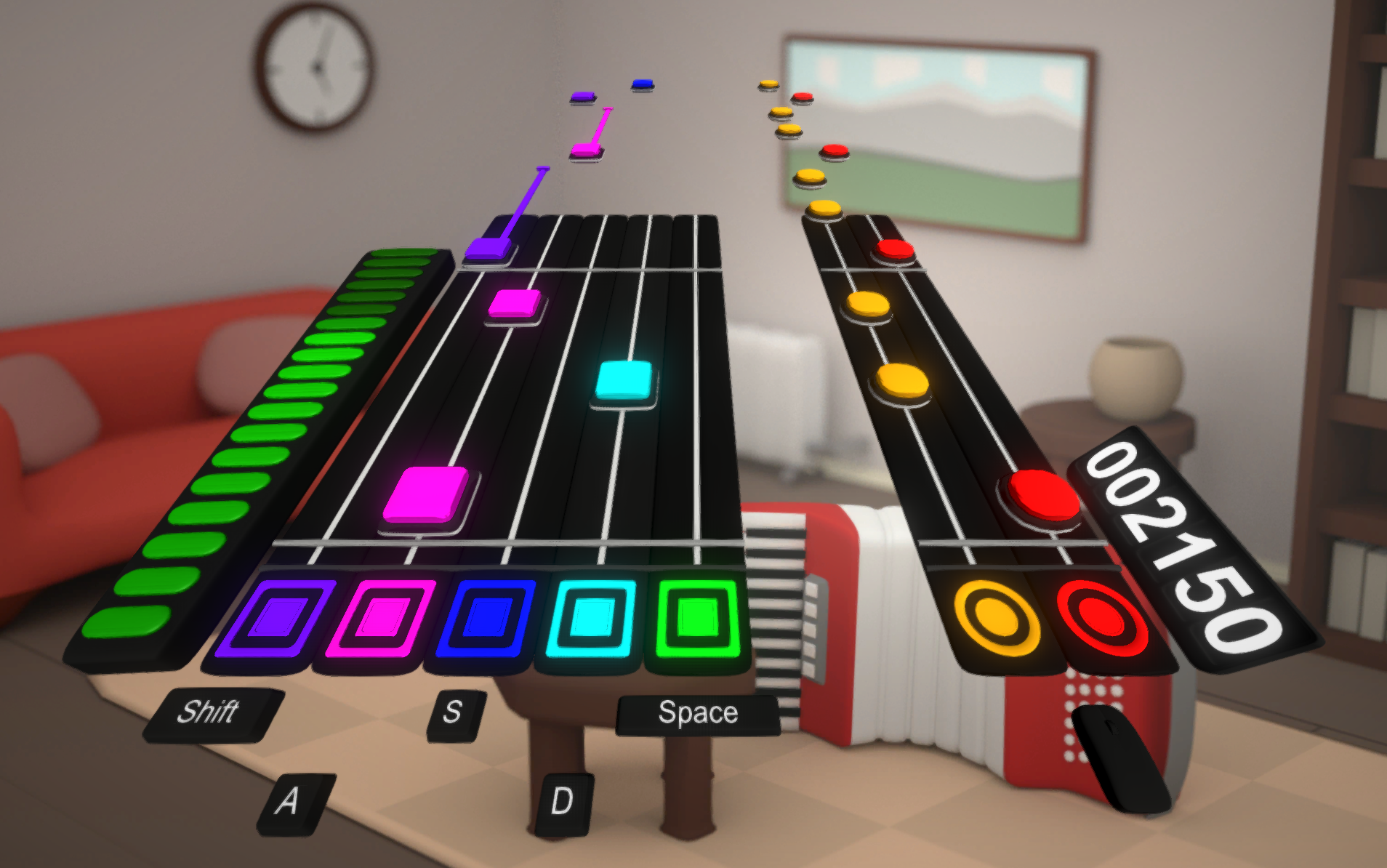 There's a couple of things to see in the image above here. First of all, there are two white bars (these are the 'measure bars' from the sheet music), clearly dividing the track into multiple pieces. On the left side, the piano keys, on the right side, the bass keys.
See how the left keys align perfectly with the ones on the right? This makes for a great visual indication. If players can easily cut things into three and we show them how to cut things into three, they will quickly pick up the timing of each button press!
But that's not our only obstacle…
---
Communicating with the player
Once you play a note, you gotta get information back in some way. How did you play that note? Was it on point?
Let's shoot up another image and see if you can spot what we've done to tell people whether they've been playing right or wrong: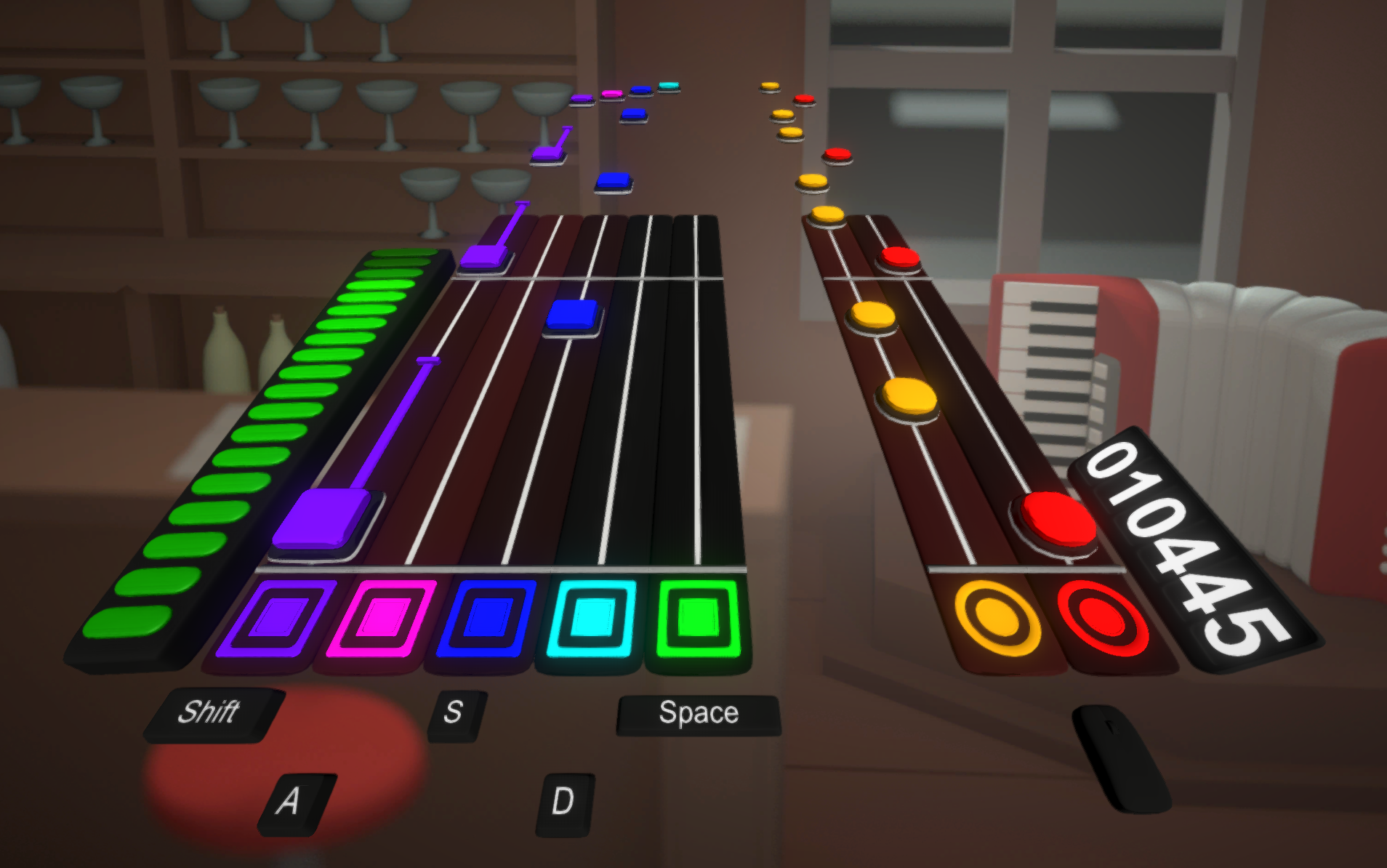 It's a real subtle effect, but it does help tremendously: The bar flashes red whenever you miss the note. It will also light up if you hit the note on point. The brighter, the more exact you played!
We've been in doubt whether to show the player text on screen, telling you how things went. Examples here being "Perfect!" and "Superb!", those little texts you can see pop up in hack-and-slash games very often too. However, we found them to be too distracting and we found that making as little move on the screen as possible at once, makes sure that players keep their attention with the notes, which are already difficult enough on their own!
---
Winning the game
When the player has won the level, we've also made a simple victory screen to give the player the latest bits of information that he requires: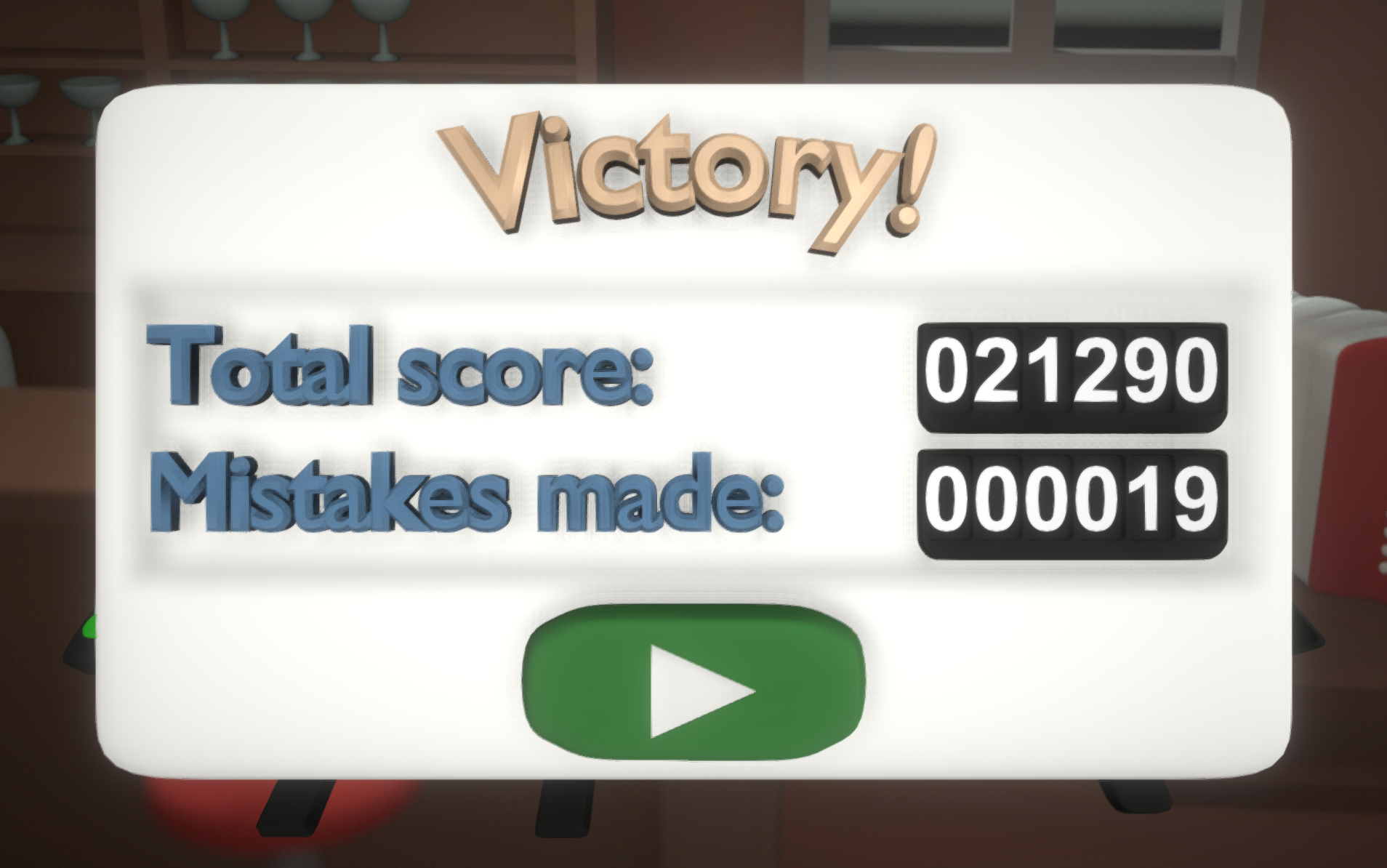 We tell the player the total score he made, which pretty much sums up how well you played the song. Every note gains you points and the better you play the note, the higher the score! Every mistake gets on the counter below, allowing for people to show off that they've succeeded with zero mistakes!
We strived to keep everything as simple and streamlined as possible, especially the menu, because processing so much information when playing really puts you on overheat. The menues allow you to rest a bit and relax your eyes, so that you'll be ready for the next song!
---
Conclusion
Even though all these things have been implemented, the game still remains very hard. Not because we picked overly difficult songs, but because the act of multitasking both the left and right hand, whilst both of them doing something different at the same time, is something you'll have to practice and learn! - Eventually, the skills you pick up from this game might actually improve your ability to multitask in your actual life!
Do note, that I've touched just a couple of things that we've implemented to help you understand the game! Have you spotted those little keys down each lane yet? We'll get into that a bit more next time!
See you all next time and have a great day!
~Gavin