Another update. The details of what we've changed are outlined in the notes below, as well as listing the changes of the last few versions.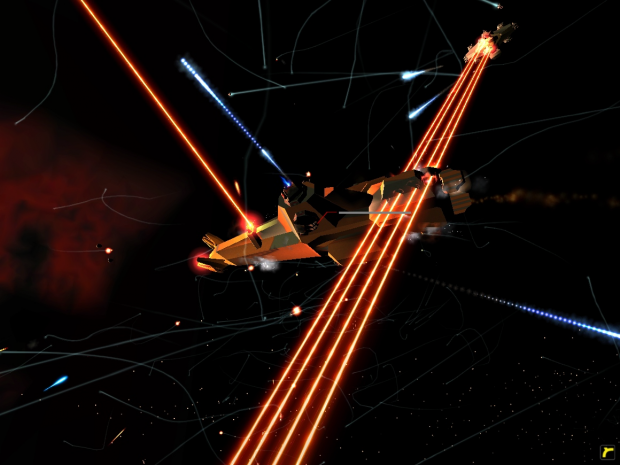 0.2.0.2, 12/07/2010
New techtree
Three new songs for survival
Improved frigate deaths, better performance and looks
New map, 6p Ring Madness
Fixed broken starting fleets
Adjusted jukebox behavior to reduce track length mistakes
Added faction prefix to ship display names
Reordered build lists
Buffed UNH Defender firepower
Nerfed minelaying
Nerfed resource controllers
Improved UNH mothership dock paths
Added UNH mothership resourcer docks
Further adjusted energy cannon hits
Cleaned up deathmatch options panel
0.2.0.1, 11/24/2010
Vaygr assault frigate firepower reduced from erroneously high levels
Build and research speeds increased in skirmish games
Skirmish unit caps reexamined
non-UNH units added to skirmish mode.
explosion effects fixed to work with more graphics cards
added map thumbnails
0.2.0.0, 11/20/2010
Switched over to new shipname scheme, HWAT_faction_CLASSshipname:
Factions currently include UNH (United Navy of Higaara), VAY (Vaygr), CNF (Taiidan Confederation), REP (Taiidan Republic), CZA (Czalkir), SIM (Simulator mode), NUT (not a unit), TRN (Turanic Raider), KAD (Protector of Kadesh)
Classes currently include DR (drone), FT (fighter), CT (corvette), FF (frigate), DD (destroyer), CA (cruiser), NC (noncombat), MS (mothership)
Added fully textured units VAY_FFAssault, CZ_DDStandard, CZ_FTTag, CNF_FFAssault, CNF_FFIon, TRN_FTInterceptor, REP_FTScout, UNH_CTHeavy, UNH_NCHarvester
Added placeholder or untextured models VAY_DDIon, VAY_FFIonArray, VAY_FTLight, UNH_CAStandard, UNH_CTIon, UNH_DDDrone, UNH_FTBomber, UNH_FTDefender, UNH_FFDrone, KAD_FFHunter
Improved or fully remade effects and sound effects for nearly every unit, impact, and weapon. Animated multilayer beam cannon textures.
Implemented Wave Combat gamemode, available in skirmish vs. cpu. Battle neverending waves of randomly generated and increasingly dangerous enemies on four different maps. This gamemode will play random pieces of music instead of looping the same track endlessly. Score reporting is available in [your homeworld 2 directory]/bin/Release under the filename "HWAT_SURVIVAL_SCORES.txt"