After a long development cycle we're pleased at last to release our 4th addon pack containing the AH64A in 3 different versions, in Greek, Us and RACS.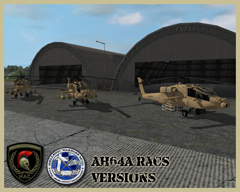 This pack also includes a selection of Markers that can be very useful for the mission makers. Also as we've promissed we've made all the Air vehicles (AH64A/UH1H) compatible with XEH. We've also created a special pbo installation structure that can be more flexible as far as the modfolders (refer to the manual for more installation information).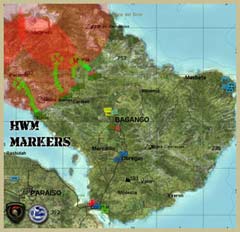 This pack was the hard effort from a combination of people, except for us the core team (Aplion, Mainframe, Liongreek, Sparky, AnzacSASSteve)in this pack Dr Eyeball got involved in order to create the amazing MFD/TADS/FLIR/IHADSS system and bring our AH64A closer to the real thing. Also for the first time in this pack people can sample sounds from our Sound Engineer AnzcsasSteve in his first debut in HWM. All weapon and Air Vehicle sounds have been replaced with new ones.
Another very important thing that we present in this pack, is the Mission Pack. In all the previous packs we had a gap into missions and although we can produce addons we have problems in mission making, due to limited men power. That mission pack is the result of the hard work of Contributors in our Mod. So we like to give our thanks to Wolfrug, Mathias Eichinger and UH60MG. We also like to thanks OFPEC for supporting our effort into this task.You can find more information about missions in the manual located inside the folder "missions" of the .7z

Installation Note:
This Pack is offered in 2 different ways.
1)The whole addon Pack 4.0 in a .7z can be found in HWM website Download Section, in Addon Pack category.
2)or each Pbo as Seperate Download
File Version Included In Pack 4.0
HWM Air 3.0 YES
HWM Weapons 4.0 YES
HWM Core 4.0 YESH
WM Display Event Handler 1.0 YES
Extended Event Handlers 1.90 YES
HWM US Air 1.0 YES
HWM Racs Air 1.0 YES
CMPB Air 2.0 YES
HWM Vehicles 3.0 NO
HWM Units 3.0 NO
This pack must be installed on top of HWM Addon Pack 3.0 (For the greek versions), or on a fresh but you have to add manually the missing HWM_Units Version 3.0 and HWM_Vehicles Version 3.0 in order to have the HWM complete. For those that don't have the HWM Addon Pack 3.0 you can download the missing 2 pbos seperetely from our download section
External Mirrors
ModDB HERE
ArmedAssault.info HERE thanks to Cervo
Armaholic.com HERE thanks to Foxhound
E-prison.de HERE thanks to Stavanger
Armed-Assault.de HERE thanks to Raptor
Refer to the Manual inside the .7z for detailed installation instructions.
Furthermore we would like to thank BIS for creating this game and give us the opportunity to create this mod, and all the community for useful feedback and support so far.
In our future plans for ArmA, we have already focused on the next 5th Addon Pack which will probably be the last for ArmA.Soon you'll have the opportunity to find more about it.