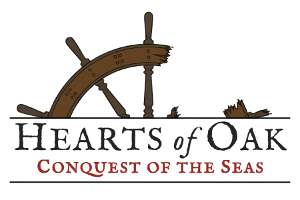 Welcome to another edition of our Hearts of Oak progress articles!
In each article*, we will bring you a summary of the latest development news, including work-in-progress screenshots and in-game footage, along with a more in-depth look at featured content.
After a long wait, we've got a huge amount of news to share with you regarding the exciting work in Unity and excellent models in production.
Vacancies
This week, we really want to highlight one particular role that we still need to fill:
- Character modellers
It is of the utmost importance that we find at least one dedicated character artist as soon as possible.
We only need one fully rigged character for the tech demo, but if at all possible we'd like to avoid low-detail placeholders (see screenshot of the weapon system below).
Therefore, we really need people to take on the roles of modelling characters and clothing, to give us good looking models for the tech demo and beyond.
We are still recruiting other 3D artists, and in particular we'd like to see more people willing to get their assets into Unity.
As a reminder, all of our developer roles are NON-PAID positions.
For role descriptions and how to join the team, click here.
Engine Development
- Cannon action system

In this video, Captain Murphy runs through the procedures the guns follow when ordered to fire, including swabbing, loading, running out and recoiling.
- Ocean System

An update on how the ocean renderer is working in the game, showing an improved wave system and realistic foam effects.
- Helm System

A quick demonstration of how the player can interact with the helm to turn the ship.
The video also shows how the wheel and tiller move simultaneously.
- Fencing System; Captain Murphy, Trunks518 and Foamy
We are now collaborating with third party developer Foamy to produce a fully dynamic fencing system for the game.
Although we haven't finished integrating it into Hearts of Oak yet, you can get a taste of the feature set by following this link to Foamy's website.
- Modular Weapon System; Trunks518 and SuperDurnius
To complement the swordfighting itself, we also have modular weapons now working in the engine.
Using model parts provided by SuperDurnius, the player can choose exactly what kind of sword they want by customising the grip, blade, guard and pummel.
Below is a screenshot of an early test showing how this works: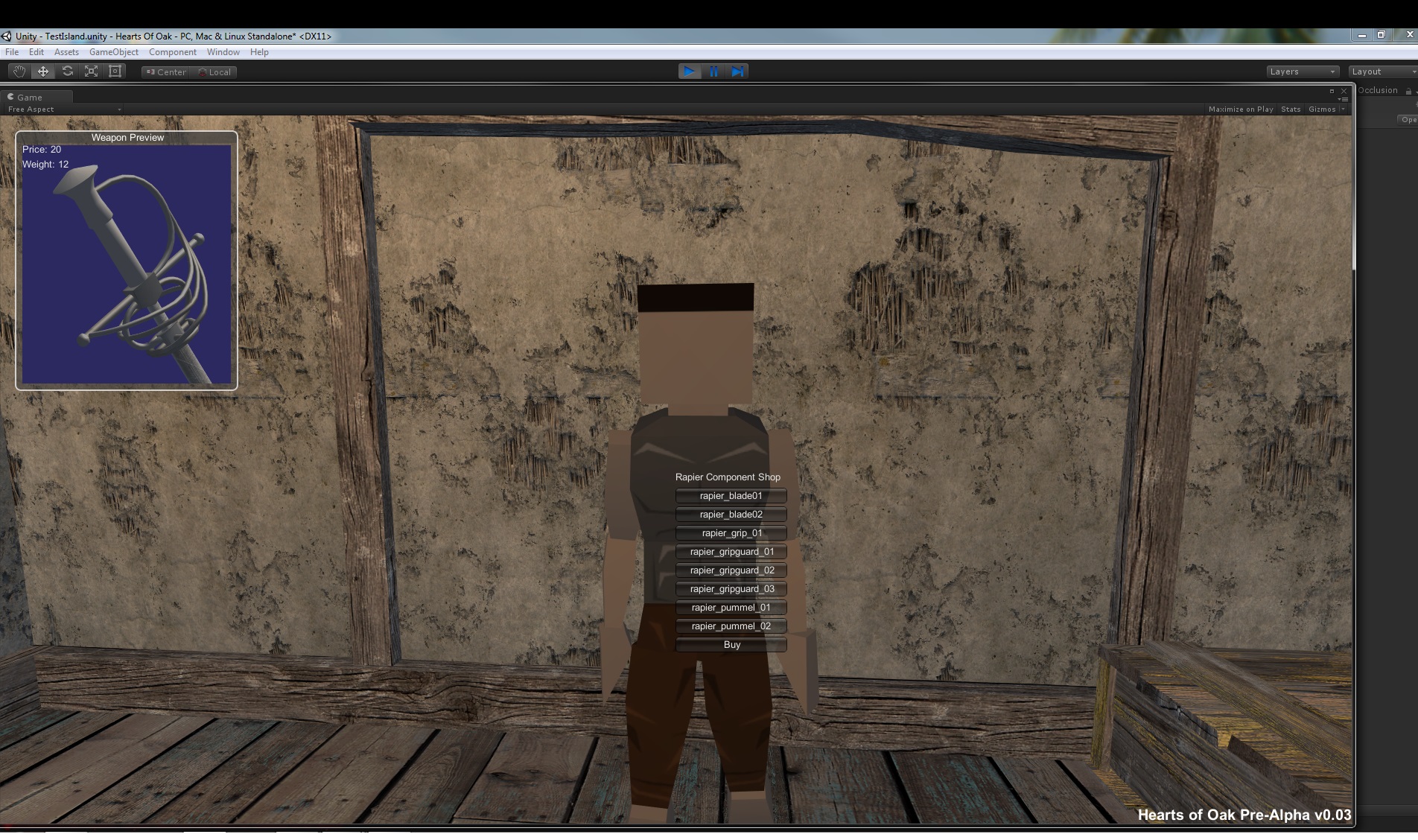 3D Models
Ships
- HMB Endeavour; ODemuth
This incredibly detailed ship now has its masts and some of its rigging in place, along with reserve spars upon which the boats would be stowed.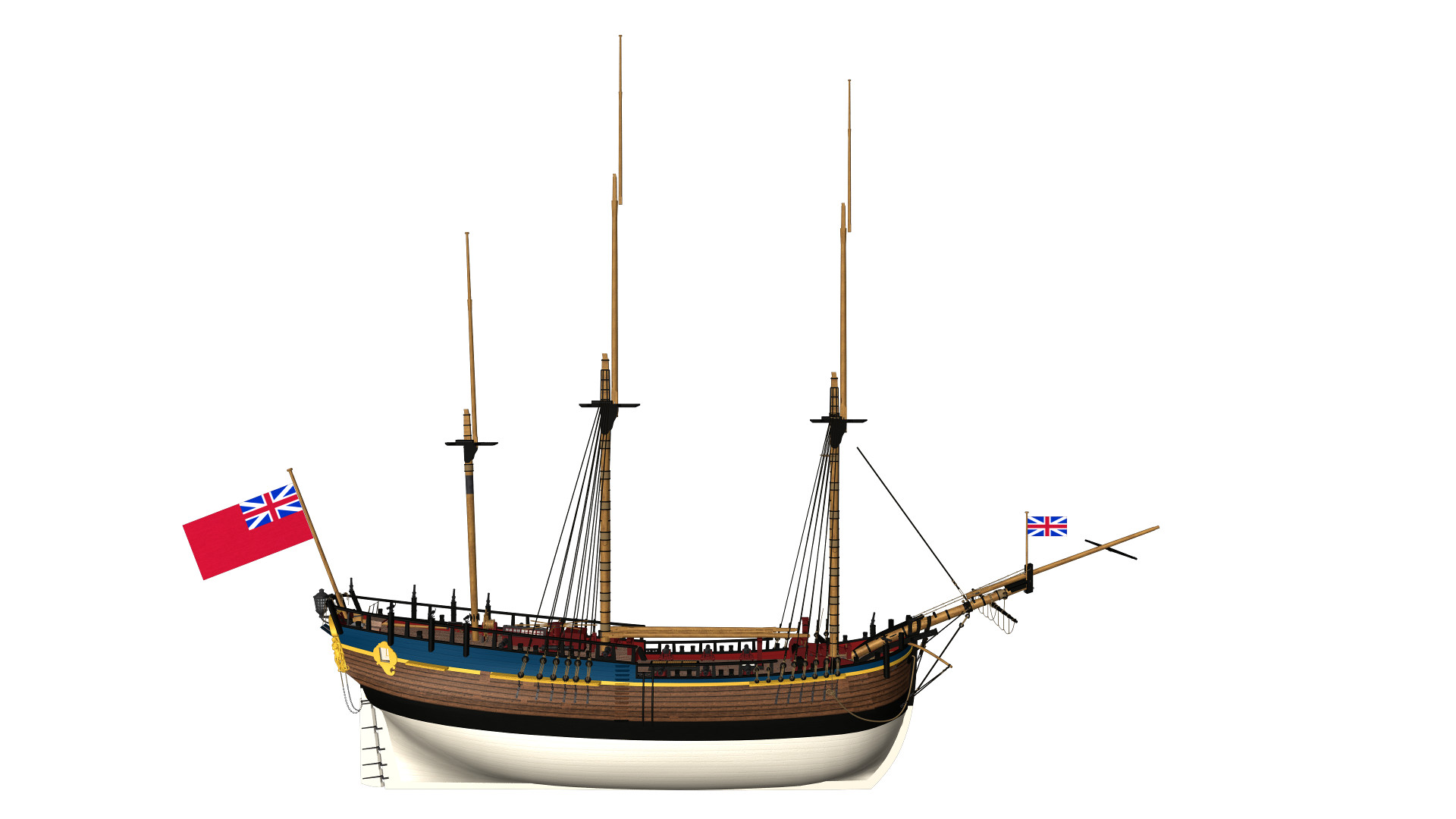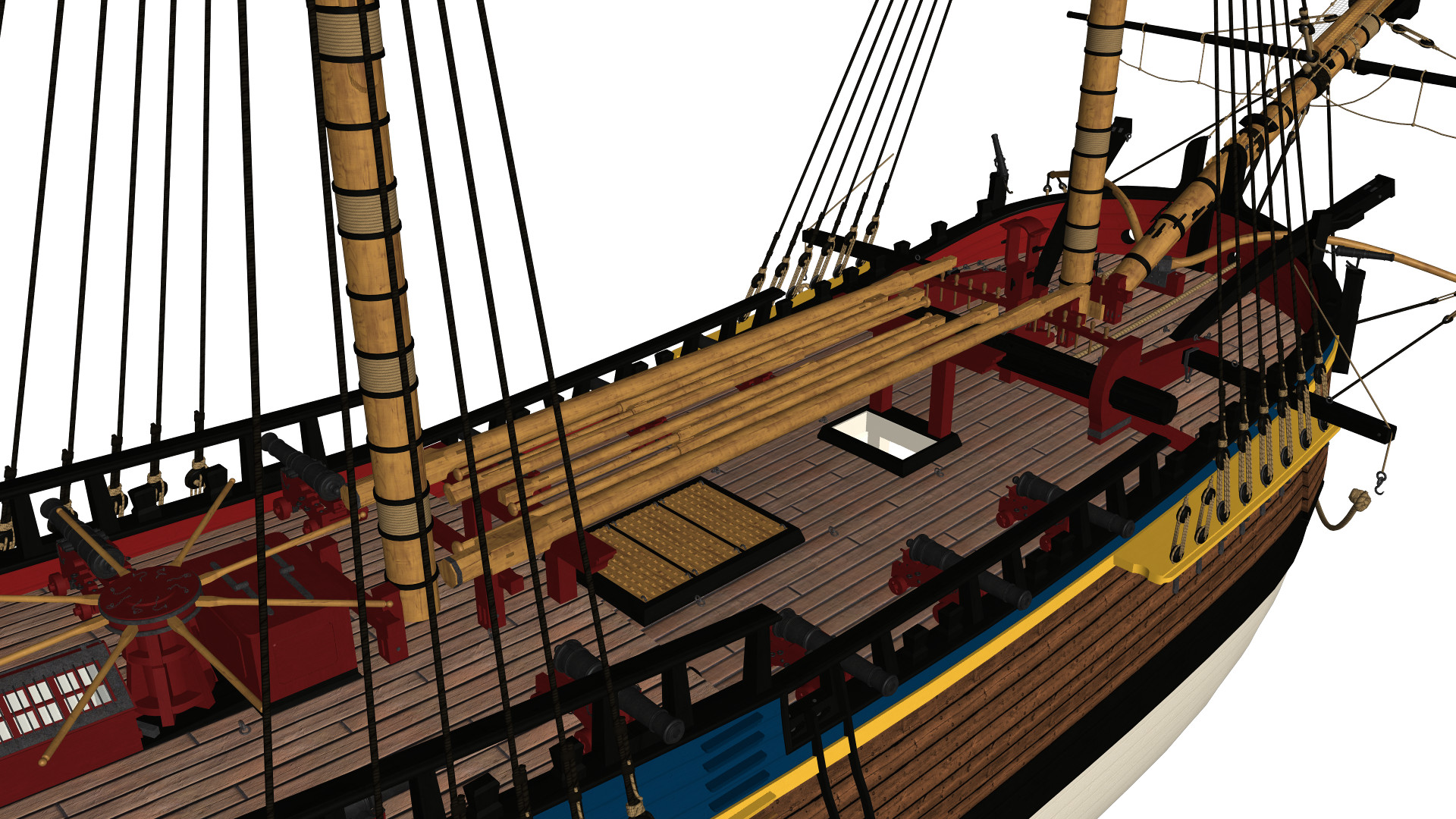 - Blandford class frigate; Timb
Based on a 20-gun sixth-rate originally built in 1720, the modeller is modernising this ship to be more suitable for the game's initial time period.
Below you'll see the model in two different paint schemes, the first of which being a concept render (not in-engine):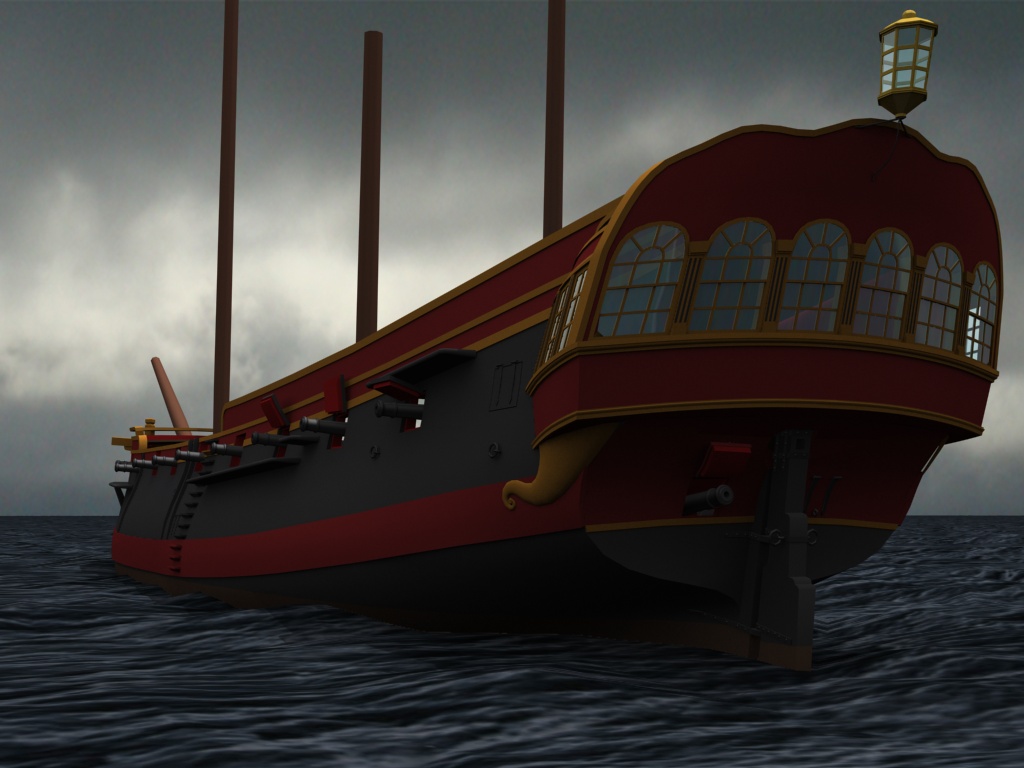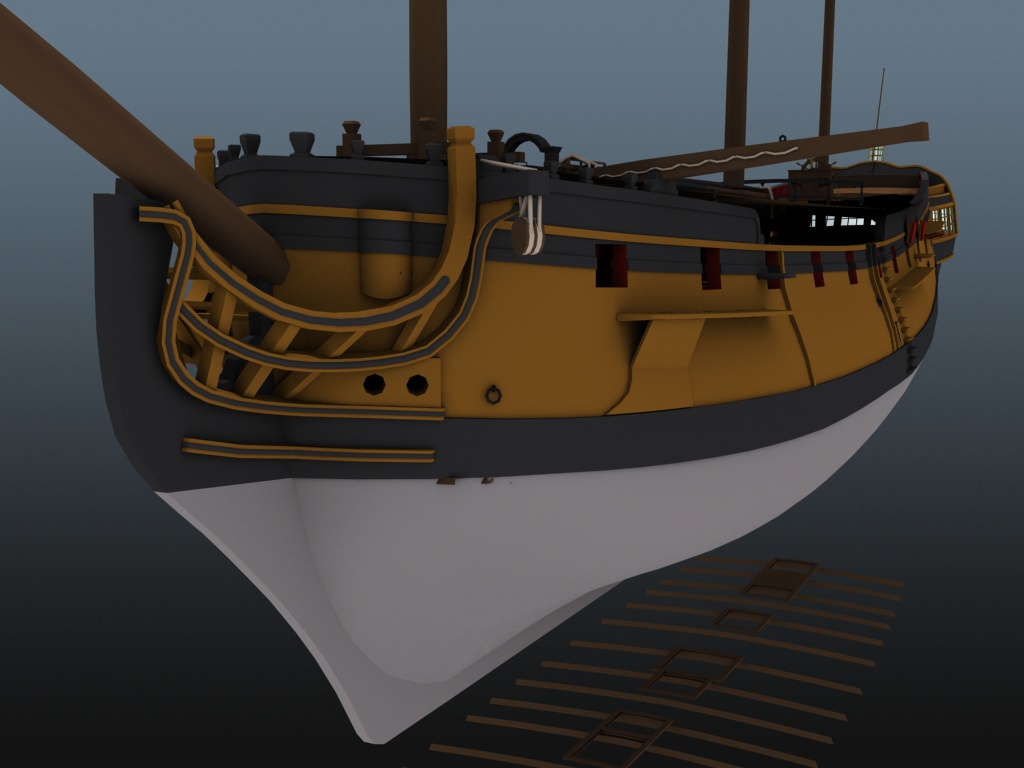 - HMS Bellona; Armada
The biggest ship in active development, she now has all gunports open and is close to being ready for basic testing in Unity.
Most of the finer details are being skipped for the initial tests.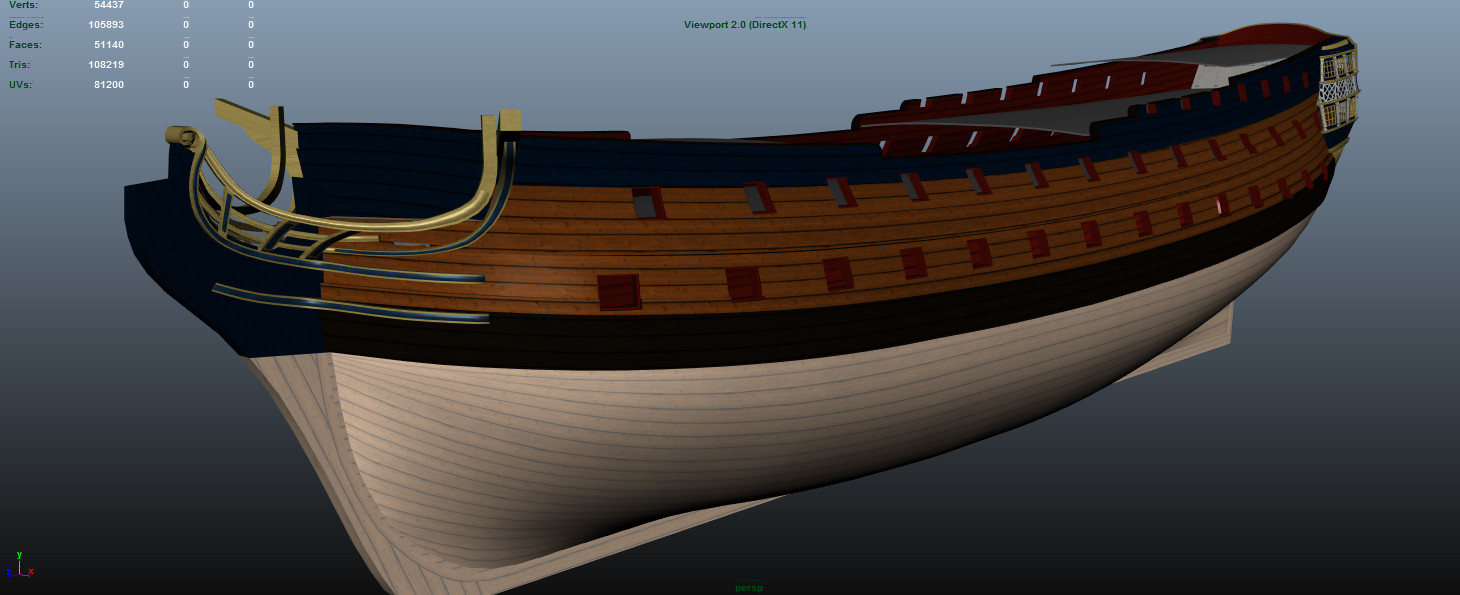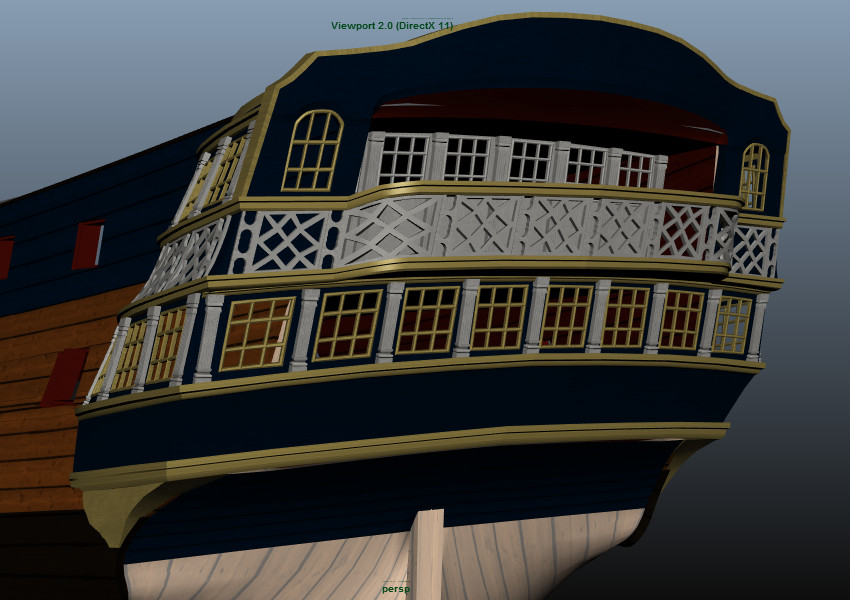 Music
To give you a taste of what's to come, we're regularly showcasing an original track, produced by one of our talented composers.
This week, we've got a finished version of one of Flannery's pieces named Rum Bonfire.
Have a listen via the link below, and then read what the composer has to say:
Flannery wrote: [The title] pretty much says it all when it comes to inspiration for the music.
I pictured a dusky hot summer night in some secret island in the Caribbean somewhere - and pirates dancing around a fire, arm in arm singing and drinking rum.
And that is pretty much it; the themes build on people being pretty much drunk out of their minds and being silly.
COPYRIGHTS
This music is the property of D'laymusic - Norway, and Christian "Flannery" Tornholm-Lehn. It is protected under copyright law, which if violated might lead to legal persecutions.
Stay tuned for more original music soon!
Top Contributors
Below is the latest member of our development team to be recognised with our Top Contributor award in recent weeks:
Trunks518 - For his tremendous contributions on the Unity Engine development; we would not have come as far in as short a time as we have without his help.
His contributions have been invaluable to the game's development, and we hope to give out more of these awards soon!
Fundraising
We are still accepting donations to help pay for engine add-ons, software licenses and more.
So far, we've managed to acquire a Unity Pro license for two of our developers, along with a selection of asset packs such as the Pirate Island to speed up our engine testing.
If you would like to donate to the project, you can do so through Paypal using the Donate button on Heartsofoakgame.com .
We greatly appreciate every contribution!
You can keep up to date with how much we've raised and what we've used the funds for here.
That's it for this week's progress; we'll have more updates for you soon!
Don't know what the Hearts of Oak project is? Take a look at our Frequently Asked Questions for more information.
*Please note that we're aiming to post a new article at least once a fortnight. If there's a long gap between articles, it usually means we're very busy!