Hi everyone! Olvand Violet, the next release of the game, is nearing completion, so I thought this would be a good time to start another series of blogposts, showing my progress and telling you about design decisions.
How I created something fun by accident
As you probably remember, the main feature of Olvand violet will be a cave system; a randomly generated area consisting of rooms and hallways, filled with monsters to beat, with Olbs (new 'spells', you could say) as a reward at the end. Like always, my plan was to have a basic, working version in the first upcoming release, and add all the fun stuff in the 2-3 releases after that. That's how I did it with the new lighting system, for example.
Therefore, I linked the cave generator I created earlier to the server software, implented that monsters shoot at you when you get too close, and didn't expect too much of it. However, as soon as I tried to 'beat' the cave (that is, reach the end and get the reward), I noticed that all kinds of things didn't feel right. The whole thing was much too long, for example, there were too many enemies, it was too dark, you had be too close to the enemy before it attacked you, etcetera. So I tweaked settings like this a bit, and it improved, but wasn't perfect... so I tweaked some more things, got a litte more improvement, and so on.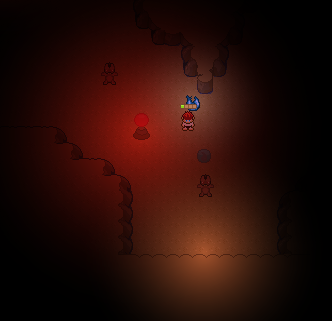 But then, suddenly, something unexpected happened; around the 20th time I restarted the game to test the results of my tweaks, I completely forgot what I wanted to test and instead played until I had my reward. It happened multiple times after that, and one time I even 'lost' 2+ hours on actual playing the game. At first I got a bit mad at myself for losing focus, but then I realize I actually had achieved exactly what I was aiming for: something which is fun and addictive. It's just that I accidently reached that goal much earlier in the process than I'd expected. Instead of wanting to know whether that one thingy now worked better, I actually wanted to know what was behind that corner, I actually wanted to kill that monster, or test a new gun set-up to see if that would help me reaching the end of the cave faster... I actually wanted to play the game.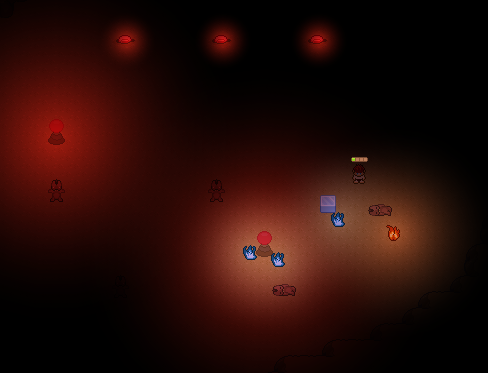 A big fat disclaimer
Are you, the players, going the experience caves the same way as I do right now? I hope so, but probably not. A large part of the fun is that fact that I created it all myself AND that I know what is still coming. I can see through the flaws, so to speak. You, instead, will only see partially broken feature that is also still very basic. In other words, please don't interpret this blogpost as me telling you I made something that will amaze the world (yet) - I'm just surprised that I managed to amaze me.
If you want more development, see [twitter] or [facebook]. If you want to be a tester, you can subscribe on [olvand.com].