It was exactly 2 years ago today when we released Zombie Panic: Source to the public. We held an IRC release party that was insane with over well over 1000 users coming and going and was very exciting for all of us involved. We have a lot of exciting things to show you into our 3rd year but for now I'd like to keep things simple and wet your appetite a bit.
Below you see 2 sample images from a comic Henital Gerpies a well known and respected member of the community is working on for us. These are incomplete and I have quite a few more. But this should be enough for now and I will provide a background shortly but in the the meantime we hope you enjoy these-
It's been a busy year for ZPS with numerous patches and loads of new content. We're currently working on fixing up existing work like promised, improving on animations, replacing out dated work, but I can't help it when it comes to adding new stuff. We've got another 2 player models we're trying to get in-game, new weapons, new music, and new features to improve balance and make playing zombie a more enjoyable experience. I spent most of Xmas working myself but was able to sit down with my kids and open gifts under an origami xmas tree I made. Overall it was a good day and I hope you are all enjoyed yours too.
For those that missed it the ZP community had a chance to view an old tribute to ZP for the holiday season. Enjoy a fan made Xmas themed ZP film done up by the one and only OkeiDo (Give him a lot of crap for not working on a new one for this year)-
Also as you all already know ModDB is holding their Mod of the Year Awards and as some of you may recall ZP:S took home Best Upcoming Mod of the Year in 2007 and just barely missed our chance at Best Mod of the Year 2008. But in 2009 we introduced new weapons, new player models, new maps, new features, and a new game mode. Even with all our additions we've chosen to focus on improving the gameplay, quality of our assets, and communication with our faithful and enormous community.
It would give us great pleasure to take home the trophy that was nearly within our grasp last year but of course it means requiring all of our fans to vote for us. ZPS has been in development for 5 years, and today we turn 2. We've accomplished so much with the support of our community which led to awards, PC Mag coverage, corporate interests we turned down but were still very flattering (sorry NDA), and being one of 5 mods to be released via Steam for the very first time. We spent a large part of our free time working on ZPS so while I won't insist all of the attention wasn't deserved we are grateful for it all. We hope you see the work we put in to the mod and now here's your chance to once again determine if we deserve Mod of the Year. If you believe so please vote for us-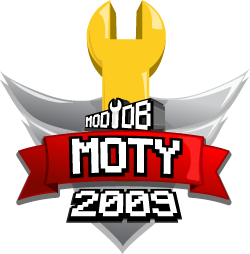 Happy 2 year anniversary everyone. Wishing you a happy new year! (Avoid free alcoholic drinks ladies!)
-ZP Development Team