What do you think about Cutscenes, Cinematics, Full Motion Videos, Non Interactive Sequences?
Any way you put it these are not welcome in the Half Life universe.
Which IMHO is great!
I still planned a NIS in the Hangover MOD where the viewpoint is separated from the player's view for about 10-15 seconds while the controls are taken away from the player.
The only reason for this is to show an interesting area and some cool explosions in it from a bird's eye view.
What do you think, is this a good idea in a Half Life MOD or should non interactive sequences be avoided at all costs?
Check out the storyboard: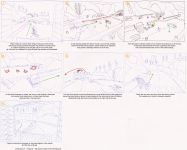 Getting into the "bird's eye view" of the area could also be done by designing the gameplay in a way where the player reaches an area from where he has a good view of the events.
But in that case the feeling he gets would be different compared to the version when he rides on the vehicle that is moving along and is in the middle of the explosions.
Thanks for reading.
MMmaster