I know I've been quiet lately, sorry about that!
But I have been super busy re-engineering a lot of the systems to allow the game to be updated more easily. I have a brand new quest system, an improved monster AI, and a full tutorial in game now. My goal is to get a playable Alpha ready soon(tm) that while light on content, will give a good idea as to the gameplay. But to do that, I have to update a lot of the old code to work with the new systems.
The other big effort has been updating the game's UI. I finally found a style that I like and I've spent the past week updating all of the UI to the new style and updating the code to improve the overall experience.
Here's a before and after shot, the old UI is on top, new UI is the bottom. Still working on updating some of the icons (especially in the Your Town UI at the bottom right) but I hope you agree that the new look is much improved.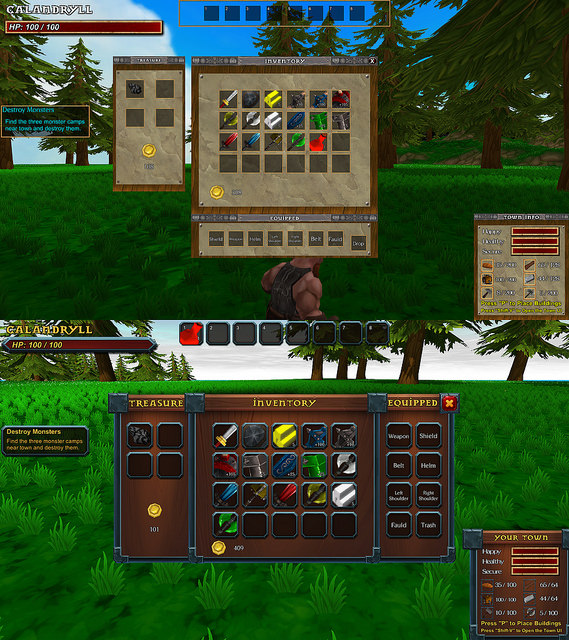 Also, as an added bonus, here's a sneak peak at the working Day/Night system. It's sped up a lot for the video just so you can see the transitions faster. Day and night will effect the kind of quests you get in addition to affecting your town. When it turns night and the towns lights all light up it's pretty neat. I'll try to get a video of that soon too.