The demo is released, there was a celestial alignment not too long ago, and Pluto is once again a planet. Coincidence? No. I don't believe so. So for those of you who are not yet acquainted with "Half-Rats: A Fever Dream", I have some explaining to do.
A quick background:
HRAFD is a single-player horror modification for Half-Life 1. It takes place in the 1880's, Hell has let itself loose on the city you live in, and getting drunk keeps you from dying. You are "Half-Rats", a man who after being rather rudely awakened after a night of drunken revelry; is thrust into a rather dire situation. Utter calamity has erupted in the streets outside of the general store which he calls home - calamity of the most unnatural and horrific kind, that is. Now he and the shop keeper, Mr. Trask, must hold out against this infernal host of creatures together. You both must make a stand against a great horror whose origins will only be revealed at the close of this story. Though it is a general store, that does not mean it boasts unlimited resources...supplies and manpower will begin to run thin - and you'll need to face hell to go out and gather them. You may end up meeting a fresh face or two during the night's journey - try and keep them alive and kicking, yeah? Some of them could become great assets.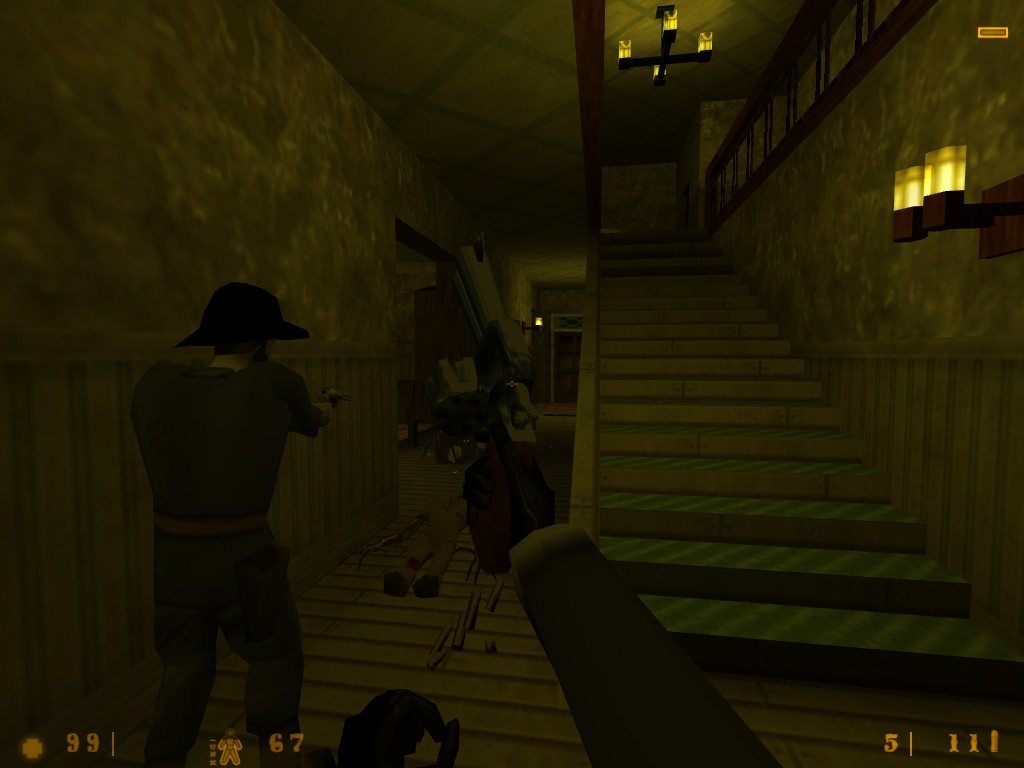 Here, read what one man has to say about it below!
"Downloaded it, played it, loved it.
I haven't seen a classic, Half-Life horror mod that I actually enjoyed since They Hunger. And with all these high-end Half Life mods, it was nice to return to my roots.
-The mapping was superb. The architecture, the lighting, the textures, and all the little details sum up to a really great and atmospheric map, where you even get the change to enter a well designed, late 19th century mansion which I found myself admiring quite a few times.
-The reskined monsters were not only 100% original, but scary as hell too. I would never imagine a day will come in which I'll be chased by a creepy, undead corpse, sewed in a teddy-bear costume. And I didn't know I could hate the assassins even more than I already hated them from the original Half Life.
-Also, all the ambient sounds, the music and the monster's moans, alongside with the mod's general style/theme and lighting, produce a really scary, obscure and eerie atmosphere, making this mod a true horror game, and not your occasional jump-scarer.
-And, I was glad to find out that I was not alone in this ordeal. Barnaby was right there to help out, by kicking some serious ass with his trusty revolver. His character is one of the most memorable ones I've encountered in Half Life mods. He makes you feel less lonely, but no safer whatsoever. It was a blast having him around and, frankly, I found his movement around the map just fine. Let's remember that this is GldSource, and the path-finding AI is a bit crappy. In general, Barnaby is one of the most memorable characters I've encountered in a Half Life mod. He really made you feel less lonely in the mods obscure world. And sometimes, when you have a partner in a horror game, it makes it less frightening, but in this case, he was more of an anchor, keeping you in the reality, sane, and not leaving you slip into insanity. It reminded me of Resident Evil, in which series in several occasions you have more than one character on screen, but that not makes the game less scary and you more safe.
The bottom line is: I loved the demo. And if the final mod is half as good as this demo was, then we are looking at one the best, classic Half Life horror mods, something I haven't seen in a long, long time."
-ThanosHLD (Developing "Half-Life: Deflections")
Enjoy!