Greetings, companions of Edain!
After our winter break, work has resumed on version 3.7, and we have already implemented plenty new features for the Free Peoples. Today, we want to present the first of them to you: A rework of Haldir and his Galadhrim warriors.
As you know, Haldir can be recruited by both the Lothlorien and Rohan factions. Until now, he had the same abilities in both incaranations. In the upcoming version, our goal was to diversify him a bit and give him more unique and defined roles in the respective lineup of the two factions.
Hand in hand with his gameplay upgrades, Haldir also received a more detailed model, including a scabbard on the back and shoulder plates. We also scaled down his comically large bow.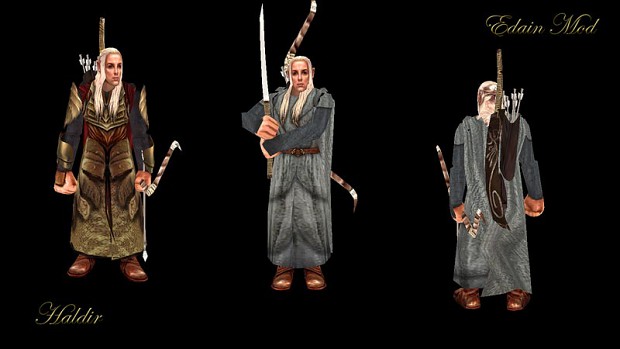 In Lothlorien, Haldir ist he leader of the Marchwardens. He leads the troops of the Woodland Realm and defends its borders with force as well as stealth and ambushes. To better capture these aspects of his role, we have given him two new abilities: Move Unseen and Marchwarden Ambush.
Move Unseen is an ability you are already familiar with, as it used to belong to King Thranduil. However, he has little use for it as all Mirkwood units are already stealthed by default. As we didn't want the king of Mirkwood to have an ability that can only support Lothlorien troops, we gave it to Haldir instead. This also means that it will be available to the player far earlier in the game, allowing Lothlorien to employ stealth from the very beginning. We felt this was only fitting and believe it will serve to make their playstyle even more unique.
Move Unseen will replace Haldir's Healing spell, which was generic and therefore didn't do anything to define his unique role on the battlefield. Lothlorien already has many possibilities for healing units in the field, including their Lembas rations and the Healing Chant of the Elven singers.
Thranduil will of course receive a new ability as a replacement to make him more useful. However, this will be revealed at a later date.
Marchwarden Ambush summons a group of Marchwardens to guard a designated area. They are automatically stealthed and can't be seen on the minimap, allowing them to attack any trespassing enemies completely by surprise. After the battle, they will go back into hiding to wait for the next foe. They will guard their position to the death.
Marchwarden Ambush will replace Haldir's summon of his brothers Orophin and Rumil, who have received new positions within Lothloriens, which will also be unveiled later.
In summary, Haldir has been retooled to have a significantly more pronounced stealth aspect, allowing him to take his enemies by surprise on the offensive as well as on the defensive and enabling new strategies for the Lothlorien player.
For his role in Rohan, it was clear to us that Haldir needed new and unique abilities – the battle of Helm's Deep was no place for stealth and secrecy, but decisive leadership. For this reason, we decided to emphasize Haldir's role as leader of the Galadhrim reinforcements and connect him more closely to his troops. We also made an effort to bring his Galadhrim closer to their movie designs, equipping them with the same coats they wore upon their arrival at Helm's Deep.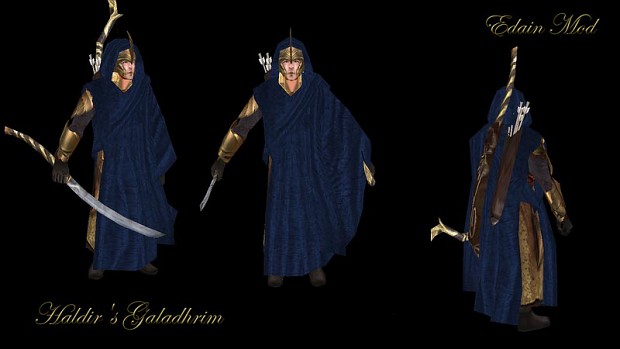 In Rohan, Haldir now has the ability "Alliance between Elves and Men" at rank 1. At first, this ability simply allows the recruitment of up to three battalions of Haldir's Galadhrim at the Inn. However, as Haldir levels up, this alliance is further cemented, allowing the player more options for the Galadhrim. The higher Haldir's rank, the more upgrades are available to the Galadhrim. We felt this was a much more suitable way to unlock Galadhrim upgrades than buying them from the Rohan forge like regular troops.
At rank three, Haldir allows the Galadhrim to purchase "Preparations for Battle" for 200, getting ready for war after their long journey. They discard their cloaks, gain increased damage and health and become fearless.
At rank five, Galadhrim can be assigned a banner carrier of Lorien.
At rank seven, they can equip armaments of Lothlorien at a cost of 400. This upgrade grants them forged blades and elven master bows which increase their range. However, as they used regular arrows at Helm's Deep in the movies, they won't be able to get Silverthorn arrows or Fire arrows. Their strength will be their long range.
The armaments of Lorien can only be equipped by Galadhrim who have already prepared themselves for battle.
At rank ten, you will no longer be limited in the number of Galadhrim you can field, allowing you to amass a greater elven force to support the Rohirrim than before. This marks the final stage of the alliance.
Fully equipped Galadhrim prepared for battle will look as follows: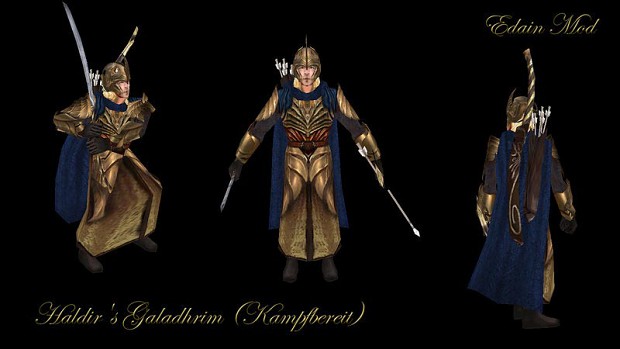 Haldir will furthermore be able to aid the Rohirrim with his new abilities "Emissary of Hope" and "Unending Hail of Arrows".
Emissary of Hope represents Haldir's restoring of hope to the heroes of Helm's deep by bringing much needed reinforcements. The movie has shown both Legolas and Theoden almost convinced of defeat before his arrival. Therefore, Haldir will be able to grant a target hero +25% damage and armor for an extended period of time.
Unending Hail of Arrows causes Haldir and his Galadhrim to fire at their foes with 33% increased speed for a brief duration, burying even a large force under their volleys.
To sum it up, Haldir's role in Rohan will largely be that of a leader of reinforcements, closely tied to his own troops in a unique way. We are convinced this will add an interesting new layer to Rohan's gameplay.
We hope you have enjoyed this glimpse of what the future holds and are looking forward to your feedback. Stay tuned for many more updates in the coming weeks!
The Edain Team